Whether It's Rain, Temperature, Or Planning, You Can Find Out What You Need To Know
The best time to paint your house exterior in Plymouth is May through October. You'll want the temperature between 50 and 95 Fahrenheit.
Find out more below-
So Many Things To Know
"It's almost too much and I'm feeling overwhelmed," moans Sarah.
"One bite of the elephant at a time," quotes Josh. Sarah frowns. "What, exactly, does that mean? We have a lot to do. It's one of the times to clean the gutters, paint, etc." Josh turns to look at her. "It means when you have a lot to do, instead of looking at it as a whole list, just look at it as one thing to do at a time."
Sarah slowly breathes in and out. "Ok, I think that's helping, thank you. Ok, if we're going to paint our house exterior we need to know a few things. We need to know the best time to paint a house exterior. Also, we need to know about exterior painting after rain, the best exterior painting temperatures, and if we really need to push it, exterior painting in cold weather."
Josh breathes out loudly. "Wow, that's one big elephant haha. Ok, let's look that stuff up. Also, how about when to start planning or when to call a painting contractor in Plymouth?"
"Great thinking!" says Sarah happily. "This way we'll have all of our bases covered. Our house is going to get a brand new look this year! Let's look up this stuff on Google, one part at a time."
Here's what the couple discovers:
When To Start Planning Your Exterior Painting
The best time to talk to a painting contractor about your home exterior is November through February. The painting contractor will be less busy and should be able to pay better attention to you and your project.
We continually hear from clients in the summer that have the same story. They say they're unable to get some contractors to even call them back. Avoid this by talking with your painting contractor when no one else is.
For the last 20 years at Tribble Painting, we have started the year busy. This means at least a month's worth of exterior painting contracted with people from the previous fall and over the winter.
When You Should Paint Your House Exterior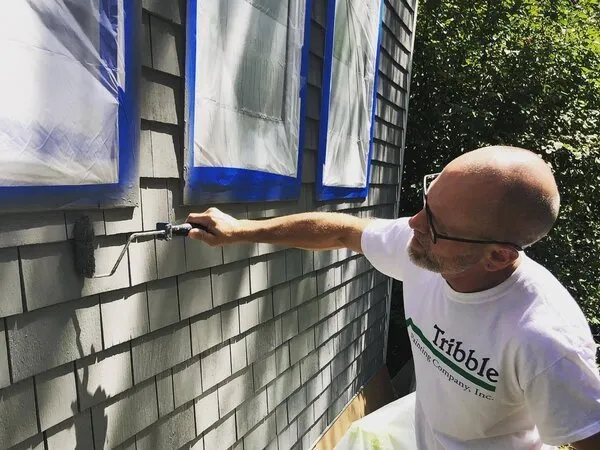 The best time to paint your house exterior is between May and October. The temperature, humidity, and other conditions are much better for paint. This makes it a very popular time and contractors book up fast. It's best to start planning between November and February.
The Best Exterior Painting Temperature
The absolute best temperature to paint the exterior of a home is 72 degrees Fahrenheit. Add in some sun, a slight breeze, and no humidity and you have perfection. On a more general scale, you can paint outside between 50 and 95 degrees Fahrenheit.
It depends more on the surface temperature than the air temperature. If it's outside of the 50 to 95 range it may be best to wait. Or, you can find paints that are made to be used in lower or higher temperatures.
Tips For Exterior Painting In Cold Weather
There are paints you can use at 30 degrees Fahrenheit. Make sure the surface you'll be painting meets the temperature, not just the air!
Any other products, like primer, also need to be rated for cold air. Be sure to check out this blog post if you're not sure if you need to use paint primer for your exterior painting project.
It's best to paint midday when the sun is strongest. Follow the sun as you paint too. This helps the paint to stick and set better.
But, do you really want to be painting in that kind of cold? Dress warmly if you do!
Exterior Painting After Rain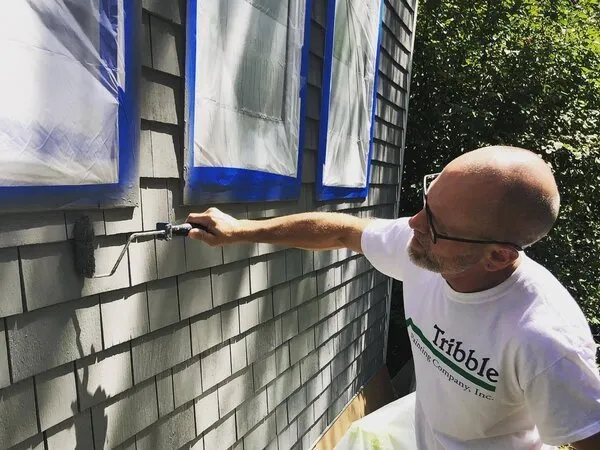 How long to wait to paint after it rains is usually 4 hours or longer. 4 hours is with an ideal climate and direct sunlight. It depends on if your house is in direct sunlight, if it's windy, and what the humidity is. It's best to use a moisture meter before painting.
You can do prep work while waiting for your house exterior to dry. This can include caulking, scraping, masking, wood repair, etc.
How Long Until Paint Is Rainproof
Generally, the longer you wait, the better. Getting the paint wet again isn't good. It can cause issues with the look and durability of the paint when it does eventually dry (like in the above photo.)
Roughly speaking, your exterior paint should be able to handle some light rain within 2 hours. Around 4 hours it should be ok for rain. It depends on the humidity, temperature, and color. High humidity, low temperatures, and dark colors slow the drying process.
One of the biggest issues with exterior drying is the dew point. This is the point at which moisture will show on the surface of the house. You'll want the outside temperature to be at least 5 degrees Fahrenheit above the dew point. This way, you'll avoid the wet surface.
Overall, the longer you wait the better. It's best to use a moisture meter before painting.
You May Also Like To Know
"And we've conquered the elephant!" trumpets Josh. Sarah laughs. "We did! But, is there anything else we need to know before we continue? Whether it's DIY or hiring a pro?"