Rotten Wood Replacement Services in Ann Arbor
We Won't Paint Over Your Problems
Wood Siding

Replacement


In Ann Arbor
The majority of homes we paint around the Ann Arbor area also need their wood siding repaired or replaced.
To clarify, when we say majority, we mean just about all of them do. So instead of painting over the problem, homeowners get the siding repaired.
Leaving the rotten wood affects the preservation of the home's exterior and just kicks the can down the road.
Since we have carpenters on staff, we're able to help with rotten wood repairs.
Our Rotten Wood Replacement

Process

In Ann Arbor
Todd Tribble, owner, talks about the rotten wood replacement process at Tribble Painting so that you know what to expect when you work with us.
Watch the video for more information!

A Team Dedicated To Excellence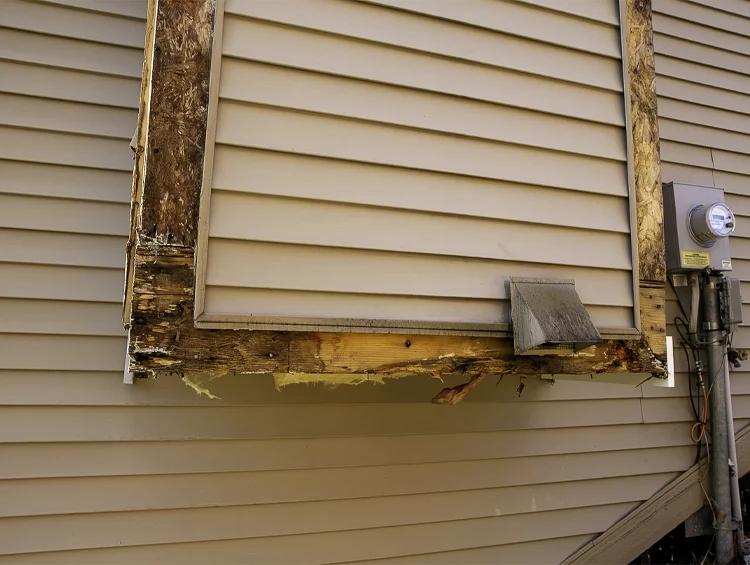 Our
Rotten Wood Replacement Services

Keep Your Home Protected And Beautiful
Need wood repaired? Most of the homes we paint need woodwork. That's why we have carpenters on staff.
Rotten Wood Replacement Pricing In Ann Arbor
All rotten wood replacement is completed as part of a painting job and is billed separately by the hour, plus materials.
Your estimate may change depending on the amount of wood that needs to be repaired, the extent of the damage, how long repairs take, and the size of your home.

The amount of repair work done on your home is ultimately up to you and will be determined through open communication between you and your Project Manager.
Base Rotten Wood Replacement
Average Rotten Wood Replacement
High-End Rotten Wood Replacement
*Prices are averages and may change depending on the size and condition of the home, the amount and detail of the woodwork, and the number of coats needed. You'll receive an exact quote after an in-house consultation.
Here To Deliver An

Extraordinary

Process
We'd love to help you along your way.
Frequently Asked Questions
Do you offer carpentry services separate from painting services?
All carpentry work completed by Tribble Painting is done as part of a painting project. Unfortunately, we do not offer rotten wood replacement services separate from our painting services.
How can I prevent dry rot?
Applying a fungicide to your home is a great way to prevent dry rot. If you suspect you have dry rot, call an expert to ensure you are taking the proper care of your home.
If not taken care of, rotten wood will spread quickly to other wood. That's why it is som important to take care of any dry rot or structural issues as soon as possible.
How long does it take to repair rotten wood?
Depending on the amount of damage you have to your home, it can take anywhere from a half a day, to 3 days to complete rotten wood repairs.
Design your commercial space to attract your customers and make them feel at home.
Breathe new life into your home with new colors to match your personality and style.
Change the entire look of your kitchen without having to completely remodel the space by painting your cabinets.