If you're considering inventing or recreating your dream kitchen, you may think you need to go above and beyond with precious stone countertops, elegant backsplashes, and unique color schemes sure to wow your guests. However, the sleek look of white kitchen cabinets has ever been for contemporary-style minimalists alone.
Whether you're leaning more toward a traditional or modern feel, we at Tribble Painting Company will help you find a classic white kitchen look that'll always be in vogue.
Contemporary Kitchen Cabinets
If you're one for an all-white look, a contemporary kitchen may be the way to go. It offers narrow kitchens visual breathing room by creating an uncluttered experience. Larger kitchens get a touch of elegance and grace, and darker rooms with few windows receive a splash of welcome brightness.
However, all-white doesn't have to mean all-white. Using off-white, matching shades of gray, or even a touch of black will bring enough contrast to the room. This method creates layers that break apart a uniform layout most residents might deem monotonous and dull.
Achieve this look by adding a crisp white marble, porcelain, quartz, or concrete countertop to your kitchen with a granite backsplash behind it as a focal point. For a warm tone, try incorporating the tan shades of Crema Marfil or Botticino marble. Otherwise, Carrara, Emperador, or Cardiff marble has dark browns, blacks, and grays, perfect for a cool tone approach.
Paint your white kitchen cabinets to match your backsplash or countertop, depending on your preference. For a clean, classic white, we at Tribble Painting offer Simply White by Benjamin Moore. We also have warm and cool shades of off-white to help bring forth your new kitchen goals.
Bicolored Kitchen Cabinets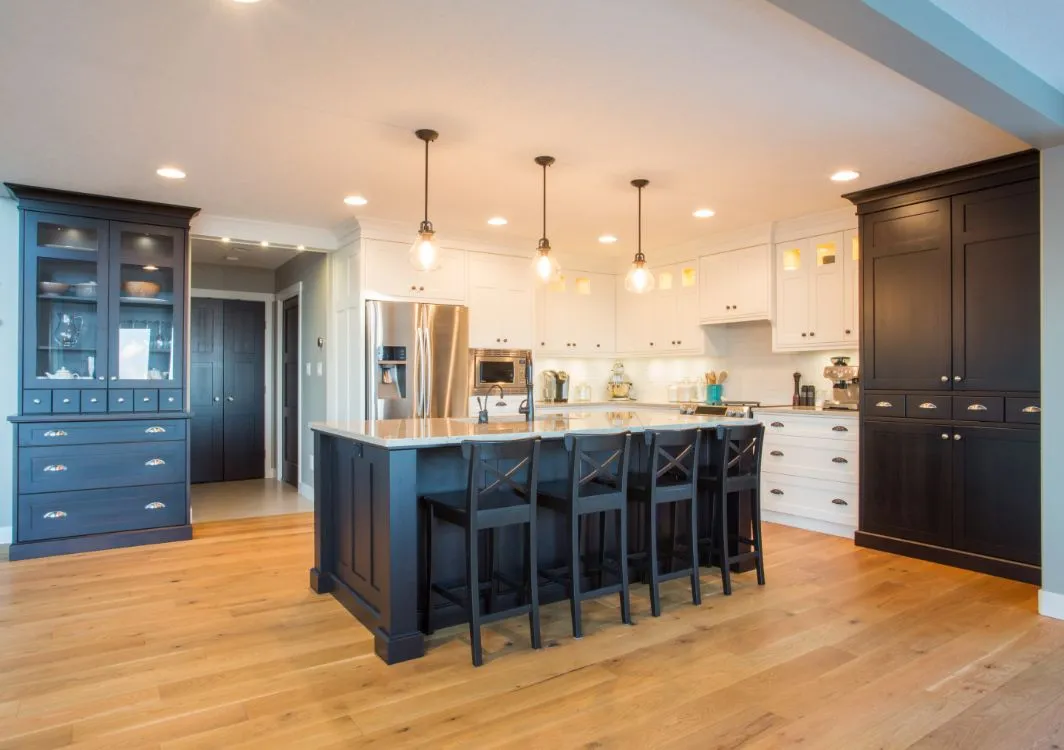 A bicolor or two-tone kitchen layout takes the contemporary kitchen up a notch. Rather than having a tiny splash of earth tones to accent your kitchen design, bicolored kitchens use heavy contrasts of dark and light to create a modern look.
They create an air of elegance while offering more pleasing aesthetics by grounding the cooking area (if you choose darker lower cabinets and countertops). In contrast, the light tile backsplash and floating white kitchen cabinets create a breathable upper kitchen area that balances the compact lower design.
While many residents choose this two-tone appearance with a horizontal split, others find the vertical divider more appealing. One wall or a section of a wall in your kitchen will consist of a darker hue from ceiling to floor, usually framing the main cooking area near the stove and oven.
However, some homeowners use the deeper color solely on kitchen island cabinets to make the center of their kitchen pop against surrounding white cabinets along the kitchen's circumference.
Classic white kitchen cabinets are always a promising approach despite how you divide your bicolor kitchen. Still, with our abundance of paint hues, consider experimenting with dark and light shades of more vibrant colors, such as blue, green, or red, rather than with basic black and white. You may also use one paint color paired with wood flooring and other wood areas, the timber creating the second tone.
Antique-style Kitchen Cabinets With Stainless Steel Accessories
If you'd rather stick with a kitchen that's mostly white for a brighter appearance but believe basic white lacks personality, consider an antique-style kitchen. We create antique kitchen cabinets by using a base color, usually the original color of your cabinets, then placing a stain or glaze of your choosing over it.
Glazes are more opaque and sit on top of the base color, creating a sophisticated and graceful appearance, popular in large residences and formal commercial estates. Stains seep into the cabinet material and create a rustic feel, common in farmhouses and cafe-type establishments.
The lighter your kitchen cabinets, the lighter the stain should be. For instance, if you have white kitchen cabinets, we won't use anything deeper than a mid-tone stain, while dark countertops require the darkest stain for visibility.
Our specialty is a grayish-white glaze with a peach or bronze undertone, which creates an antique style. If you're looking to bring an old charm into your cooking area, consider topping this off with stainless steel built-in appliances, such as sinks, ovens, stoves, or refrigerators. You may also use a rustic brick backsplash and a sleek black countertop to complete the design.
Glass Cabinets With White Panels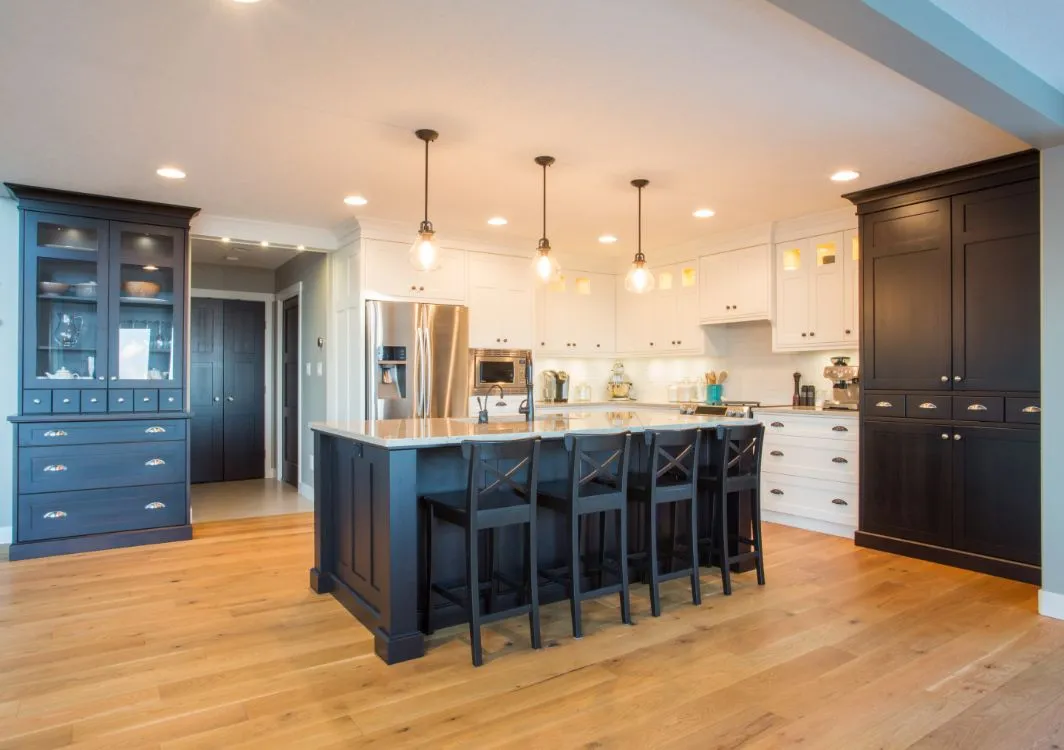 Consider cabinets with glass doors to achieve that quaint farmhouse feel with something other than stained white kitchen cabinets. Transparent glass doors create depth in your kitchen by giving the illusion of more open space. Frosted or slightly obscured fluted glass hides the contents of your cabinets and adds textures while maintaining an elegant feel.
Glass cabinets come in all shapes, sizes, and designs. From narrow rectangular corner cabinet doors to large glass pane doors on center cabinets, from basic glass styles to stylish design mullions and raised panels, you'll be able to personalize your kitchen in a manner that suits you.
With glass cabinets, you can paint the inner walls any color you choose since they're visible at all times. In addition to enhancing the depth of your walls, the appropriate color will complement the exteriors of the cabinets. It'll also make white kitchen cabinets pop with a slight splash of color and bring attention directly to the attractive displays you create within the cabinets.
The Five-Star Kitchen Cabinet Painters in Plymouth, Ann Arbor, and Canton
Are you ready to go over your options in further detail? At Tribble Painting Company, Inc., we believe in offering the best white kitchen cabinets that'll keep up with ever-evolving fashion trends without gutting your existing cabinets. We do so by prepping, priming, and painting or staining your cabinets as you deem fit, matching them with the mood of the rest of your kitchen.
For a quote on your next paint job, fill out our contact form today!