This Is How We Paint T1-11 Siding For Our Clients In And Around Ann Arbor
T1-11 siding is wood or wood-based siding for your home. You should paint T1-11 siding with a high-quality acrylic exterior paint.
Find out more below-
But Our Siding Is Different
"True, I didn't think about that," admits Jason.
"So we need to find out what we can about how to paint T1-11 siding," follows up Sarah. Jason blushes a bit. "I need to know what T1-11 siding is first."
Sarah laughs. "Me too, actually. Looks like we need to look up some information on Google ASAP," she says as she brings out her phone. "Maybe we can also look up trending house colors for Ann Arbor too," suggests Jason. Sarah smiles and nods.
She and Jason start looking up information on T1-11 siding and painting it.
Here's what they discover:
This Is What T1-11 Siding Is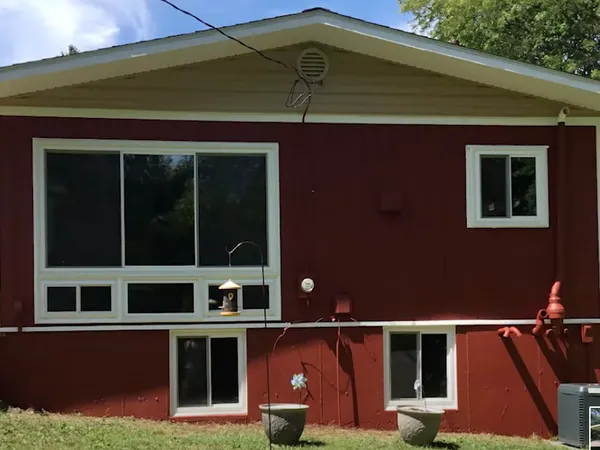 T1-11 siding is wood or wood-based siding for homes. It's made from either plywood or oriented stand board. You can paint or stain it to create a beautiful look for your home. It's cheaper than most siding types. T1-11 siding is falling out of popularity.
To Paint Or Stain T1-11 Siding?
When it comes to staining vs painting homes with T1-11 siding, you can do either! A solid acrylic stain is a great option as it penetrates the wood. But after T1-11 has been stained a number of times the stain starts only bonding to the surface of the previous stain.
At this point, it makes sense to switch to high-quality exterior paint. Then you'll need to choose between Benjamin Moore vs Sherwin-Williams.
So, you can do either, just prepare to switch to paint at some point.
How To Paint T1-11 Siding In 7 Steps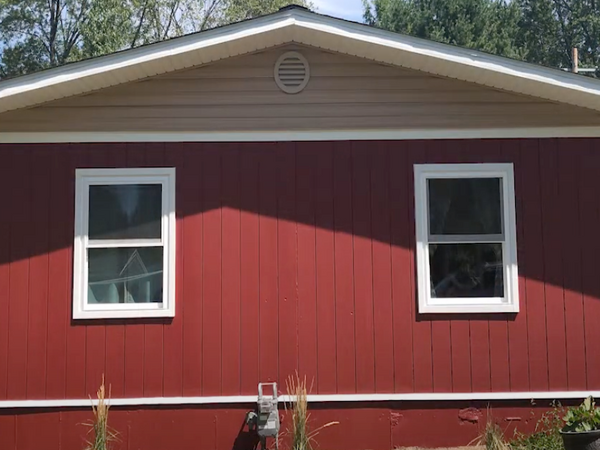 Mask windows, doors, etc
Check for damages
Repair damages if needed
Scrape off any loose paint
Clean your T1-11 siding
Prime
Paint with two coats
The best way to paint T1-11 siding is with a sprayer and roller combination. The sprayer gets the paint into the grooves. The roller helps get the paint into the wood grains so it sticks better.
More Details On These Steps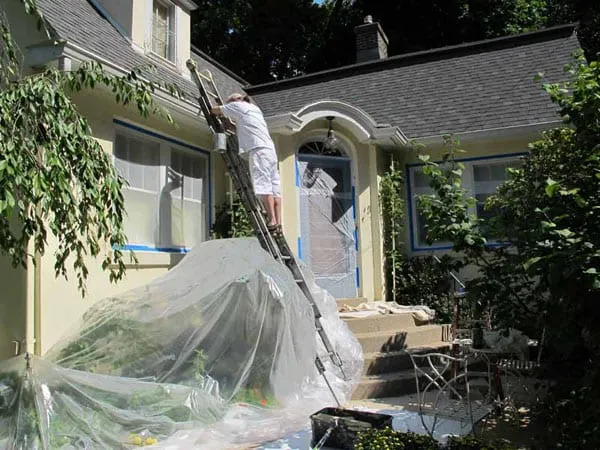 Preparing your exterior for painting is a process all in itself. It involves masking windows, checking for damages, and more.
You'll want to fix any damages before painting. Paint can make them easier to see. Also, damages will only get worse and cost more to fix later.
Scraping off the loose paint is important. Loose paint will cause new paint on top of it to crack and peel faster than normal. This means touching it up or getting a new paint job, again.
Cleaning helps the paint stick to the surface better. No dirt, mildew, or any other nastiness to get between the paint and your T1-11 siding.
Paint with 2 coats of high-quality acrylic paint. This kind of paint tends to work the best, protection and looks-wise.
You May Also Like To Know
"And now we know!" says Jason happily. "Yep," says Sarah. "But I don't think we know enough about exterior painting to call it a day. Let's see what else this blog has for us."