Does It Really Matter Whether Someone Brushes Or Spray Paints Your Ann Arbor Home?
You might be surprised to learn we use paint sprayers for about 75% of our jobs and they turn out amazing. Find out the truth about spray vs. brush painting. In the hands of an actual painting professional, it doesn't really matter which they use.
You can find out why from a painting expert by reading the post below.
Something Will DEFINITELY Go Wrong
"Wait, you really use sprayers to paint homes? That's ridiculous!"
Jenny waits for a response from the Plymouth painting contractor she's on the phone with. She can't believe he just told her they use paint sprayers on over 75% of their jobs. Her husband told her that's the worst way to paint a home.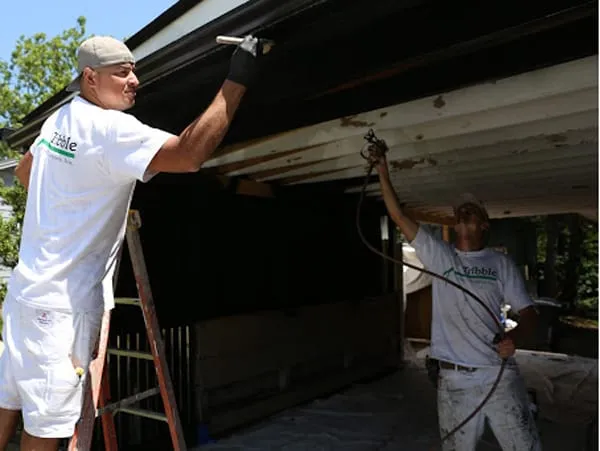 "Yes, we do and our clients are always happy with the results. May I ask why you think it's ridiculous to use paint sprayers to paint homes?"
Jenny remembers after last time they had to learn how to fix 3 types of paint streaks on their walls. She also recalls 3 reasons why, when it comes to spray vs. brush painting, spraying is not a good idea.
Here is what they are and why they shouldn't be a concern.
1. "It Gets Everywhere It Shouldn't"
"I don't want paint ending up on plants, walkways, windows, or anything like that."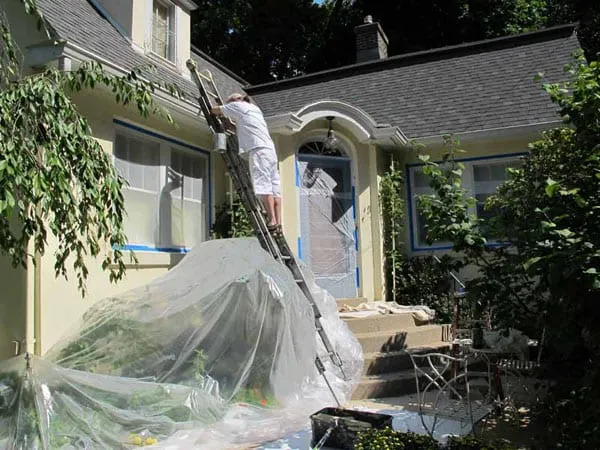 This is a legitimate concern to have when it comes to spray or brush painting a home. We've seen it happen before when people tried to DIY it or they hired someone else to do it.
"Then why try it at all? How is it that you are still using paint sprayers?" Jenny asks in concern.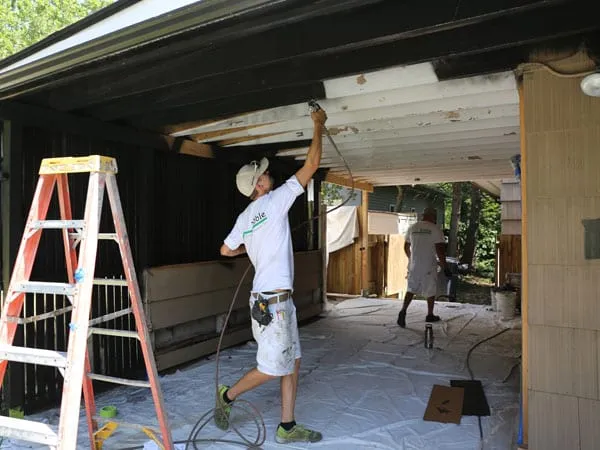 The difference is mostly in the preparations. Real pros will cover, mask, and tape off everything that doesn't need painting. If doing this will take too much time and resources then we use brushes and rollers instead.
"Also real professionals have the experience and technique to make sure the paint goes where they want it to," the contractor finishes.
"Ok, but what about the last guy who messed up using the paint sprayer and got paint everywhere which didn't even last that long?"
2. "The Last Guy Did A Terrible Job And The Paint Didn't Hold Up"
"Paint was everywhere and then it didn't last long at all!"
It sounds like the last painter who sprayed your house wasn't much of a professional. True pros prep the area to a 'T' to make sure paint only goes where the homeowner wants it to go.
"Well, then, it seems like when it comes to spray vs. brush painting using a brush helps the paint last longer," Jenny points out.
Spraying or brush painting a house has no effect on whether the paint lasts or not. The main factors are the quality of the paint, the weather, and how good the painter is.
"So far it sounds like we just hired the wrong guy to paint our house," Jenny sighs in frustration. "I don't think so, I just think the person you hired chose the wrong method for painting your house. It's not your fault," the contractor assures her.
"Ok, but we have a wood house and don't you have to work the paint into the wood or something?"
3. "The Paint Needs To Be Worked Into The Wood"
"Otherwise it won't last, right?"
Stains and paints will work their way into the wood no matter how you put it on. Spray vs. brush painting doesn't have a place here. If your home already has a stain then the goal is to get the new paint or stain to stick to the old one.
"Really? But I heard brushes and rollers make the best look," Jenny says.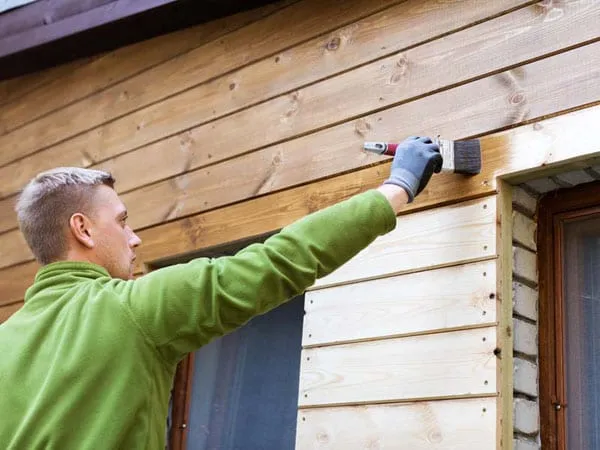 Unless you are an experienced painter using brushes and rollers can actually cause your paint to fail more quickly. Over-brushing/rolling will thin out the paint, which puts it at a higher risk for failure.
How Does Jenny Feel About Spray vs. Brush Painting Now?
"I had no idea! It sounds like I did all that worrying for nothing," Jenny says with a small laugh. "I'm glad I could ease your worries. Is there anything else you'd like to know?" the contractor asks.
Jenny thinks for a moment before asking about exterior painting costs and what makes it change.