You Can Learn About The Steps We Use To Make This Client Happy With Their New Home In Ann Arbor
How to paint interior trim starts with prepping the area. Then sand, caulk, fill nail holes, and prime and paint with two coats of paint. You can learn more about our process for interior home painting here.
See how it turns out for this client below-
But We're Not In Town!
"So we have to find someone we can trust to paint our home's interior trim," says Rob.
Rob and his wife are getting ready to move into their new home In Ann Arbor…from out of state. But, they don't like the stained interior wood trim and want someone to paint it before they move in. The problem is they don't know who they can trust.
"Here, I'll look online for painting contractors in Ann Arbor. If we can find someone we trust I'm sure they can do it," suggests Rob. His wife nods in agreement as he takes out his phone.
Rob goes through a couple of contractors before he finds Tribble Painting. He looks at their work, reviews, and interior painting page. He shows them to his wife and they agree Tribble Painting might be the one.
The couple decides to fill out a contact form.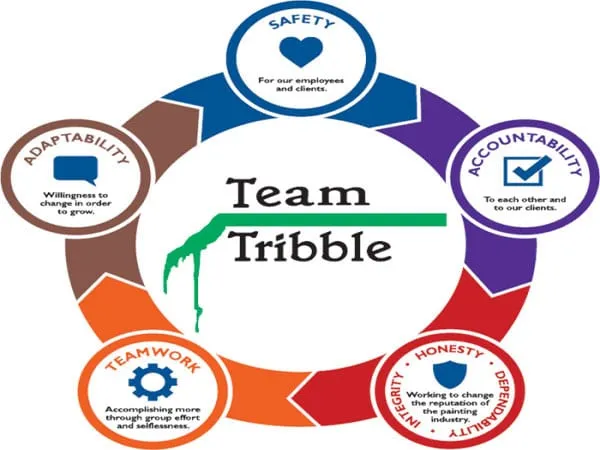 They get a call back more quickly than they were expecting. Rob and Tribble work it so the parents can be at the estimate. One of Tribble's estimators meets one of the parents at Rob's home. They Facetime Rob and go through the house together.
Once they set expectations and answer each other's questions, Rob and his wife decide to move forward and have Tribble paint their interior trim.
The couple gets on the schedule and gets an email about when their project starts and who the project manager on site will be.
Then, it begins.
Painting Interior Trim In 5 Steps
Prepare the area you'll be painting
Sand trim lightly
Caulk where needed
Fill nail holes if needed
Prime and paint with 2 coats of a satin paint
Knowing the best way to prep for painting can make clean up much easier. Sanding the trim provides more grip for the paint to stick to. Cleaning it makes sure nothing like dirt or dust will cause problems by getting between the paint and the trim. The caulking gives a more seamless look to the trim, meaning fewer gaps.
Painting The Interior Trim White
Aaron, the project manager in the email, shows up right on time with his team.
He Facetimes Rob and goes on a pre-job walk through to make sure he knows exactly what the project needs. Then, he and his team start painting the interior trim. They also paint the blue fireplace white, just as the couple wanted.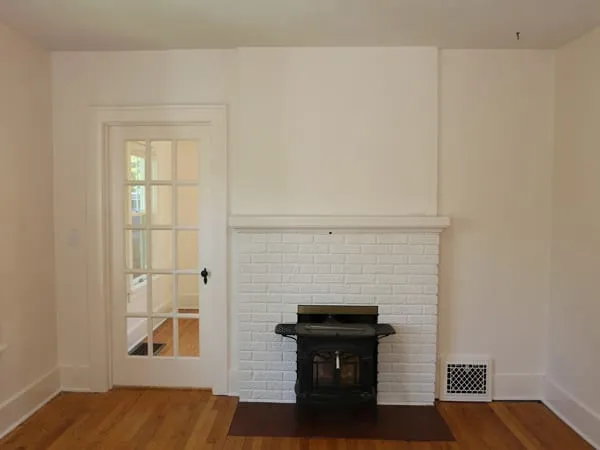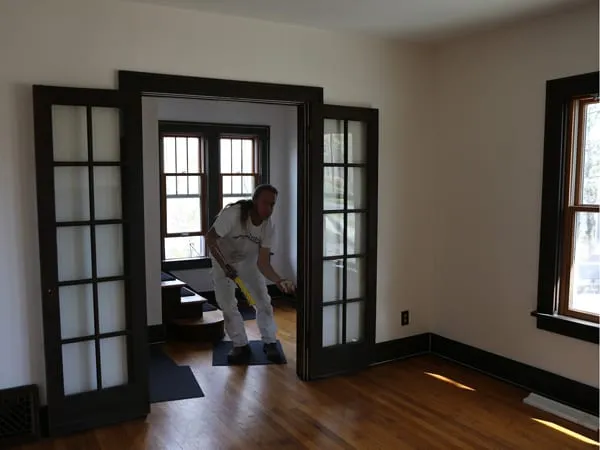 After the painting is done, Aaron Facetimes Rob and his wife for a post-job walkthrough. This means going through the job site to make sure everything is done and done well.
You May Also Like To Read
Rob and his wife are happy with what they see. Now they can move into their new house and have it feel like their home.