Painting exterior wood trim is a project that can protect your home and increase your curb appeal. While it may be a smaller project, it isn't the easiest.
In this blog post, we'll take you through the steps to paint your exterior trim like a pro and more.
How To Paint Exterior Wood Trim In 7 Steps
Painting exterior wood trim is a project that can protect your home and increase your curb appeal. While it may be a smaller project, it isn't the easiest.
In this blog post, we'll take you through the steps to paint your exterior trim like a pro and more.
1. Clean The Exterior Trim
Whether your exterior trim is new or old, the paint will not adhere properly if the surface is not clean. Dirt, dust, pollen, and other airborne contaminants can all create a barrier between the paint and the trim, causing the paint to peel and flake over time. Failing to clean the trim before painting can also lead to brush marks and other imperfections in the final paint job.
Wash the exterior trim with a mild bleach and water solution to clean and remove any mildew. You can also use TSP (trisodium phosphate) for tougher stains.
2. Make Any Repairs
It's always a good idea to make repairs to your home before painting, and that's especially true when it comes to painting exterior trim. Over time, wood trim can become cracked, warped, or otherwise damaged due to weathering. If you paint over damaged wood trim without making repairs first, the paint will only highlight the imperfections and make them more visible. Paint will also not adhere well to damaged wood, so the paint job is likely to peel or chip over time.
You can use wood putty and a putty knife to fill in holes and cracks. The product comes with instructions on how to best apply it and let it set.
3. Replace Boards As Needed
If there are parts of the trim where the damage is too great, it's time to replace them.
4. Caulk Joints And Small Holes
By filling joints and small holes, caulking helps create a smooth surface that paint can more easily adhere to. In addition, caulking can help prevent paint from cracking or peeling by creating a flexible seal that allows the trim to expand and contract with temperature changes. Caulking also helps to keep out moisture and insects.
When caulking joints and small holes, be sure to use a paintable caulk and apply it generously.
5. Scrape Loose Paint
It's vital to scrape off any old, flaking paint before you paint exterior trim. Not only does this help the new paint to better adhere to the surface, but it also gives you a chance to inspect the trim for any signs of wood rot. Scraping away loose paint helps to create a smooth surface that'll be more resistant to dirt and grime.
The best way to do this is with a paint scraper. A paint scraper is a tool with a sharp blade that's designed specifically for removing paint. It's much easier to use than a putty knife or other type of blade, and it won't damage the bare wood beneath the paint. Once you've scraped off all the loose paint, you should sand the surface to create a smooth finish.
6. Prime Your Exterior Wood Trim
Before you paint exterior wood trim, it's important to prime the surface. This will help to ensure that the paint adheres properly and that the color is more evenly distributed. Bare wood especially needs priming.
Priming also helps to protect the wood from weather damage. When choosing a primer, be sure to select one that is specifically designed for use on wood. This will ensure that the primer adheres properly and doesn't peel or chip as quickly. For best results, apply the primer with a paintbrush or roller.
Once the primer is dry, you're ready to paint!
7. Paint Your Exterior Wood Trim
Paint your exterior trim with one or two coats of your choice of exterior paint. Two coats help ensure better coloring and protection and on average last up to 2x longer (without doubling the cost.)
What Makes The Best Exterior Wood Trim Paint?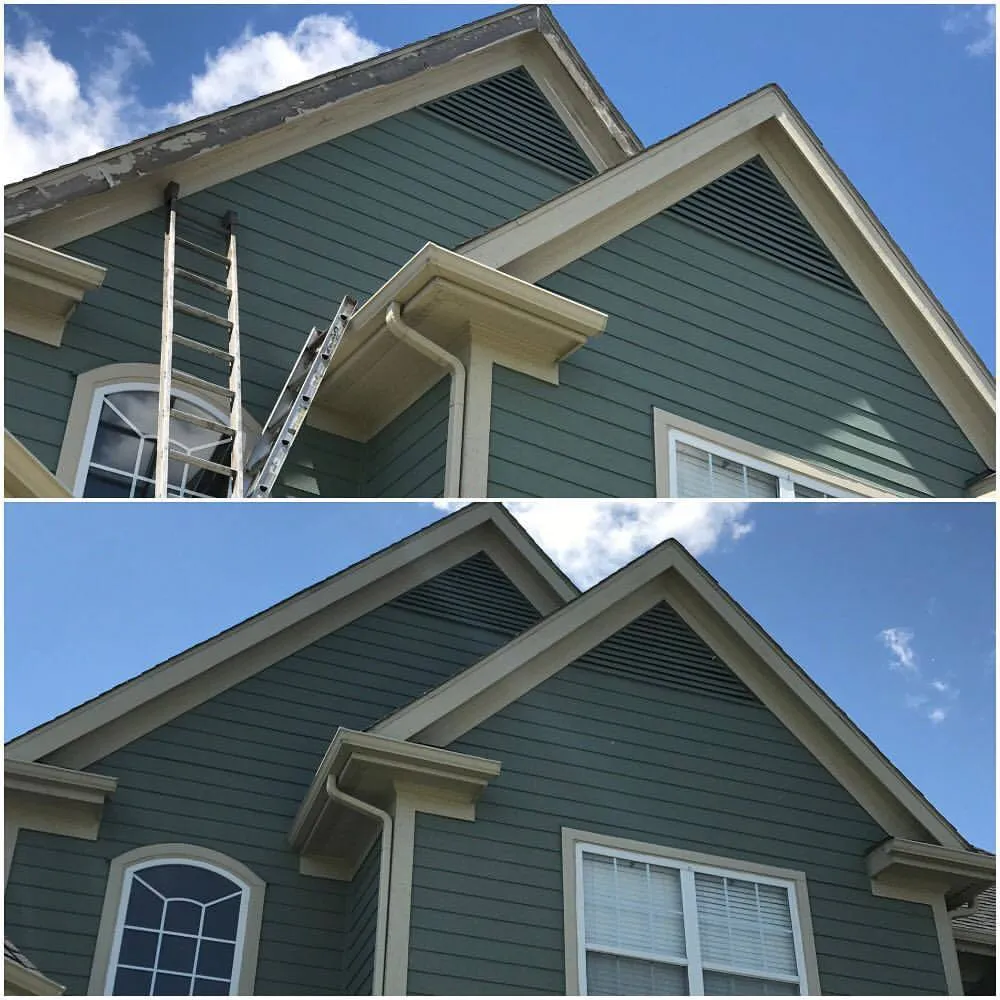 When it comes to painting exterior wood trim, there are three main types of paint to choose from: latex, oil-based, and alkyd.
Latex paint is the most popular choice for exterior wood trim because it's easy to use and clean up, dries quickly, and is less likely to fade or yellow over time. One of the big advantages is the flexibility of latex paint.
Oil-based paint is more durable than latex paint but over time is more likely to chip or crack, it can be difficult to work with, and has a strong odor.
Alkyd paint is similar to oil-based paint in terms of durability and performance, but it's easier to use and doesn't have as strong of an odor.
There are three main parts to consider as well: adhesion, flexibility, and durability. Adhesion is important because you want your paint to stick to the surface of your trim without peeling or chipping. Flexibility is important because as your trim expands and contracts with changes in temperature and humidity, you don't want your paint to crack or flake off. Finally, durability is important because you want your paint job to last for years without needing to be redone.
As far as sheen goes, satin, semi-gloss, and high gloss are the best ones. They're more durable and will look great. Speaking of durability, mildew resistance is a durability trait you want your exterior wood trim paint to have. In Michigan
The Best Exterior Wood Trim Paint Brands
There are dozens of different paint brands on the market, but not all of them are created equal. When it comes to choosing the best paint for your exterior wood trim, look for brands that specialize in exterior paints, such as Benjamin Moore, Sherwin-Williams, or Behr. These brands offer paints that are specifically formulated for use on outdoor surfaces such as wood trim, so you can be sure they'll stand up to the elements.
*We like to paint exterior trim using Benjamin Moore Regal for our clients' exterior wood trim painting projects
How To Pick The Right Color For Your Exterior Wood Trim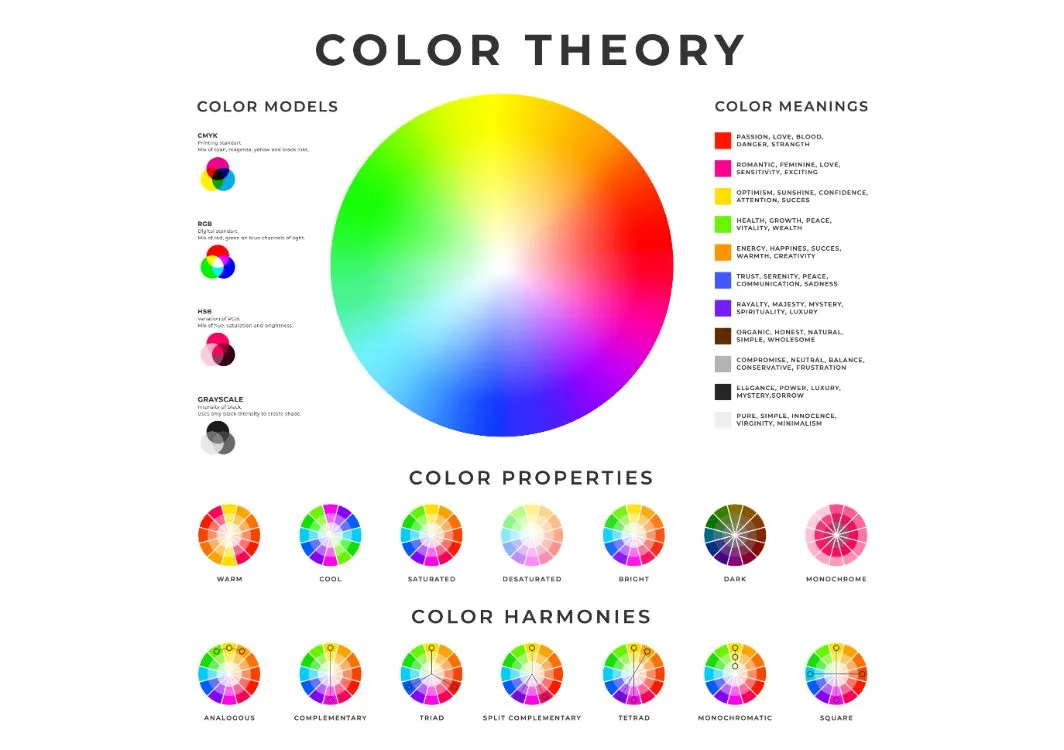 One of the most important aspects of painting exterior wood trim is choosing the right color. After all, you want your house to stand out for all the right reasons!
When selecting a color for your trim, take into consideration the existing colors on your home as well as any neighboring houses. You also want to make sure the color you choose complements your home's style. For example, if you have a traditional home with brick siding, you might want to choose a classic white or cream color for your trim.
If your home has vinyl siding, you may have more leeway when it comes to color selection since there are more options that'll coordinate well with vinyl siding. For homes with light-colored siding, you can go with a darker trim color to create contrast. For dark-colored siding, you might want to stick with a lighter trim color so as not to overwhelm the eye. If you're really undecided, white is always a safe bet!
Once you've narrowed down your color choices, purchase sample cans of each one so you can test them out before making a final decision.
Is Exterior Trim Painting a DIY Job?
After reading this article, you might be tempted to tackle painting your own exterior wood trim. While it's certainly possible to do it yourself, there are a few things you should consider before taking on this project yourself.
First off, exterior trim painting can be time-consuming—it's not just about slapping on a coat of paint! You'll need to properly prep the surface by sanding down any rough edges and cleaning off any dirt or grime. Once that's done, you'll need to apply primer before painting so the new color will adhere properly and look its best.
You'll also need to be comfortable with ladders and heights. Along with that, there's special equipment that you'll either need to have or rent, as well as know how to properly use.
This process can be tedious and time-consuming, so unless you're confident in your ability (and have the time!)to do it right, we recommend hiring a professional painter who has experience painting exterior surfaces.
Choose The Hassle-Free Route By Using Tribble Painting
Painting exterior trim is an easy way to add curb appeal to your home—but only if it's done right! It can really add some extra curb appeal to your home.
If you're looking for a new paint job for your exterior wood trim in Novi, MI, Tribble Painting can help.
Our team of Novi painters is ready to help you get the job done right. Fill out our contact form today and start your painting project!