You Can Transform Your Plymouth Kitchen And Love It Again Without Breaking The Bank
You can see the transformation this home in Plymouth, Michigan goes through as a client hires us to paint crown molding and walls in their home. The new colors are amazing and give the house a modern charm.
You can see the hiring process and the final result by reading on.
Now We've Got To Paint It
"It finally feels like home, well, almost," Linda says with a sigh.
Linda has just had crown molding put in around her Plymouth home. It's been part of her plan since she started having the house built. The budget and timing just got in the way until now.
But it isn't finished yet- painting the crown molding and walls will make it finally feel like home.
That's why she is meeting with 3 different painting contractors. She's met with 2 already and now she's calling on the third Plymouth house painter to see when she can meet with their estimator.
Linda is going to contact Tribble Painting.
Will Her Phone Call Go Unanswered?
Linda hits the call button and puts the phone up to her ear.
"Riiinnggg—Riiinnggg—Riiin-
"Hi, this is Ashley with Tribble Painting, how can I help you today?" Linda's slightly surprised that she got an answer so quickly but she recovers and starts talking about her project for painting crown molding and more. She already has her colors picked out and wants to make sure they can get that color.
Ashley gets Linda on the schedule to meet with Nick, one of Tribble's estimators. He'll be asking about her expectations for the project and what she needs as well as looking at her space.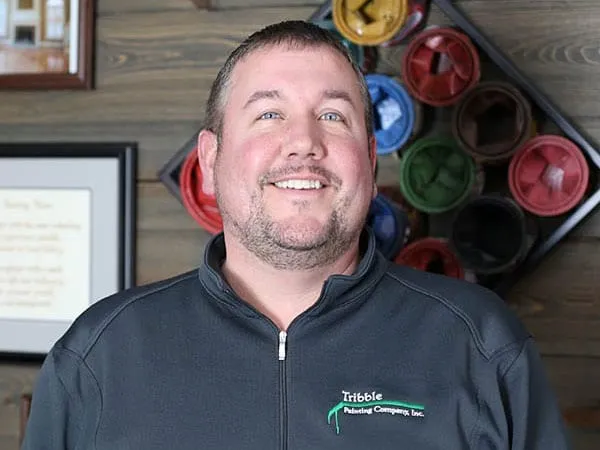 Nick comes and takes a look at Linda's project area. While there he talks about Tribble's story and his own story with the company. He also went over Tribble Painting's process, values, and who their employees are.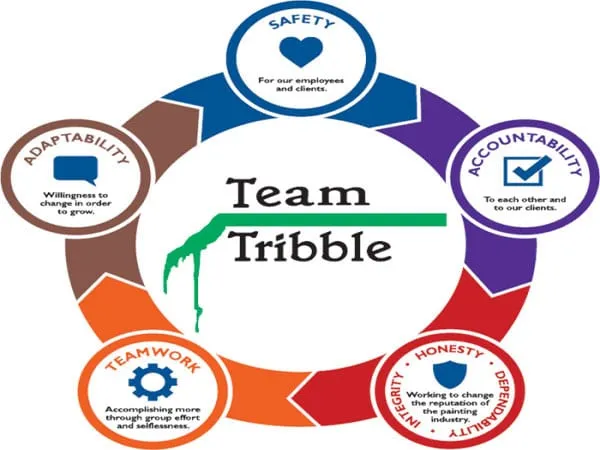 Nick gives Linda the estimate for painting crown molding and walls in her home, which turns out to be higher than the other contractor's estimates.
Linda hires Tribble even though they are more expensive because:
She feels comfortable after Nick talked about their values, process, and employees
Tribble uses its own employees and not subcontractors
She feels the Tribble team will treat her home with respect and give her the quality and service she's looking for
Linda calls Tribble Painting back and talks to Jeanette, the office administrator, about getting on the schedule.
Linda and Jeanette work out a time for the painting crew to start. Jeanette sends Linda an email with the start week. As the week gets closer Linda gets another email with the actual start date and some information about Weston, her project manager.
Then the day comes, as does the Tribble Painting team.
Painting Crown Molding And More In Linda's Home In Plymouth, MI
Linda opens her door and invites the two Tribble painters inside.
One of them introduces himself as Weston (her project manager and the man in the picture below) and the other as Jacob.
Here's a video of the project:
Weston takes Linda on a pre-job walkthrough, reviewing the work to be done and making sure he knows Linda's expectations for the job. Once they make sure they're on the same page the team gets to work.
Day 1
Weston and Jacob prepare the space by moving or covering furniture and laying down drop cloths. They also prep the new crown molding for painting by filling nail holes, caulking, and priming the new wood.
Day 2
Weston and Jacob paint the crown molding with two coats of Benjamin Moore Advance satin acrylic paint. They also paint the ceilings with flat acrylic paint.
Day 3
Weston and Jacob paint the walls with two coats of Benjamin Moore eggshell acrylic paint. They put the furniture back, move all of their equipment out, and clean up. Weston takes Linda on a final walkthrough to make sure they've met her expectations.
What Does Linda Think?
Linda's been observing the Tribble team for the past 3 days. She is very pleased with how everything turned out from the colors to the actual painters themselves. She said she paid more to work with Tribble but felt what she got in return more than outweighed that.
Now her house feels like home.
This couple had us make their new house feel more like home with a white interior painting project >>