Updating Basement Colors To Ones The Homeowners Want For Their Ann Arbor Home
Your basement just doesn't work for you anymore. The look is…wrong somehow, like it's outdated or you're tired of it. When the colors in the basement just aren't what you want anymore it may be time for a change. Painting basement walls can refresh the room, turning it into a "new" space that you can fall in love with again. It's a lot cheaper than remodeling the whole area too.
Update, Like An iPhone?
"Sure, like an iPhone, only less confusing and more present."
Arlene is currently trying to convince her husband that painting the basement walls is important for their home. She wants to update the colors so they look more modern and that led to him comparing it to updating an iPhone.
"Well then I'm in! If it'll make it look better and you'll be happy then I see no reason why not to," he replies.
Arlene claps her hands in delight and pulls out her phone. They've used the same painting contractor a couple of times so they know just who to contact: Tribble Painting.
Hiring Tribble Painting
Arlene calls Tribble Painting and talks to Ashley about painting her basement walls.
They go back and forth asking and answering questions until they are both on the same page about the project. Arlene decides to schedule a time for Nick, the estimator, to meet with her.
Nick arrives on the agreed upon time and day for the estimate. He and Arlene go through the project, asking and answering questions before Nick gives her an estimate. Arlene and her husband decide they need some time to think it over before they commit. He thanks them for their time and heads on to his next job.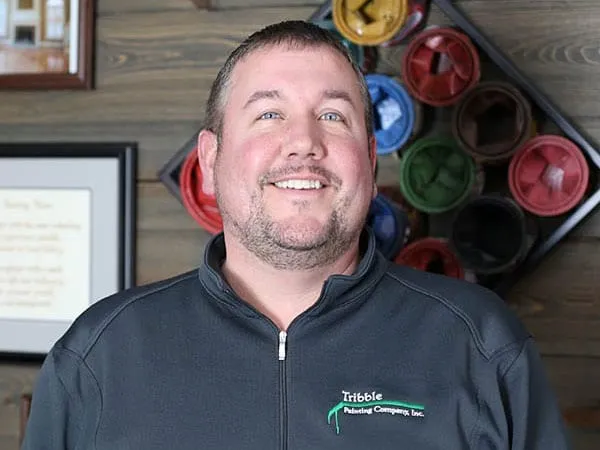 About 1 month later Arlene and her husband call Tribble Painting back and talk to Jeanette about accepting the estimate and getting on the schedule. The couple is finally ready to get their basement walls painted a new and refreshing color.
Jeanette sends the couple an email with the week their project is going to start. As the week gets closer the couple gets another email with the actual start date and some information about their project manager, Aaron G. They like knowing who's going to be leading the crew into their home.
Painting Basement Walls New Colors
"Here they are, right on time, as per usual."
As the Tribble team starts unloading, one of the guys splits from the group and walks up to Arlene. She recognizes him as Aaron, the project manager from the email she got:
Together, they go on a pre-job walk through to make sure he understands their expectations for this project. There are some questions and pointing out certain areas involved, and at the end everyone understands exactly what is going to happen.
Now it's time to start painting the basement walls.
The Painting Process
Move smaller items and furniture out or into the middle of the room
Cover anything left with plastic
Cover the floors with drop cloths
Repair stress cracks and nail pops
Sand and caulk the trim
Paint trim with one coat of Benjamin Moore Advance satin acrylic paint (same color)
Paint the walls with two coats of Benjamin Moore Regal Select eggshell acrylic paint
After this 4-day project of painting the basement walls (and the master bathroom, but that's another story) the last steps are to clean everything up and do a post-job walk through.
The Final Result
Aaron takes the couple on a post-job walk through to take care of anything the couple sees that his team may have missed. Once the walk through is done and everything is clean, Arlene gives Aaron the final check and they say their goodbyes.
They both love the new, updated color of the basement (and their little dog does too!)