Yes, you can paint aluminum siding on homes and other places. For this exterior house painting project on the east side of Ann Arbor, our client chose a red Benjamin Moore acrylic paint to create a beautiful new look for their home. You can see how it turns out and learn about what it's like to work with us.
Here is Jan's story (see pictures near the bottom of this post.)
Jan taps the postcard in his hand thoughtfully against his chin.
He's been standing at the mailbox for a few minutes now, his eyes wandering back and forth from the postcard to his house. It's been a thought-provoking morning already.
"We've been talking about doing something more than actually trying to do anything," Jan thinks with annoyance. He and his wife have been thinking about painting the aluminum siding on their home again.
It's over 20 years old, the color has been the same the whole time, and now it has this uneven chalkiness to it. It just doesn't look that good anymore and it needs to change.
Jan sighs, takes another look at the postcard, and walks inside to talk to his wife about hiring someone to fix it.
Hiring Tribble Painting
"Well Jan, the work on the postcard looks great and so do their other pictures."
"Of course they do, they'd only put their best work out there," Jan argues, playing devil's advocate. He isn't about to let some hack painters have a go at his home.
"Look here though, hon. They have great reviews, their blog posts cover their process with actual work they've done, and overall they seem like they have it together. There's no harm in at least calling them, right? Plus look at their company values, they reflect the reviews."
Jan thinks for a moment before saying, "If you think so, then let's give it a try."
Jan brings out his phone and calls the number on the postcard. He puts it on speakerphone so they can both listen and talk.
Making The Phone Call
A bright voice interrupts the ongoing ringing. "Hi, this is Ashley with Tribble Painting. How may I help you today?"
Jan and his wife explain that they want someone to paint their aluminum siding.
Both sides ask and answer questions, business and personal as Jan's wife and Ashley hit it off, forming a quick friendship.
After talking, Jan and his wife agree to scheduling an estimate for later in the week so they can find out how much it will cost.
"Thank you for calling! Let me know if you need anything else, I'm just a phone call away." Ashley says cheerily. "Of course and thank you Ashley." Jan replies before ending the call.
Now all they need to do is wait for the estimator to arrive.
Meeting With Todd Tribble For The Estimate
"Hey hey! Welcome to our home, Todd!" Jan says welcomingly. "I know you probably get this a lot, but are the owner? The last names…" "You got me," Todd says with a laugh. "I like to stay active in multiple parts of the business and giving estimates is one of them. I'm also a people-person so I enjoy doing this."
Todd and the couple walk around the house, going over the plan, asking questions, and getting a feel for each other.
At the end of the estimate, Todd tells him what Tribble Painting would ask for the amount of work.
"Wow, I wasn't expecting that kind of number," Jan utters in surprise. Jan's wife agrees, so they thank Todd and tell him they need to think it over. "Of course, take your time and have a pleasant day," he responds.
1 week later…
"Hi, this is Ashley with Tribble Painting. How may I help you today?" Jan and his wife have decided to hire Tribble Painting for painting their aluminum siding. Ashley puts them through to Jeanette, who talks with them about collecting the deposit and getting them on the schedule.
Jan's wife hangs up the phone, turning to her husband in excitement, "It's finally happening! Soon, our house is going to be beautiful again."
A False Start To Painting Aluminum Siding
"Oh dear," Jan's wife cries in sadness.
The rainstorm is ruining Tribble Painting team's beautiful work. They had just finished painting it too, making it look beautiful once more. But now the paint has an uneven look to it.
Jan calls Tribble Painting about the problem. They, in turn, contact the paint manufacturer to see why this had happened after they used the paint.
The end result: Tribble Painting decides to repaint Jan's house at no cost to her.
"Wait, are you sure?!" Jan says in disbelief into the phone. He can't help it because the surprise is almost too much to handle. What kind of painting contractor would actually offer to redo their work for free, and it wasn't even their fault?!
"Of course," the Tribble team member says. "But, it may be best to wait until spring so nothing like that happens again."
Jan and his wife think that sounds fine with them. While they are waiting they have Tribble Painting come in and paint areas of their home interior.
Then, when spring has sprung, Tribble Painting springs into action to repaint Jan's home.
Painting Aluminum Siding (Minus The Rain)
The Tribble Painting team once again rolls in to paint Jan's home (on time too).
The project manager walks up to Jan and goes on a pre-job walkthrough with him. He wants to make sure they are both still in agreement about what's going to be done so there are no surprises.
"Jan, do you still have my personal contact info or would you like my number again?" he asks at the end of the walkthrough. "I actually still have it! If I have any questions or concerns I'll be sure to reach out," Jan replies. He still can't believe they give out their personal numbers like this.
"If there's nothing else then me and the boys will be getting to work," the project manager says politely. Jan thanks him and he turns around, barking out orders to his team.
The painting aluminum siding project begins.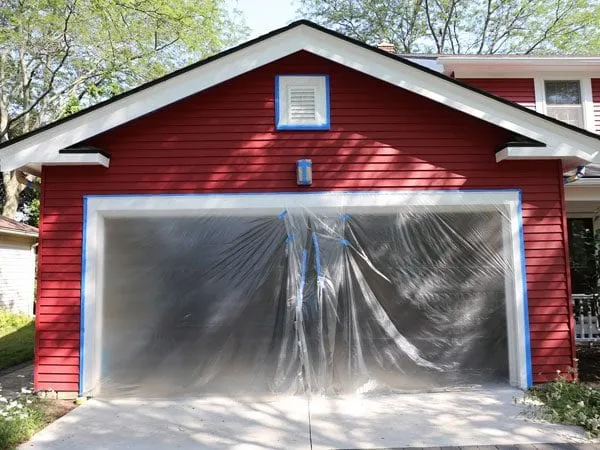 The team's first step is to wash the house. All the dirt and dust and stuff will keep the paint from sticking to the aluminum siding as well as it should. They then mask the trim and everything else that doesn't need paint on it. Finally, they spray the body of the house with two coats of Benjamin Moore acrylic paint.
Now Jan's home looks beautiful and there's no bad weather to ruin it before it sets.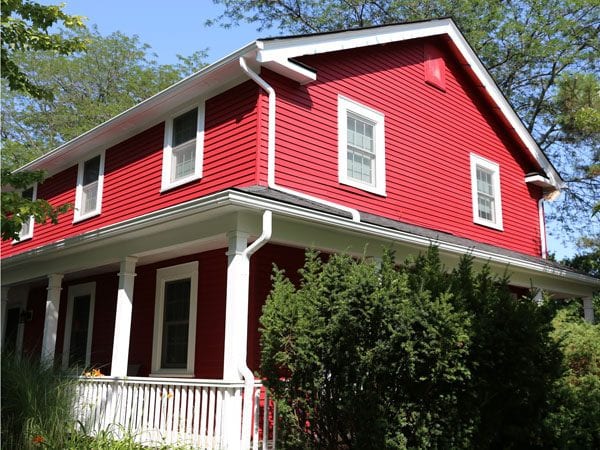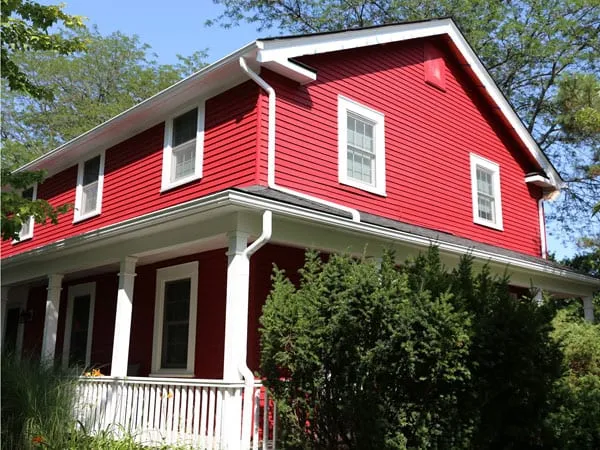 "I love it, again!" Jan laughs. The post-job walkthrough with the project manager is over and so is the project. But the relationship formed between Jan and Tribble Painting is a lasting one.
You can see other home transformations clients have had us do for them >>
All characters in this post are not accurate representations of our clients. The characters' personalities and diction are fictional.