A Client In Dexter, Michigan Hired Us To Fix The Failing Paint On Her House Exterior By Painting It An Amazing New Color
Sometimes it's a good thing when the paint on your house fails. You can use the chance to change the look of your home like our client here did!
In this post, you can find out what Tribble Painting's painting process is like in Dexter, MI. You can also see the before and after pictures of this project.
It's Finally Happening
"Great, well, might as well make the most of this situation," sighs Melinda.
Standing on her deck she can see the exterior paint on her home fading away beneath the dirt. It's not the color it once was and a simple cleaning won't fix the problem.
Melinda's deck isn't looking so good either. She needs someone to paint her house exterior and repaint her deck.
Melinda smiles a bit. "At least I finally have a reason to paint my home one of the popular colors for houses. Until then, I don't know if I can let anyone I know see my house like this."
She looks down at her phone and starts looking for painting contractors near Dexter, Michigan.
That's where she finds Tribble Painting.
Hiring Tribble Painting
Before Melinda calls us, she finds our blog post on how Tribble Painting works with clients. After she looks over it, she feels way more comfortable and decides to contact us.
Melinda contacts us
We reach back out
We schedule an on-site estimate
On-site estimate
We send Melinda a welcome video
She gets an email the Wednesday before we start with a possible start day and time and a link to her project manager's bio
Melinda lets us know that the date and time works for her
Painting Melinda's House Exterior A Fresh New Color
Tribble's painting team shows up right when they said they would.
Melinda's project manager takes her on a pre-project walkthrough. He answers her questions and makes sure they're on the same page.
He even gives her his cellphone number so she can call him if she needs to.
Then the team starts the process of painting a house exterior. Melinda also has the team repaint her deck because it was peeling like crazy.
The Before And After Pictures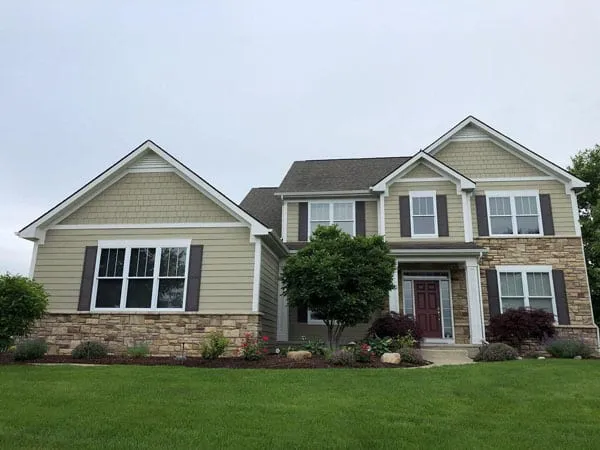 What Happens After The Project
Melinda's project manager takes her on a post-job walk-through. She can't see anything that needs touching up, so she makes the final payment.
Melinda will get a follow-up call to make sure she's still happy with the look of her home and that nothing has changed
You May Also Like To Know
"This is exactly what my house needed," says Melinda with a smile. As she stands on her deck looking at her home, she wonders what other projects Tribble Painting have done.