This Is How We Paint Garage Doors And Walls For Clients Around Ann Arbor
You can learn how to paint a garage like Tribble Painting does! Not only that, but you can see us do it for clients around Ann Arbor.
See it all below-
It's Seen Better Days
"What's seen better days?" asks Jim.
Charles sighs. "My garage. There are nail pops, stress cracks, and seams all over the walls. It looks terrible and it needs fixing." Jim nods understandingly. "I know what you mean. My garage doors are covered in woodpecker holes. They need fixing and painting. Maybe I should look up how to repair woodpecker holes and stop them from happening."
"Have you looked up how to paint a garage door? Or how to paint garage walls?" asks Charles. Jim shakes his head. "I don't know how to paint a garage. We should probably hire someone for each of our projects."
Charles nods. "Want to look together?" Jim nods and they start looking. They find Tribble Painting and, after looking at reviews and pictures, they decide to hire them.
Here's how they paint the two men's garages:
How To Paint Garage Walls
Clean the walls with a mixture of trisodium phosphate and water
Repair damages like nail pops, stress cracks, and drywall tape seams
Sand and prime patches
Apply two coats of acrylic paint with a satin finish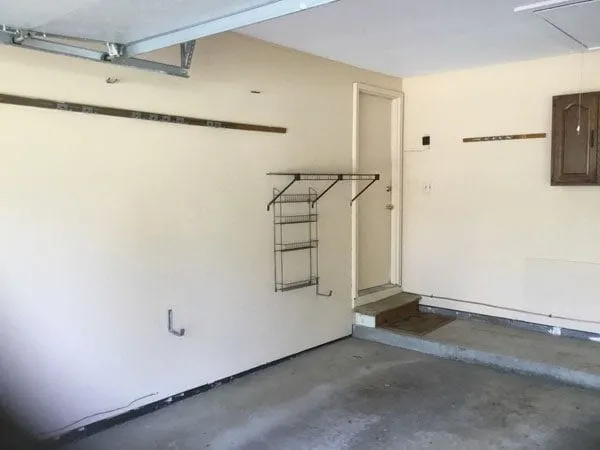 Charles' garage doesn't look damaged anymore. The nail pops, cracks, and seams are gone and the garage is a bright new color. It looks even better than Charles had been imagining.
How To Paint Garage Doors
Wash your garage doors with a mild bleach and water solution to clean and remove any mildew or organic growth
Scrape off any loose paint
Check the bottom part of the garage door frames for rot and damaged areas and replace them as needed
Caulk garage door frame
Prime any bare wood
Apply one or two coats of a high-quality paint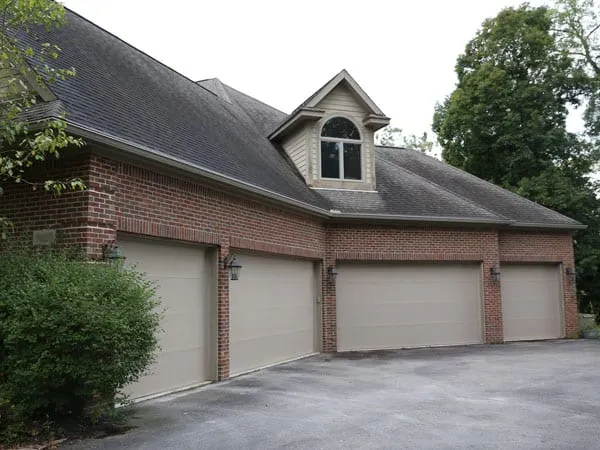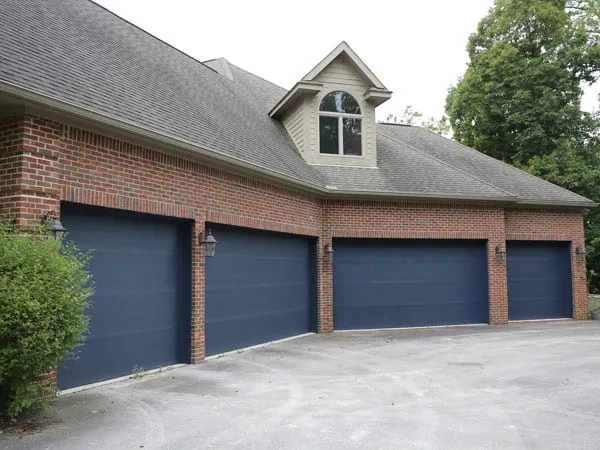 Jim loves the new color of his garage doors. He's happy that the woodpecker holes are gone, too.
The Best Paint For Garage Doors
The best paint for garage doors is a paint with an eggshell or satin finish. We tend to use a Benjamin Moore brand made for exterior use. These types of paint last longer and look better than others.
What Working With Tribble Painting Is Like
Charles and Jim call Tribble Painting separately to talk about their projects.
The administrative assistant at Tribble asks and answers questions until they have a good idea of what the men want. Charles and Jim have an estimator come out to their homes. They each decide to move forward and write a deposit check.
They call Tribble back and get on the schedule. They each get emails about their start week. Closer to the start, they get emails for the exact start date and who their project managers are.
On the start date, each man sees a Tribble Painting van pull up to their homes. The project manager (the same as in the email) goes on a pre-job walkthrough with each of them. Once they're done making sure they know what the men want, they start the job.
Once they finish, the project managers go on a post-job walkthrough. They make sure they go beyond expectations.
You May Also Like To Read
"They did a great job repairing and painting my garage walls! How about your garage doors?" asks Charles. Jim smiles and nods. "No more woodpecker holes and they look great! I wonder what else they can do?"