You Can See The Difference A Brighter Color Can Make For Any Home In Ann Arbor
Our client Jonathan and his family want to paint the dining room and great room in their home a brighter color. They just recently moved into this house and want to make it feel more like their home with a new color. A brighter color will make it feel more open too.
Let's see what they do to make it happen (and how it turns out).
It's Not Quite Home Yet…
Jonathan stares at the "Get An Estimate" button on the screen.
The new house he and his family bought doesn't quite feel like home yet. Sure they own it and are living in it but it doesn't have that home feel yet.
That's where this button staring at him from his computer screen comes in. It's for Tribble Painting, a painting contractor the previous homeowners referred him to. They'd done work for them before and come highly recommended.
If they can do as good of a job as people say they can then Jonathan may be able to use them to create the "home" feeling he and his family are looking for.
It's Friday, a week and a half before Christmas, and he wants their house to have a homey feel for the holidays.
He presses the button to contact Tribble Painting and starts filling out the form.
Hiring Tribble Painting
Jonathan imagines a gravelly voice answering with a rough "Yeah?" when suddenly…
"Hi this is Ashley with Tribble Painting, how may I help you?" breaks the monotonous ringing. Jonathan's eyebrows rise in surprise at the feminine voice coming through the phone, the complete opposite of his expectations.
He and Ashley talk about his project for a while. They both ask and answer questions until they reach an understanding of what Jonathan wants and expects. One of these is using the color his wife picked out.
Then the process takes an interesting turn.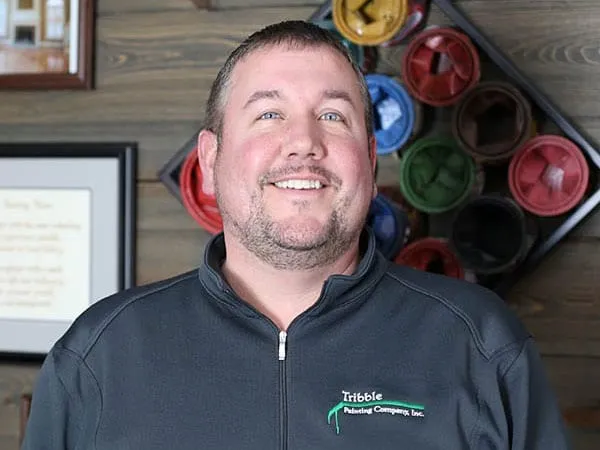 Since Jonathan's house is a recent purchase the Tribble team can see pictures of the house in Zillow. From these pictures, Nick, the sales estimator, gives Jonathan an estimate the same day he calls.
Jonathan and his family accept the estimated price Nick gives them. Jeanette, the office administrator, gets them on the schedule for the following Tuesday. She sends them an email with the details, including some information about who their project manager will be.
The weekend passes and Tuesday arrives, as does the Tribble Painting team.
Painting A Dining Room And Great Room In Ann Arbor
Jonathan watches as 2 Tribble painters get out of their work van and walk up to his house.
He opens the door and one of the guys introduces himself as Mike, the other as Tyler. Jonathan recognizes the name Mike as the project manager from the email.
As Tyler starts prepping the spaces for painting Mike and Jonathan go on a pre-job walkthrough. Mike wants to make sure he knows Jonathan's expectations for the project. Once this is done they start painting the dining room and living room.
The Painting Process
The first thing the painters take care of some small repairs to nail pops and corner bead cracks in the walls.
Then they paint the dining room and great room using a Benjamin Moore Aura eggshell acrylic paint in the color Jonathan's wife chose: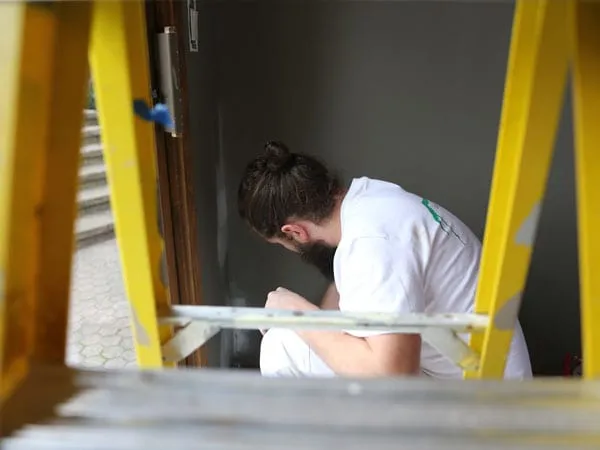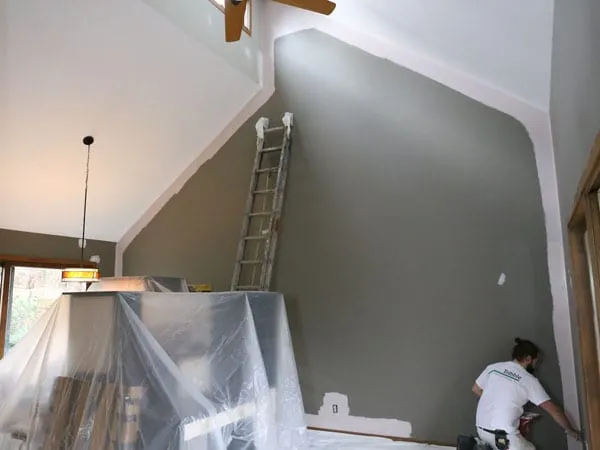 2 Days Later…
Jonathan nor his wife can believe how much the new, lighter color brightens up their home:
Mike and Jonathan go on a post-job walkthrough to make sure everything meets his standards. As they finish up Jonathan mentions that he'll have more painting projects for them after New Years.
Jonathan hands Mike the final check, they shake hands, and the Tribble Painting team takes their leave.
Jonathon wonders what he'll have them paint next. Maybe the kitchen cabinets if they've done a kitchen cabinet painting project recently…