Helping Refresh Homes And Bedrooms For Clients In The Ann Arbor Area
If you're here to see a bedroom transformation then you've come to the right place! Norman wants to refresh his Ann Arbor home's interior, which includes painting a bedroom. The colors have been the same for too long and he feels like it's finally time for a change. You can see the process he took to paint his bedroom from old-timey green to gorgeous gray.
For Too Long Have I Waited To Paint The Bedroom
In fact, it's been so long Norman can't even remember when the last time was.
For all he remembers, the house may have come with these colors. No, wait, he does remember the last time they had the house painted. They had it painted a then nice shade of green but now things have changed, and Norman has too.
What he felt was a once great green now feels…old.
The color has been there for so long that it feels boring too, which adds even more to the aged feeling leaking from the walls.
But Norman has a plan. While out-and-about the town he and his family have seen these trucks for a Tribble Painting company in Ann Arbor. He decides to give them a call and see if their interior painting services can help.
So, How Does This Process Work?
*Ding-a-ling-a-ling*
"Hi this is Ashley with Tribble Painting, thank you for calling! How may I help?" A voice breaks through the ringing of the phone to take Norman through Tribble's client process.
Norman helps Ashley understand that he wants interior painting done with the focus being painting a bedroom in his home. They both answer each others' questions until they finally have a plan.
But one more thing needs to happen: he needs to get an estimate.
Ashley and Norman schedule an estimate with Nick, one of Tribble's estimators. Once the scheduled day arrives so does Nick (on time too).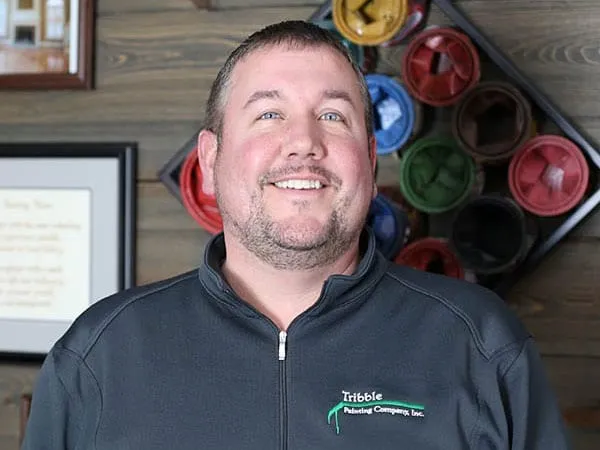 He and Norman chat for a bit before they go on the estimate. Norman shows Nick around and tells him all about what he wants. Nick asks a few questions, answers some of Norman's, and then finally readies an estimate.
Norman accepts the estimate, puts down a deposit, and hands it over to Nick. He tells Norman to call the office back anytime to get his painting project on the schedule.
So Norman calls the office back and is put on the phone with Jeanette, the office manager.
They work everything out and he gets an email with his start week. As the week gets closer he gets another email with the actual start date and some information about who's leading his project.
Then, the day arrives…
Painting A Bedroom Gray In Ann Arbor
Aaron G shows up exactly when he's supposed to.
Norman opens his front door to see Aaron standing there waiting to talk to him. Aaron asks Norman if he can go on a pre-job walkthrough so Aaron can know exactly what Norman wants to be done.
Norman goes on the walkthrough and talks to Aaron about a few concerns, like keeping the bedroom furniture clean. Aaron also gives Norman his personal cell phone number in case he has any questions or concerns.
Once the pre-job walkthrough is done Aaron and his team get to painting.
The Painting Process
Move and protect furniture
Cover floor with drop cloths
Repair stress cracks to the plaster walls and ceilings
Paint Norman's interior
The final results are exactly what Norman's looking for.
Norman is excited to see how his bedroom looks now that it's been painted. After having the same color for so long he's wondering if he'll even recognize the room now that the colors are so different.
Norman walks into his house to find Aaron looking for him. Aaron wants to do a post-job walkthrough to make sure Norman is satisfied with everything.
Norman and Aaron walk into the bedroom to see:
"It's amazing!" Norman says excitedly. Comparing this new bedroom color to the old one is like comparing night and day. The old green color seems glaring and in your face as opposed to the calm and relaxing gray it now is.
Norman loves it.
You can also fall back in love with your bedroom or any room inside your home. Sometimes all you need is a new coat of paint.
These before/after project images can show you the difference new paint can make >>