The exterior wood on Frank's home needs a maintenance coat every 2-3 years. Without the maintenance coat, the beautiful wood of his smooth cedar home could become damaged and start looking worn. Right now he is looking for a new contractor that will do a better job. The last one left lap marks and didn't provide a good customer experience.
Keep reading to see if the new contractor Frank finds finishes his home properly.
"Here we go again" Frank sighs into his morning coffee.
The view from his deck is beautiful: trees, flowers, water, blue sky…but he isn't looking at that. He's looking at his exterior wood siding.
The time has come. It isn't rotting or warping or anything like that, thankfully. "Heck, it doesn't even have any insects trying to burrow into it," Frank thinks as he sips his coffee. Doesn't mean he can take it easy all the time.
It's been 2-3 years since he hired that guy to reapply the maintenance coating on his home's wood exterior. And it's not going to be him again.
"Can't believe the last guy left lap marks," Frank grumbles out loud.
He isn't about to let something like that happen to his beautiful home again. He takes a deep breath, another sip of coffee, and walks inside to his computer.
You can protect your home exterior by using our exterior painting services >>
Who Frank Finds To Stain His Home
"I wonder if the Tribble guys can do it," Frank mutters.
Tribble Painting are the guys who have done work on his business for the past few years. They also just did some of his home's interior.
Frank pulls up their office number and gives them a call.
"Hi this is Ashley with Tribble Painting, how may I help you today?" Frank and Ashley know each other due to Frank's repeat business, so they have a short chat about life first. Then they get down to business.
"I need my smooth cedar exterior maintained with a stain. I know you've done work for me before on the interior and such, but do you think you can handle this?"
"Absolutely," Ashley says cheerily. Frank can almost feel her smile through the phone. They talk, asking and answering questions about the project. Frank schedules an estimate and thanks Ashley for her help.
Frank Meets Nick Harms, Estimator
Nick, the estimator, pulls up right on time.
He comes up and shakes Frank's hand. After working together for so long they know each other well enough to skip the small talk.
They walk around the house, asking and answering questions they have for each other. In the end, Nick gives Frank an estimate for maintaining his exterior wood stain and he accepts.
"Great, I'm glad to be working together again," Nick says brightly. "I will have Jeanette get in touch with you about scheduling. You should get email updates from us about your start week, the start day, and about who your project manager is and looks like."
"That sounds great, I'll be waiting." Frank soon gets a call from Jeanette and they work out the scheduling. She also confirms with him about the emails Nick said he'll be getting.
The day draws nearer until the Tribble Painting team shows up…
Frank's First Impression Of The Tribble Painting Team
…right on time.
"At least they're off to a good start," Frank thinks appreciatively. "I can still be on time for work if I leave in the next…" he checks his watch, "15-20 minutes." He looks up to see the project manager heading towards him.
They shake hands and the project manager asks to do a pre-job walk through to make sure they both know everything that will be done. Frank asks him a few questions along the way, and he answers all of them.
Seems like he knows how to maintain an exterior wood stain.
Frank nods, saying "Well you seem to have everything handled here, so I'll be off to work. Have a nice day, I may see guys later."
As he's leaving, the project manager asks if he wants his personal cell phone number. "Really? Are you sure?" Frank asks, more surprised than anything. "Yes sir, we do this with all of our clients in case you need anything or have any questions," the project manager replies.
"That's great, I think I'll take you up on that offer." Frank gets his number and they both go to work.
Maintenance Coating For Frank's Exterior Wood Siding
The first step in this project is to clean the exterior wood siding. All the dirt, dust, and everything else will keep the maintenance coating from sticking to the wood.
The team cleans Frank's house with a mixture of trisodium phosphate (TSP) and water.
Then it rains…for 6. Weeks. Straight.
The constant rain means Frank's project needs to be put on hold. Rain and stain do not mix well. So they both wait until spring has finished springing and the job can continue.
Maintenance Coating For Frank's Exterior Wood Siding: Continued
"Good to see you again! It's about time this rain stopped, isn't it?" the project manager says as he walks up to Frank.
"Isn't it though? Who knew it'd rain for so long right when we started this project." Frank shakes his head in annoyance. "Weather better hold up for long enough this time,"  he thinks with irritation. "At least now you can finish it."
Once again, Frank heads to work, hoping to see some progress when he gets back home (and not rain).
The Tribble team gets to work: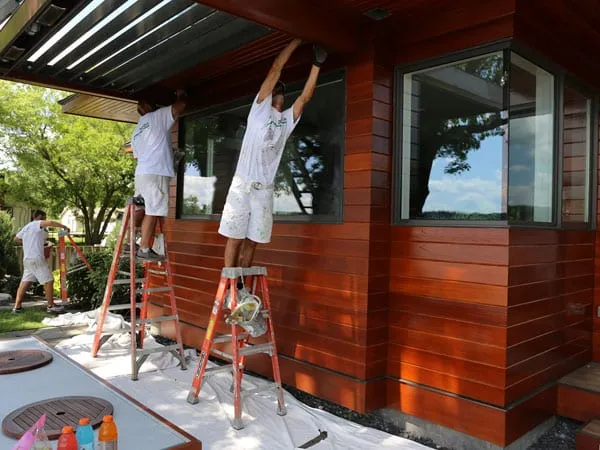 They start by washing Frank's house with TSP and water. Once the house is dry, they apply 1 coat of Sikkens Cetol Maintenance Coating to the house and garage.
But while this is happening, a problem arises…
A Hole In One Koi Pond Liner
During the process, one of the workers slips while walking over the pond bridge, his foot busting through the liner.
After draining the water out of his shoe, he finds the project manager and tells him what just happened. He contacts the main office and Todd Tribble calls Frank. He offers to cover all the costs, which is enough for Frank.
"I'm glad you told me," Frank says into the phone, "I feel like other contractors would've just pretended like it didn't happen and kept working. Then I would've had a swamp to deal with. Thanks for covering the repair cost by the way."
"Of course," Todd says, "it wouldn't feel right if we didn't. Thank you for being so understanding."
Frank's Exterior Wood Stain Successfully Maintained
"No lap marks, or anything else really," Frank says happily.
He's come home to find his home stained and maintained. Frank and the project manager are finishing their post-job walk through to make sure everything is up to par.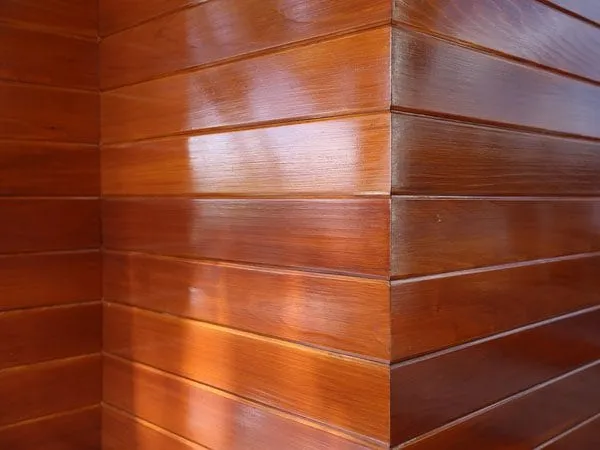 "I have to say, you've done a better job than the last guy who tried staining my home," Frank says with a smile. "Oh, and thanks again for being honest about the koi pond liner. Saved me from having a swamp next to my pond."
"And we're sorry it happened. Thank you again and have a nice day. Oh, and don't hesitate to call me if you see anything out of place."
Frank turns back to take in his newly maintained home once more. He smiles and walks inside, knowing who he's going to call again in 2-3 years.
All characters in this post are not accurate representations of our clients. The characters' personalities and diction are fictional.