Create A New Look For Your Kitchen By Painting The Cabinets A Brand New Color
You can find out just how much a kitchen cabinet painting project can change the look and feel of a kitchen. Jill wants to change the look of her kitchen so she can enjoy it more. It's also a great update because they'll be selling the house in the next few years or so. Let's see what it was like for her to work with Tribble Painting.
Skip to The Painting Process
Updating Our Style
"Stains are out and paints are in".
Jill and her husband are talking about what to do with their kitchen cabinets. She isn't a fan of the wood stain look anymore, not to mention it's a style fading from popularity.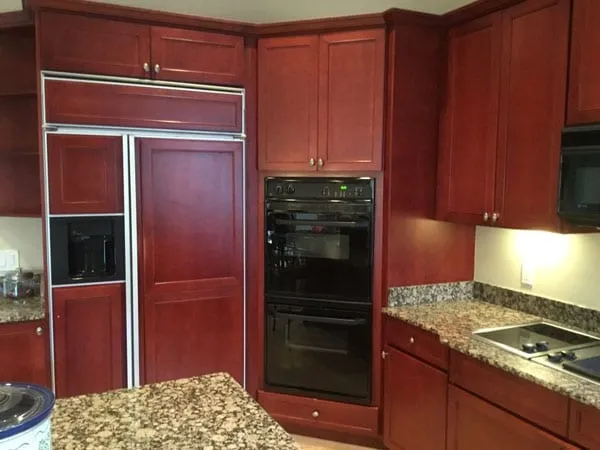 Jill wants to update their style by painting the kitchen cabinets a more modern color like white. She also wants to have different handles put on them to go with the modern theme.
Their friends the Anderson's recently had a painting contractor paint their kitchen cabinets and they were very happy with the result. Jill wants something similar for her kitchen, which is why she's about to contact Tribble Painting.
The phone rings in Jill's ear as she waits for an answer.
Suddenly the ringing stops, replaced by "Hi this is Ashley, how may I help you?" Jill and Ashley talk about the project, asking and answering questions so they can get a feel for each other.
Once Jill feels satisfied she and Ashley set up a time for an estimator to come and take a look at her kitchen cabinets.
Time passes until the day and time of the estimate arrives.
The doorbell chimes at exactly 8 am to announce the arrival of Nick, one of Tribble's estimators.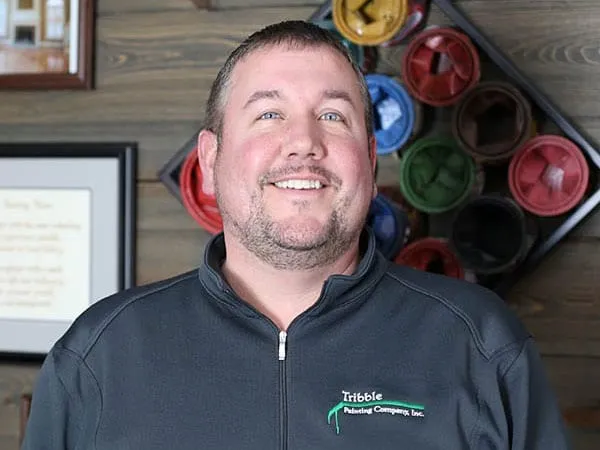 Jill answers the door and invites him in. They talk for a few minutes in the kitchen before Nick starts taking a closer look for the estimation.
Nick gives Jill the estimated price and she readily agrees to it.
Jill then calls the Tribble office back and is introduced to Jeanette, the office manager.
Together they work out the logistics and get a plan in place. Jill gets an email from Jeanette telling her what week her project will be. As it gets closer she gets another email with the exact start date and some information about who her project manager will be.
The day of the project finally arrives.
The Kitchen Cabinet Painting Process
Jill looks out her window to see a Tribble Painting van pull up to her house, right on time.
She sees Aaron, the project manager from the email, get out and start walking up to her door. She opens it and steps outside to talk to him.
They go on a pre-job walkthrough so Aaron knows exactly what Jill's expecting. Once everything is set Aaron and his team member, Mackenzie, get to work.
Painting Jill's Kitchen Cabinets
Their first step is to remove the doors and drawers and take them back to the shop. They then clean, sand, clean, and prime the cabinets with Stix primer. The final step is to apply two coats of Benjamin Moore Advance satin acrylic paint.
The end result:
How Does Jill Like Her New Cabinet Colors?
Jill almost can't believe she's standing in the same kitchen she has had for years. It looks so different, so new, so modern. She and Aaron go on a post-job walk through to make sure everything meets her standards.
It does and on the way out she gives Aaron a big hug to let him know just how happy she is.
With a transformation like this, it's no wonder she's so happy: