Learn How Professional Painters In Ann Arbor Should Stain Your Wood Door
How to stain a wood door changes based on the weather. It usually starts with removing the door, the knobs, and the locks.
Watch the video and read the steps below to learn more about staining and exterior house painting–
Let's Get To Staining!
"Well, actually, we need to find a video on how to stain a wood door first," says Jason.
Sarah blushes and looks around the front of the house. "Yeah, I know, I just got really excited to start for a second there." Jason smiles and chuckles. "Happens to me all the time."
Sarah clears her throat. "Then let's start looking for a video. Here, let's check out that one painting contractor's website. They were super helpful for our last project where we learned how to stain wood countertops."
Jason nods and gets out his phone to start searching. Here is what he and Sarah end up finding: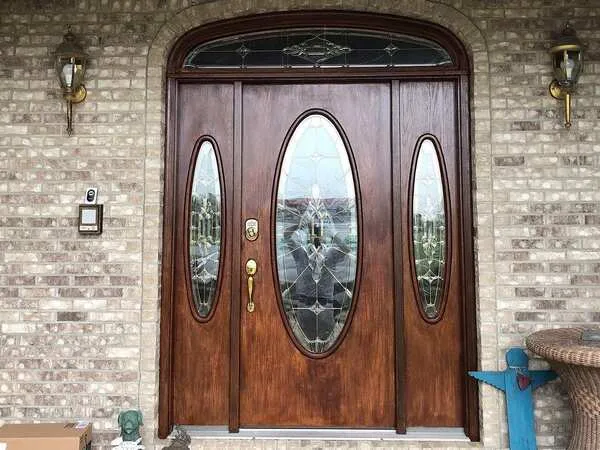 Tools And Materials For Staining Wood Doors
Stain
Scraper tool
Stir stick
Disposable paintbrush
Sander (80 and 180-grit)
How To Stain A Wood Door In 9 Steps
Remove doorknobs and locks
Sand old stain off if necessary
Clean the wood door
Take off the weather stripping
Stir (don't shake) stain to mix it
Apply the first stain to the wood door
Wait 24 hours for it to dry
Apply the second stain to the wood door
Reinstall the weather stripping and doorknobs and locks
We usually remove doors to paint or stain them. Since it's cold out we can't do that because the homeowners would freeze or skyrocket their bills.
Removing the weather stripping is important! A freshly painted or stained door will stick to the weather stripping. The next time you open the door something will rip off and it won't be good.
Make sure there are no air bubbles in the stain!
You May Also Like To Read
"If we have any leftover stain we can use it on another project," points out Jason. Sarah nods absentmindedly. "Let's see what else we can learn on this blog."