How To Paint Kitchen Cabinets Like A Pro In 9 Steps
This Is How We Paint Kitchen Cabinets So Our Clients In And Around Ann Arbor Can Love The Look Of Their Kitchen Again
Painting your kitchen cabinets can refresh the look of your kitchen again. The cabinets do take up the most area and are the first part people see.
In this post, you can find out how to paint kitchen cabinets professionally. You can also discover how long it can take to paint kitchen cabinets.
Our Kitchen Needs A Fresh Look
"I don't like how our kitchen looks anymore," says Sarah suddenly.
Jason grunts. "How do you mean?" Sarah sighs. "It doesn't look good anymore, mostly because of the cabinets. The brown look just doesn't cut it anymore. Let's paint them a fresh new color!"
Jason shrugs. "Well, it has been a long time and we have the money…Why not?" Sarah smiles brightly. "Great! We need to know some things, like the cost to paint kitchen cabinets and how to paint kitchen cabinets like a pro. We can use that info to make sure whoever we hire knows what they're doing."
Jason cracks a smile. "I like where your head's at. Let's-" he takes his phone out of his pocket- "get to Googling and see what we can find."
Here's what the couple discovers:
Tools And Materials Pros Use To Paint Kitchen Cabinets
Drop cloths

Cordless drill and bits

Denatured alcohol

Crud Kutter

Rubber gloves

Blue painter's tape

Permanent marker

A medium and fine sanding sponge

Dust mask

Rags

Paintbrush

Mini roller frame

Mini roller cover

Roller pan

Bonding primer 

The paint of your choice
How To Paint Kitchen Cabinets Like A Pro In 9 Steps
1. Assess the condition of your kitchen cabinets
This is where you look for damages and wear. Any damages need repairing before painting. Damages can show up through the paint and lessen its lifespan. 
2. Remove and label the doors and drawer faces
It's easiest to use a cordless drill or screwdriver. Start with the door, then the hinges, then the handles. You can use a pen or marker to put a number in the hinge hole and the same number on the inside of the cabinet. Label a bag with that number and put hinges, handles, screws, etc into that bag. It makes putting it back together easier.
3. Put down drop cloths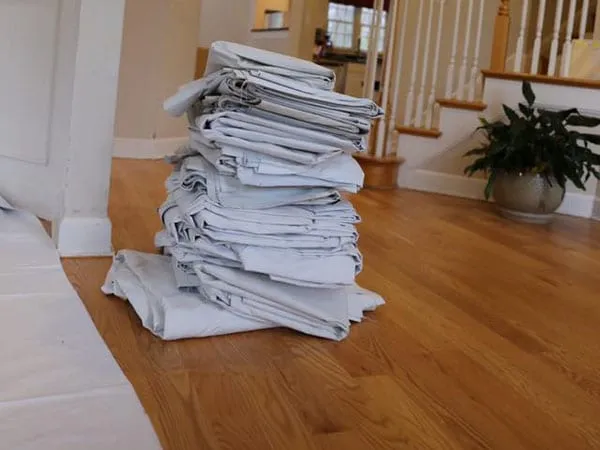 Nobody wants to clean paint off of where it wasn't supposed to be. Cleaning paint can be a huge pain, especially if it gets on fabric. You can use drop cloths to stop this from happening and make cleaning up quicker and easier.
4. Clean the cabinets
We like to use a mixture of denatured alcohol and Crud Kutter. This removes dirt, oils, and other things that can cause the paint to peel faster.
5. Lightly sand your cabinets
We suggest using medium and fine sanding sponges, then vacuum them clean. Sanding creates a texture for the paint to grab onto. This makes the paint stick better and lasts longer.
6. Prime your kitchen cabinets
We always use a bonding primer. Bonding primers are specially formulated to do two things very well: stick and be stuck to. It does cost more but that's because it's engineered to work better.
Roll on the primer with a mini roller and a brush. Don't push in too heavily or you'll start seeing roller and brush marks. If it happens, and the primer is still wet, lightly go over it with the roller or brush to remove the excess primer.
7. Inspect the primer
This is to see if it needs light sanding. If so, lightly sand it and then clean it to remove any dust.
8. Paint your kitchen cabinets like a pro
Use the same process as with priming. You'll probably need 2 coats for it to look good and have enough coverage. Read the can to find out drying times for each coat of paint. Follow the same painting process for the cabinet doors and drawers. Watch out for stipple (small dots and flecks). It'll create a texture on the cabinets if it dries like this.
*We avoid this by taking them to our shop and using sprayers. No wind, rain, or other things to accidentally get paint on.
9. Let the paint on your cabinets cure
Paint dries in an hour, but if you want the best for your kitchen cabinets you'll let them cure for two weeks.
You May Also Like To Know
"Now all we have to do is get the tools and materials, prep the kitchen for painting, then do the rest of the steps," Sarah says easily. Jason lets out a low whistle. "This sure seems like a lot now that I look at it. I'm still game, but we might want to do a little more research first."