How To Paint Kitchen Cabinets Like An Expert Painter
Follow The Painting Process We Use For Cabinets In Ann Arbor Homes
You can learn the process we take to paint kitchen cabinets. It's a 9 step process that makes sure the new paint job looks good and will stay that way.
Find out what these steps are below-
We're Stuck Here, So Let's Update!
"Let's start by painting our kitchen cabinets."
Graham raises an eyebrow. "Is being stuck in the house finally getting to you? Or do you actually want to paint our kitchen cabinets?"
Brittany raises an eyebrow back at Graham. "Yes, I really do want to paint our kitchen cabinets. It could be a fun project for us to do together. And it could make our kitchen look even better!"
Graham frowns and crosses his arms. "I don't know about this. What if we mess up? Or damage the cabinets by accident? Or what if…" he trails off. "We can sit around playing 'what if' or we can try something new!" Brittany replies.
Graham sighs. "Well, let's do it then. You know about painting things and I'm pretty handy. Let's unleash the Dream Team on these cabinets." Hopefully, it doesn't turn out like it did with the Benjamin Moore vs Sherwin Williams argument…
First, the couple looks up the steps for how to paint kitchen cabinets. Here are the steps they find-
9 Steps To Painting Kitchen Cabinets
Asses the condition of your kitchen cabinets

Remove and mark doors and drawer faces

Remove and mark door hardware and handles

Clean doors, drawer faces, and cabinet boxes

Lightly sand all surfaces

Clean again

Prime

Lightly sand clean again

Paint 
"See, it's not so bad! The hardest part is the repetitive cleaning and sanding," Brittany says. Graham nods. "Yeah, I guess you're right. I wonder if there's more info further down the page."
Tools And Materials
Drop cloths

Cordless drill and bits

Denatured alcohol

Crud Kutter

Rubber gloves

Blue painters tape

Permanent marker

Medium/Fine sanding sponge

Dust mask

Rags

Paintbrush

Mini roller frame

Mini roller cover

Roller pan

Bonding primer 

Paint of your choice(ask your local paint store)
Phase 1 Of Painting Kitchen Cabinets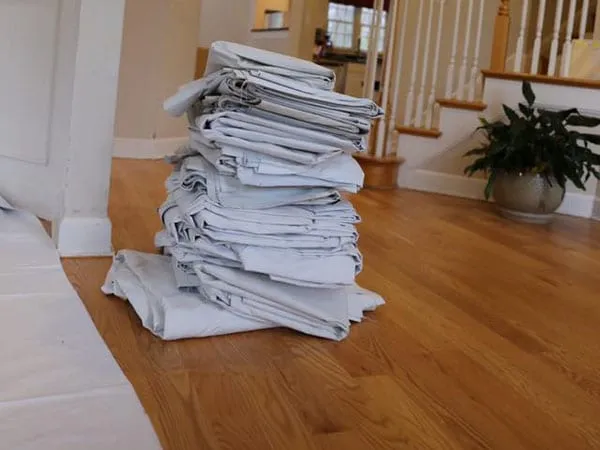 The first step is to put down drop cloths to cover and protect the floor and countertops.
After that, remove the doors and drawer faces using a cordless drill or screwdriver. Remove the door, then the hinges, then the handles.
"We can use a pen or marker to put a number inside the hinge hole. That same number will go on the inside of that cabinet. We can also put the hinges and handles baggies and put the number on it," Graham suggests.
That makes it easier to put everything back together later.
Then, clean the kitchen cabinets with denatured alcohol and Crud Kutter. This removes anything that can get between the cabinet and the paint. Lightly sand with medium/fine sanding sponges then vacuum them clean.
"Seems like now the kitchen cabinets are ready for priming! Wonder what kind of primer they use?" Graham mutters.
We always use a bonding primer. Bonding primers are specially formulated to do two things very well: stick, and be stuck to.
These primers will cost more than other primers but that is because they are highly engineered.
Roll it on using the mini roller and a brush. Making sure not to leave any heavy marks with the roller or brush or any areas of heavy build-up. If this occurs and you catch it while the primer is still wet, lightly go over it with the roller or brush to remove the excess primer.
Once the primer dries you can inspect it to see if it needs a light sanding. If so, sand and clean afterward to remove any dust.
Painting Phase 2
"Now, for the painting part of how to paint kitchen cabinets!"
Use the same process that you did when priming. You'll likely need 2 coats for it to look good and have enough coverage. Read the can to find out drying times for after the 1st and 2nd coat.
Follow the same painting process for the cabinet doors and drawers. Watch out for stipple (small dots and flecks). It'll create a texture on the cabinets if it dries like this.
We avoid this by taking them to our shop and using sprayers. No wind, rain, or other things to accidentally get paint on.
"We'll have to check really well to make sure we don't do that," Graham notes.
Phase 3
Then let them cure. Paint dries in an hour, but if you want the best for your kitchen cabinets, you'll let them cure. It does take 2-3 weeks though.
"And after that, we put everything back on and we're done," Brittany finishes.
More Resources For You
"Now all we have to do is get the tools and materials, prep the kitchen for painting, then do the rest of the steps," Brittany says easily. Graham lets out a low whistle. "This sure seems like a lot now that I look at it. I'm still game, but we might want to do a little more research first."