If you're like most people, your kitchen cabinets are one of the first things that you notice when you walk into your kitchen. And if they're outdated or don't match your current taste, it can really bring down the whole look of the room. This is when DIY homeowners look up 'how to paint kitchen cabinets.'
But don't worry – you don't have to replace them! You can hire a painting pro or paint them yourself and give your kitchen a whole new look for a fraction of the cost of replacing them.
Follow these simple steps, and you'll have beautiful new kitchen cabinets in no time! You can also find out more about kitchen cabinet painting, such as cost, the best type of paint, and more.
The Cost For Painting Kitchen Cabinets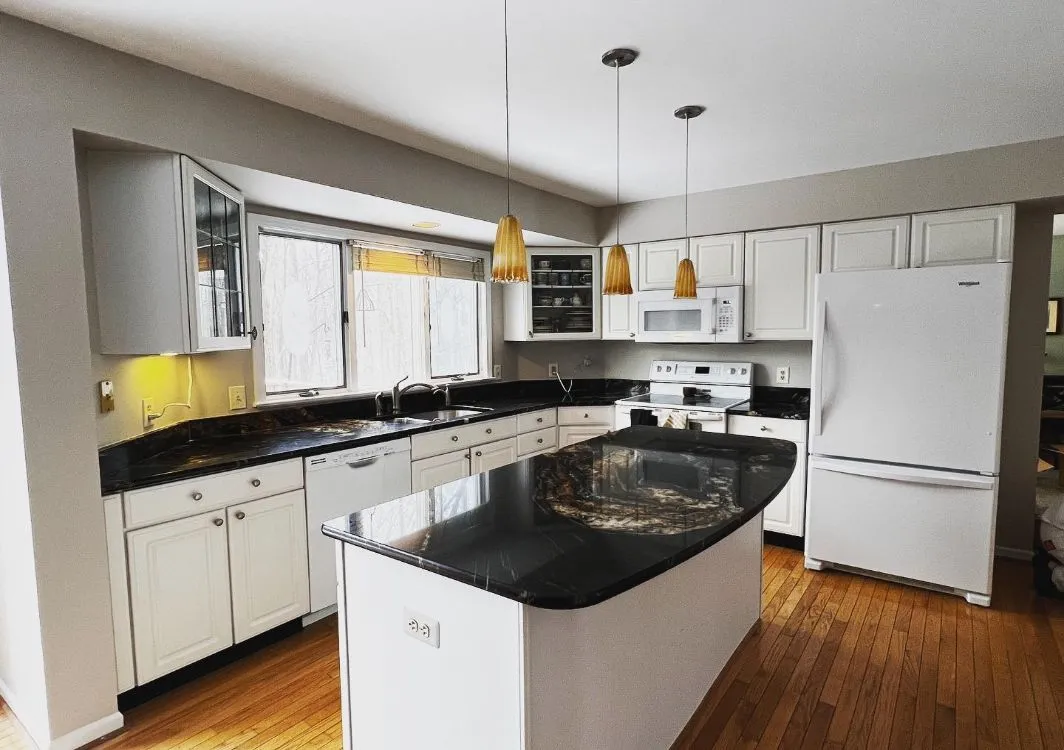 The cost to paint your kitchen cabinets, whether professional or DIY, will be significantly cheaper than replacing them. Replacing your kitchen cabinets can easily go over $5,000 for a 10-by-12 foot kitchen.
Preparing your kitchen cabinets for painting can be a relatively inexpensive project if you do it yourself. All you need is some basic supplies and a little bit of time. However, the cost of painting kitchen cabinets can vary depending on the paint and supplies you choose.
If you decide to hire a professional to paint your kitchen cabinets, the cost will be higher. Of course, the quality of the job should be higher too.
But if you're willing to do the work yourself, the cost can be as low as $100 to $200. Here's a breakdown of the average costs associated with painting kitchen cabinets:
High-quality cabinet paint: $30-50 per gallon
Primer: $15-20 per gallon
Paint brushes: $5-10
Paint roller: $5-10
Tape: $5
Sandpaper: $5
Lacquer or sealant: $15-25 per can
The total cost of painting kitchen cabinets will also depend on how many coats of paint you need. A single gallon of paint will usually be enough to cover two coats for most cabinet projects. The amount of paint depends on how many cabinets you need to paint and if you'll be painting the shelves and box interiors.
You may also need to purchase new hardware for your cabinets after painting them. This can add an additional $100 or more to the total cost of the project.
If your cabinets are too damaged to paint, you can buy new ones that are unfinished to paint. This will add to the total cost as well.
How Long It Can Take To Paint Your Kitchen Cabinets
It can take anywhere from a few hours to a day or two to paint kitchen cabinets, depending on the size of the cabinets and how much prep work needs to be done. It can take longer for professionals to paint cabinets as they follow a more in-depth process than DIY painters.
Here's a general timeline for how long it will take to paint kitchen cabinets:
Prepping the surface: 1-2 hours
Applying primer: 1-2 hours
Painting the first coat of paint: 2-4 hours
Painting the second coat of paint: 2-4 hours
Drying and curing time: 24 hours
The total project can take anywhere from 6 to 16 hours, spread out over a few days. Of course, this is just an estimate – your actual time may vary depending on the condition of your cabinets and how many coats of paint you need.
Drying and curing time are also taken into account, so the cabinets will not be usable for 24 hours after they have been painted. Some professional painters will let the cabinets cure for 2 weeks for the absolute best results.
How Difficult Is It To Paint Kitchen Cabinets?
It mostly depends on your kitchen cabinets and your experience level when it comes to home improvement painting.
Wood-laminate, metal, and wood cabinets are easier to paint than other cabinet materials. Some materials need specific paints and processes to get the paint to stick to them. Plastic-laminate cabinets are a good example of this.
Cabinets with flat front doors and drawer faces are easy to paint, unlike ones that have more detailed work like raised edges or fancy architectural features. If your cabinet doors and drawers are too damaged to repair, it's best to buy unfinished cabinets and paint them.
Painting kitchen cabinets can involve paint brushes, rollers, or even a sprayer. Brushes and rollers are easier to start using, but you need to use them carefully so you don't leave streaks or other marks. Sprayers are a little more difficult, but once you get used to them, you can paint more quickly and better.
Most professional painters have a space they dedicate to painting cabinets. They have an area that can get paint everywhere, large worktables, and other tools and materials. If you don't have anything like this, you can put boards on top of buckets and drop cloths around the area. It's best not to use sprayers outside because the wind can send paint everywhere.
Tools And Materials You May Need For Painting Cabinets
Drop cloths or plastic tarps
Tack cloth
Cordless drill and bits
Steel wool
Denatured alcohol
Crud Kutter
Rubber gloves
Blue painter's tape
Permanent marker
Fine-grit sandpaper
Rosin paper
Sanding block
Dust mask
Rags
Paintbrush or paint sprayer
Mini roller frame and cover
Roller pan
Primer sealer
Cabinet paint
Do I Need To Paint My Kitchen Cabinets?
If you're considering painting your kitchen cabinets, the first question you need to ask yourself is whether or not they need it. Kitchen cabinets take a lot of wear and tear, so if they're looking a little worse for wear, it's definitely worth considering a fresh coat of paint.
If your cabinets are peeling, delaminating, sagging, breaking, or have large and visible damages, you will be better off replacing them. Repairing these damages and then painting them will cost a lot. Painting over the damages will only give them a new color, and the damage will cause the paint the peel or crack quickly.
If your cabinets are in good condition, then a fresh coat of paint can really brighten up your kitchen. It's also a great way to update your kitchen without spending a lot of money.
What Type of Paint Do I Need for Cabinets?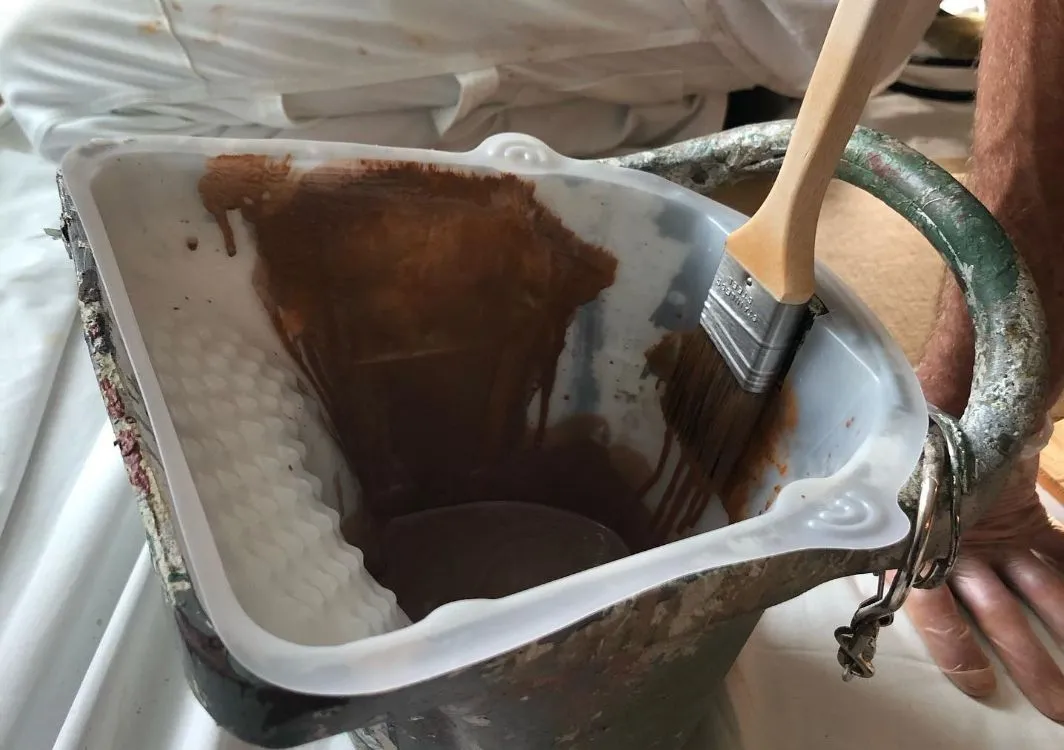 When it comes to painting kitchen cabinets, it's important to use the right type of paint. You will want to use the right type of paint finish too. This will ensure that the cabinets look their best and last for a long time.
There are a few different types of paint and paint finishes available, each with its own advantages and disadvantages.
Oil vs. latex paint for kitchen cabinets
Oil-based paint is the traditional choice for painting kitchen cabinets. It offers a durable finish and can be used on both wood and laminate cabinet surfaces. However, it can be slow-drying and smelly, so it's not ideal for everyone.
Latex paint is a newer, water-based alternative that's growing in popularity. It's easier to work with and clean up than oil-based paint, but it doesn't offer quite the same level of durability.
The best paint finish for kitchen cabinets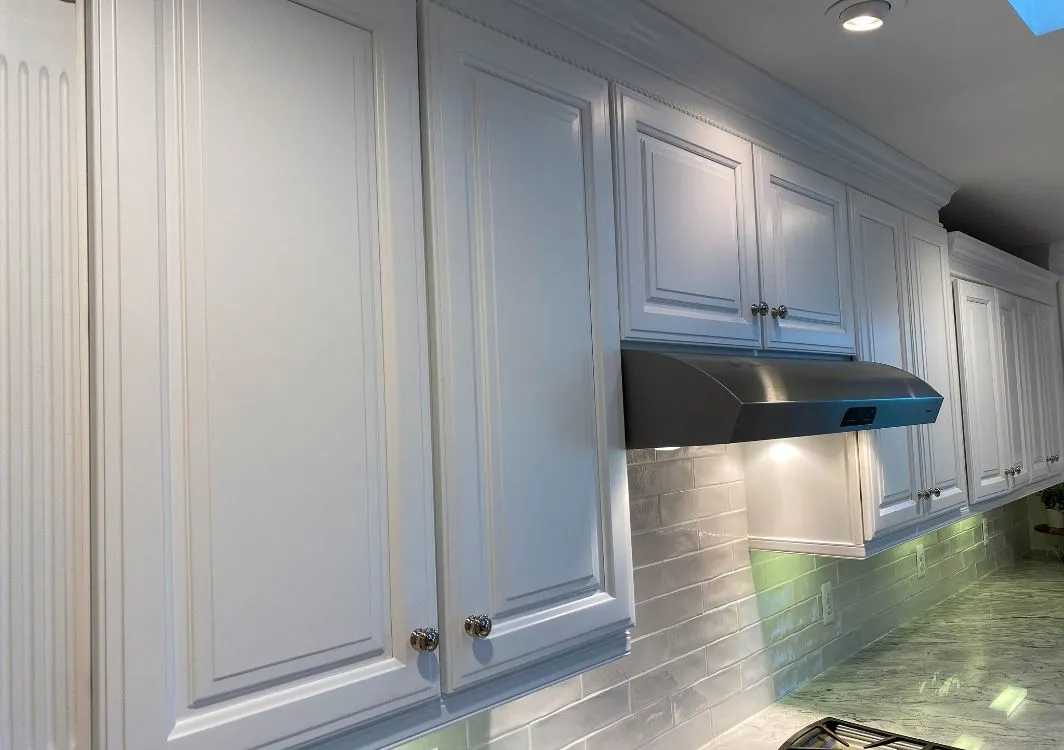 The best finish for kitchen cabinets is usually a durable paint that can withstand moisture and humidity. In most cases, a semi-gloss or high-gloss paint is the best option, as it can resist staining and scratches.
However, if you are looking for a more subtle finish, satin or eggshell paint may be a better option. When choosing a paint finish, be sure to pick one that is specifically designed for use on cabinets.
Should I use a paint sprayer or a brush and roller?
When painting your kitchen cabinets, you have the option of using a paint sprayer or a brush and roller. Some people find that a paint sprayer produces a more even finish, while others prefer the control that a brush and roller give them.
If you're not sure which option is best for you, try spraying a small section of your cabinets and seeing how you like the results. Spraying can be easier than brushing if you get the hang of it. With spraying, you can always go back and brush or roll over any areas that you're not happy with.
Whichever method you choose, make sure to follow all the manufacturer's instructions for the best results.
Steps To Paint Your Cabinets
1. Prep the space
The first step in the how to paint kitchen cabinets process is preparing your kitchen and a separate area for your cabinet painting project. This means clearing all the cabinets and countertops, removing all the hardware, and vacuuming or dusting the surfaces. A garage or similar workspace you don't mind painting in and getting messy is necessary for painting the cabinet doors and drawers.
If you're painting the cabinets a different color than they are currently, it's also a good idea to lightly sand the surfaces. This roughs up the surface a bit, giving it more texture. More texture will help the new paint to stick better and create a more even finish.
You'll also want to put down drop cloths on countertops and floors to protect them from paint drips and spills.
2. Create a paint station
Setting up a work table to paint kitchen cabinets is essential for a smooth, successful painting project.
Choose a level surface that will be able to support the weight of the cabinets. If possible, use a table that is already in your kitchen so you don't have to move the cabinets too far.
Cover the surface of the table with a drop cloth or old newspaper to protect it from paint splatters. Set up a fan nearby to help circulate air and keep the area well-ventilated. Opening a window will really help with this.
You can also build a drying rack for the painted kitchen cabinets. One way is to set two 2x4s between two small ladders to create a flat surface. Then, screw eye hooks into both planks of wood so you can hang your painted cabinet doors and drawers on them.
Place all of the painting supplies within reach so you don't have to keep going back and forth.
*If you choose to work with Tribble Painting, we will take your kitchen cabinets back to our shop which is specifically designed for this purpose.
3. Remove doors and hardware
Before you start painting, you'll need to remove the cabinet doors and hardware. This will make the painting process much easier and ensure that the paint covers all of the surfaces.
To remove the doors, you will first remove the screws that hold them in place. Then, use a pry bar to gently pry the door off of the hinges. Be careful not to damage the door or the hinge as you do this.
Once the doors are removed, you can remove the hardware by unscrewing it from the door. If you're planning on reusing the hardware, be sure to label it so you know where it goes when you put the doors back on. You can use tape and a Sharpie or pen to label them with corresponding numbers or letters.
4. Clean all surfaces
It is important to clean all surfaces before painting cabinets. This will ensure that the paint adheres properly and does not chip or peel off later on. If there is oil, dirt, or anything else between the cabinets and the new paint, the paint won't stick as well. This means you will have to repaint them again sooner rather than later.
Wipe down the cabinets with a damp cloth, then give them a good scrub with a stiff brush to remove any dirt or grease. Let them dry completely before moving on to the next step.
5. Strip the current paint off of the cabinets
To strip the cabinets, you will need to use a paint stripper. Follow the manufacturer's instructions on how to use the paint stripper. You may need to apply it multiple times to get all of the paint off.
Be sure to wear gloves and protective clothing while you are working with the stripper, as it can be harmful if it comes into contact with your skin.
Once you have stripped off all of the old paint, you can move on to priming the cabinets and drawers.
*At Tribble Painting, 95% of the kitchen cabinet projects we get are cabinets that are stained, therefore this step is unnecessary. We will assess the condition of the paint, but typically we will recommend new cabinets due to this process being time-consuming and cost-prohibitive. 
6. Prime the cabinets
Priming the cabinets is an important step in the how to paint kitchen cabinets process, as it helps to create a smooth and even surface for the paint to adhere to.
There are a few different primers on the market, so be sure to choose one that is specifically designed for wood surfaces.
Apply the primer using a brush or roller, making sure to get into all the nooks and crannies. Let the primer dry completely before moving on to the next step.
7. Sand, caulk, and seal the cabinets
Sanding is an essential step in the painting process, as it helps to create a smooth surface for the paint to adhere to. Use fine-grit sandpaper to sand the entire surface of the cabinets, being sure to pay close attention to any areas that are particularly rough or bumpy.
Once the sanding is complete, use a caulk gun to apply a bead of caulk along all the seams and joints in the cabinets. This will help to create a smooth, finished look.
Finally, use a brush or roller to apply a thin layer of sealer to the cabinets. This will help to protect the paint job and keep the cabinets looking like new.
8. Paint the cabinet boxes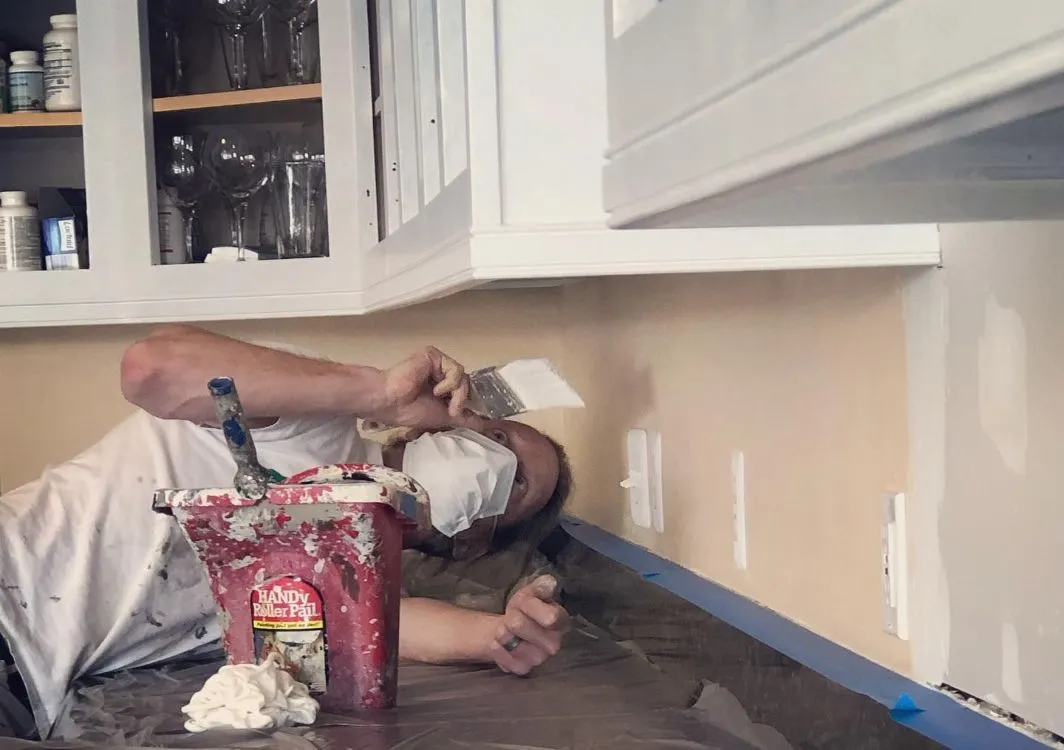 Now that you have primed your kitchen cabinets, it's time to paint them. Choose a color that will coordinate well with the rest of your kitchen and your existing appliances.
Put painter's tape between the cabinet boxes and any surface they touch, such as walls and backsplashes. This helps make sure you paint the whole box and don't get paint anywhere you don't want it to go.
To paint the boxes, use a roller brush and apply a thin coat of paint to the surface. Be sure to paint in the direction of the wood grain to avoid any lap marks.
Allow the paint to dry for at least 24 hours before moving on to the next step.
9. Prime and paint the doors and drawers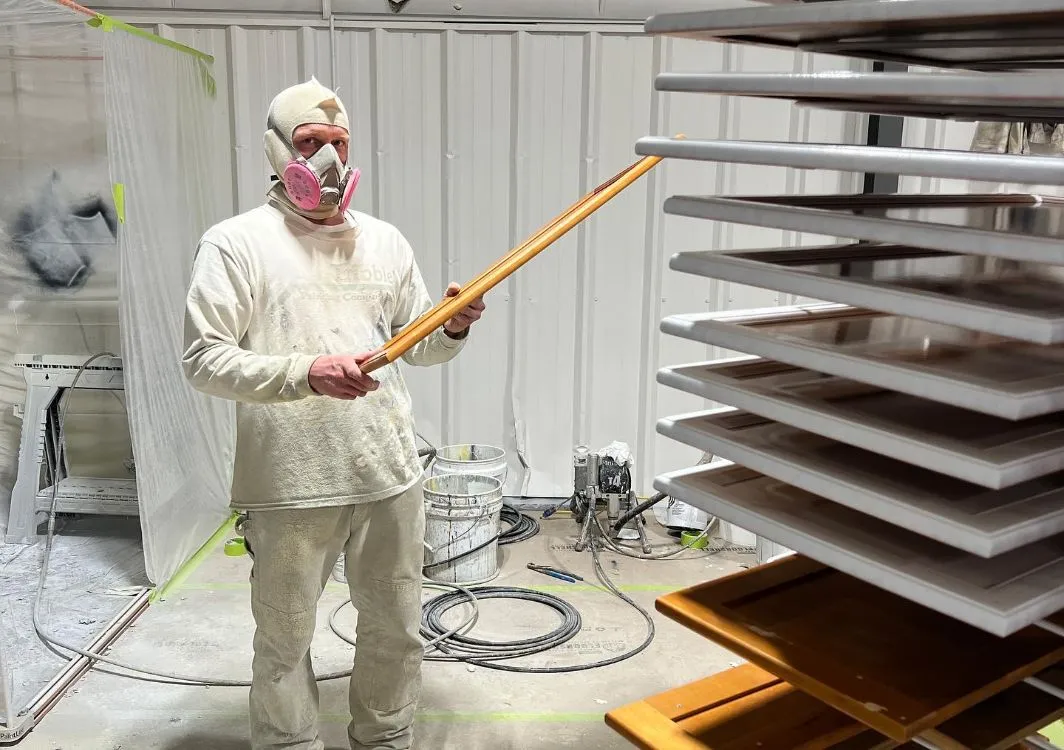 Priming and painting the doors and drawers is the final step in painting your kitchen cabinets. Make sure to use a high-quality primer and paint, as this will ensure a smooth, durable finish.
An important step is to label each section to make re-assembly that much easier.
To prime the doors and drawers, use a small brush to apply the primer to all edges and surfaces. Once the primer is dry, paint the doors and drawers using a small brush or roller. For best results, paint in thin, even coats and allow each coat to dry completely before applying the next.
If you choose to paint the shelves, you will first remove them from the cabinets and lay them flat on a work surface. Apply primer to all surfaces of the shelves, then paint them using a small brush or roller. Allow the primer and paint to dry completely before reattaching the shelves to the cabinets.
10. Put back all the pieces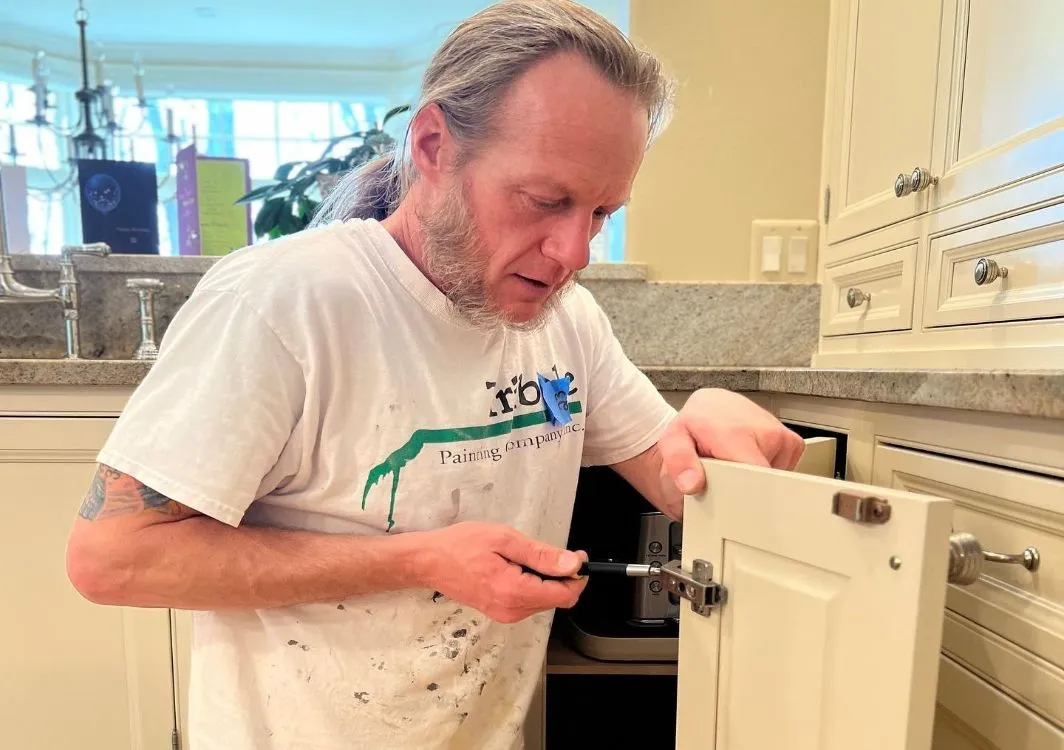 Now that you have finished painting your cabinets, it's time to put everything back in its place. Make sure to follow the same order in which you took them out and follow the labels so each part goes back to where it belongs. Be careful not to damage your paint job.
Congratulations – you have now successfully painted your kitchen cabinets!
Ready To Paint Your Cabinets?
Now that you have read our guide on how to paint kitchen cabinets, you should be well prepared to take on this project yourself. Painting your kitchen cabinets is a great way to update the look of your kitchen without spending a lot of money, and it can be done in just a few short days.
Be sure to follow the steps we outlined carefully, and don't forget to allow enough time between each step for the cabinets, primer, paint, etc., to dry completely before moving on to the next one. If you run into any problems or have any questions, feel free to contact us for help.
Contact Tribble Painting For Any Of Your Cabinet Painting Needs
If you're looking for a professional and reliable cabinet painting service, be sure to contact Tribble Painting. We offer a wide range of services that are designed to meet your every need. Our team of experienced professionals is ready and waiting to help you achieve the perfect paint job for your kitchen cabinets. Fill out our contact form today so we can start talking about your painting project!