Keep The Garage Doors On Your Ann Arbor Home Protected And Looking Amazing
You can learn how to paint garage doors as we did for this home in Scio Township. The first few steps involve cleaning the doors and checking for damage.
Find the rest of the steps and the paint we normally use for exterior painting projects in the post below-
It's About Time Anyways
"These woodpecker holes are just the straw that broke the camel's back," Jim growls.
He runs his hands over the tiny holes in his garage doors. "Well, we need to fix them as soon as possible. While we do, we might as well have someone paint the garage doors too. What do you think, hon?"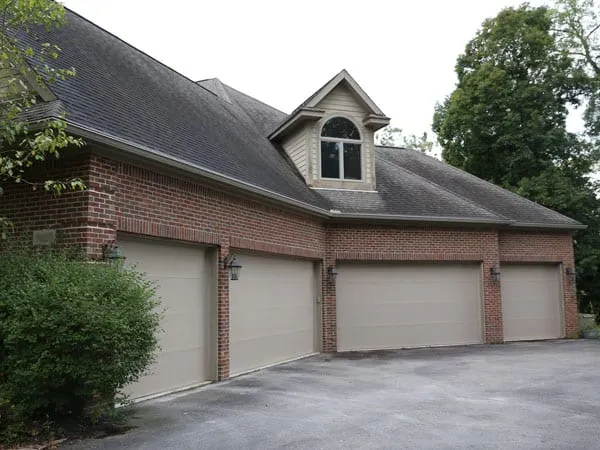 Sarah frowns at the doors. "I think you're right. I've heard about a painting contractor that regularly fixes woodpecker holes and other wood damages. They know how to paint garage doors and do a great job by all accounts."
Jim nods. "Let's give them a call and see if we can work something out.
Nick (left) is the estimator for Tribble Painting. Jeanette (right) is the office manager.
The couple calls Tribble Painting and goes through their hiring process. This includes getting an estimate, making a deposit, getting on the schedule, and a pre-job walk through the day the project starts.
Jim and his wife also get emails with the start week and day in them as well as information about who the project manager is (it's Aaron).
These are the steps taken for this project:
How To Paint Garage Doors In 6 Steps
Wash your garage doors with a mild bleach and water solution to clean and remove any mildew or organic growth
Scrape off any loose paint
Check the bottom part of the garage door frames for rot and damaged areas and replace them as needed
Caulk garage door frame
Prime any bare wood
Apply one or two coats of a high-quality paint
The Best Paint For Garage Doors
The best paint for garage doors is a paint with an eggshell or satin finish. We tend to use a Benjamin Moore brand made for exterior use. These types of paint last longer and look better than others.
The Project's End
The woodpecker holes are fixed and the garage doors are a nice new color.
"Thanks for the post-job walk through, Aaron. It's nice to know and see exactly what you did to our garage doors," Jim says with a smile. "Of course! We do this for all of our clients to make sure they're satisfied with our work," Aaron says.
You May Also Like To Read