What is happening to your house exterior?!
It could be starting to look worn; the paint could be fading or just causing your curb appeal to falter. Whatever it is, it's causing you to try and learn how to paint exterior wood siding.
Whether you're tackling the project yourself or hiring a professional, this guide will walk you through everything you need to know. We'll cover how to prepare the surface, choose the right paint, and apply it correctly.
So whether your house is in dire need of a makeover or you're just looking to freshen things up, read on for all the details!
How To Paint Exterior Wood Siding On Your Canton, MI, Home In 6 Steps
1. Clean Your Exterior Wood Siding
You need to clean your siding before painting your wood exterior because anything between the paint and the wall will cause the paint to peel faster.
One of the best tools for cleaning siding is a power washer.
Power washers get rid of dirt, debris, mold, and most anything stuck to the exterior of your home. TSP (trisodium phosphate) is a great cleanser for anything that won't come off. There is some debate on this, but most people say you can put TSP in your power washer. If you don't want to risk it, you can apply it before power washing.
Read the instructions that come with your power washer rental so you can use it safely. You can end up damaging your siding if you use too much power.
Pressure wash from the bottom to the top to avoid staining. Let it completely dry before moving on to the next step.
2. Prep The Area
Prepping the area means setting it up so the painting process and cleanup are easier.
You'll want to trim any plants by your house exterior far enough back that you can fit a ladder in the space so you can reach the top of your siding. Put drop cloths (preferably ones that allow your plants to breathe) down to catch loose materials and paint. Cover doors, windows, and anything else the paint doesn't need to get on.
3. Repair Any Damages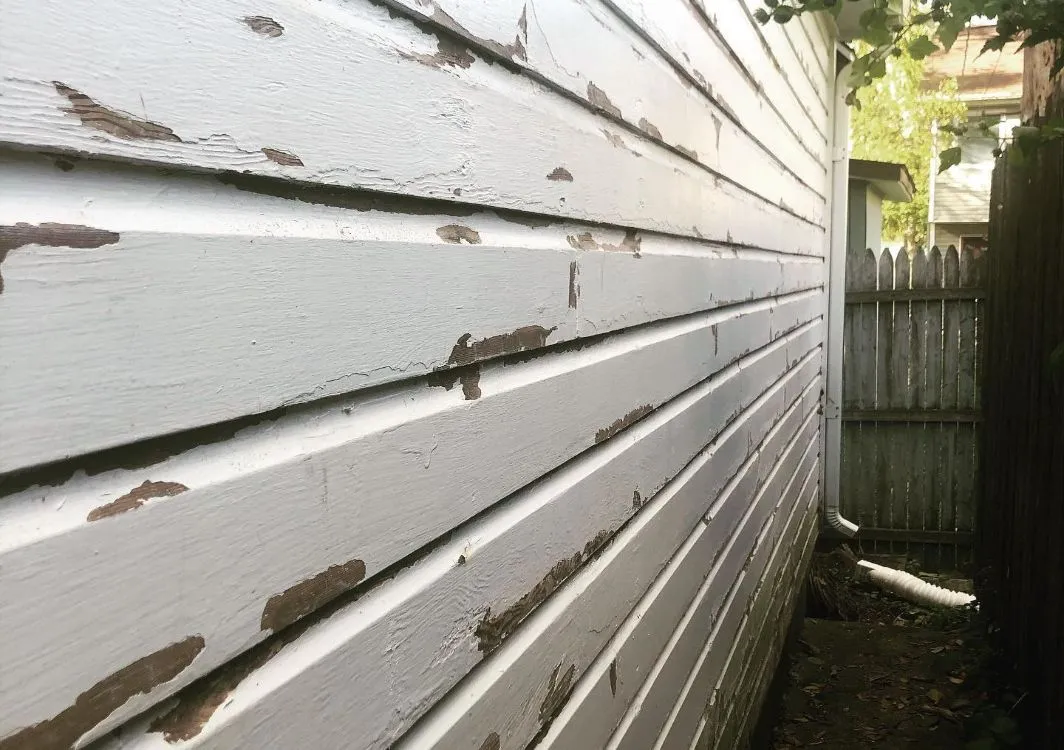 This is part of the how-to paint exterior wood siding process because damages have the same effect on your paint as dirt and oils. Any paint that goes over damaged areas or peeling paint will peel and crack quickly.
Damages include holes, cracks, flaking paint, and splinters.
Remove loose paint using a paint scraper, or follow the paint removal techniques outlined in this blog.  Sand any splintered areas flat. Fill in any holes and cracks with a two-part resin filler or exterior spackling, making sure to let it dry. Replace any exterior boards that have too much damage to repair.
4. Caulk
Caulk is important because it helps keep moisture and insects from getting into your home and causing havoc. At Tribble Painting, specifically look for wood damage from woodpeckers, carpenter bees, and other critters to caulk.
The perfect time to check on and update any caulk is when painting wood siding. Most caulked areas are around windows, doors, and other entrances and exits. If you spot any areas that have failing caulk, scrape it out, clean the area, let it dry, and re-caulk it.
5. Apply Primer
Applying primer is one of the most important steps in how to paint new exterior wood siding. It not only protects the wood from the elements but also provides a good surface for the paint to stick to.
There are two types of primer that can be used on exterior wood siding: oil-based and water-based. Oil-based primers will provide better protection against the elements, but they can be more difficult to work with. Water-based primer is easier to apply and will still provide good protection against the elements. At Tribble Painting, we use specialty paint and primer in one product.
Once the primer has been applied, it is important to allow it to dry thoroughly before applying the paint. This will ensure that the paint adheres properly and does not peel or chip over time.
6. Paint Your Exterior Wood Siding
Get your high-quality exterior wood paint and painting tools.
Begin by cutting in around doors and windows with a brush. Then, use a roller or sprayer to paint the rest of the siding. For best results, work in small sections.
You'll want to apply two coats of paint for the best coloring and coverage. Allow the first coat to dry completely before adding the second.
Once you're finished painting, stand back and admire your handiwork! Your Canton home will have a whole new look.
If you prefer a professional touch, we have top-rated painters in Canton who are ready to handle your exterior painting project!
Tips For Painting Exterior Wood Siding
Start by painting about one-and-a-half inches around the edges of your house, windows, and doors (also called cutting in)
Paint from the top of the wall down
Use smooth, even strokes so the paint isn't thicker in one area than another
Work in smaller sections, about as far as your arm can reach
Use the back brushing technique, which means brushing back into the area you just painted so it comes out looking more uniform.
If you are using a ladder, you can tie a rope to a 5-gallon bucket that holds your supplies. Climb the ladder with the rope and then pull your materials up
If using a roller, a paint grid in your bucket can help load the right amount of paint onto your roller, making for a more even paint job
How Tribble Painting Painted Erika's Exterior Wood Siding
The paint on Erika's siding is looking worse for wear.
The once beautiful wood siding is dry and uneven, its once dark luster leaching out into a pale wooden color. Erika can also see the caulk peeling from between the panels.
She worries she'll have to replace the siding if this keeps up. That's a huge hassle she wants to avoid.
Erika finds out about Tribble Painting through her daughter's school and a few postcards she's seen with their work on them. She decides to contact them about her exterior paint job.
Talking To Tribble Painting
Erika talks to Tribble's administrative assistant about her project. They discuss some of the details, and Erika schedules an estimate. The estimator arrives at the agreed-upon time and takes a look at her wood siding.
The estimator gives Erika an estimate, and they work out the terms of the agreement. She writes a deposit check and calls Tribble Painting back to get on the schedule.
Soon after, she receives an email from the Tribble team containing the dates of the week the project is to start. As the project moves closer, she receives yet another email from the Tribble team. This one includes her exact start date. It also has who her project manager will be.
There's just one holdup- Erika doesn't know what kind of paint she wants for her home.
Helping Erika Find Her Ideal Paint
Erika isn't sure if she wants an acrylic semi-transparent or an oil semi-transparent paint.
Tribble's office manager helps her with her choices. Each comes with its pros and cons, but Erika can only use one for her wood siding painting project. Oil is harder to maintain and more expensive, but it looks amazing. Acrylic is cheaper but works better and smells less.
She needs to see them in action, so Tribble Painting shows her samples of each. Erika decides to go with the oil semi-transparent stain because it looks better than the acrylic.
What Happens Once Tribble's Team Is On Site
The Tribble Painting team shows up right on schedule.
Rob goes with Erika on a pre-job walk-through to make sure he knows everything he is supposed to do. He answers her questions and accommodates any requests she has. Then the Tribble Painting team begins painting using the same process covered earlier in this blog post.
In the end, the only thing Tribble's painters leave behind is a beautiful home exterior and a happy client.
Tribble Painting Is Ready For Any Of Your Home Painting Projects
Painting exterior wood siding can be a daunting task. But with the right preparation, you can do it yourself and achieve beautiful results. Your Canton home's wood exterior needs painting every 3-5 years to maintain its appearance and protect the wood from weathering.
If you are looking for professional painters in Canton, MI, for help with your next home painting project, please fill out our contact form, and one of our representatives will contact you soon.