How To Paint Cabinets So You'll Love Your Kitchen Again
Clients Have Us Come In To Paint Their Kitchen Cabinets A New Color For Their Ann Arbor Home
You can learn how to paint cabinets and see the difference it can make with this real project clients hired us to do. They also had us paint some walls, ceilings, and trim. Will you think their home looks better now than it did before we painted it?
Heather waits for Hank to answer. She can guess what he's going to say but she needs him to say it before she can move forward with her plan.
"I mean," Hank begins, "I guess I never thought about it too much but our kitchen looks kinda plain and older, especially when you compare it to our friends' kitchens":
"Exactly, so let's do something to fix that," Heather responds. She and Hank talk about it for a while and decide to hire someone to paint their kitchen cabinets, powder room vanity, and walls. They just need to find someone who knows how to paint cabinets really well.
"Let's call Tribble Painting, they've done work for us before and it still looks great," Heather remembers.
Will We Hire Tribble Painting?
"This is Ashley with Tribble Painting, how may I help you?"
Being past clients, Heather remembers Ashley's voice and greeting. They chat about the last project for a bit before diving into Heather's plans for the current one.
They schedule a time for the estimator, Nick, to come to talk to her and look at what they want to do.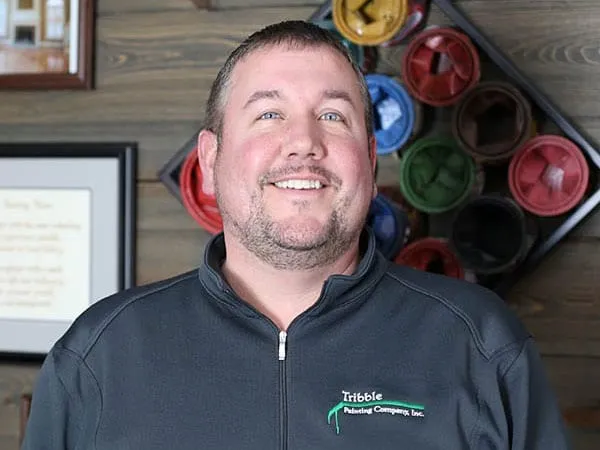 Nick shows up right on time. He looks at what she wants to do, talks over the details, and gets an idea of what Heather is expecting from Tribble Painting. He assures her all the painters know how to paint cabinets very well. Nick gives her a written estimate, which she accepts.
Heather calls Tribble Painting and talks to the office administrator, Jeanette.
Heather tells her what colors she wants so they can order it in time for the project to begin. Jeanette sends Heather an email with the week her project will start.
As the week gets closer Heather gets another email with the actual start date and some information about who her project manager will be.
Finally, the day of the project arrives, as does the Tribble team who knows how to paint cabinets.
Painting Heather's Cabinets And More
Heather watches as the Tribble team gets out of their van and walks up to her door.
She opens it for them and meets Aaron G (the project manager from the email and the picture below) and Mac, another painter.
They go on a pre-job walkthrough where they review the details and expectations. Aaron also talks about their goals for the first day so Heather will know what's happening in her house.
Then the project begins.
How To Paint Cabinets In 6 Steps
This is the process for how to paint cabinets:
Clean cabinets

Degrease doors and drawers

Sand

Clean sanding dust off

Prime

Paint 2 coats, letting each one dry completely
There they clean, degrease, sand, clean, and prime the cabinet doors and drawers. They do the same thing to the cabinet boxes fixed to the walls. 
Day 2
Aaron and Mac paint the cabinets with one coat of Benjamin Moore acrylic paint in the color Heather chose. They also paint the ceilings.
Day 3
Aaron and Mac paint the walls and apply a second coat of paint to the cabinets.
"Aaron Goulet & crew did an outstanding job painting our kitchen cabinets. They absolutely look brand-new, like they were factory-made in that color. Aaron was also meticulous in making sure all hardware, doors and drawers were replaced perfectly. I'm delighted with the way everything turned out!"
Instead of spending more time and money replacing their cabinets, Heather and her family chose to use a little paint instead. Now they have new colors and love their home again: