Find Out How We Repair Peeling Wall Paint To Beautify Ann Arbor Homes
A client of ours hired us to fix peeling wall paint on their Ann Arbor home. We follow a 7-step process with guaranteed results you'll love.
Find the 7 steps and see what happens below-
It's Una-peel-ing
"This is SERIOUS, Jason!" Sarah huffs angrily.
Jason chuckles at his own joke. "It's just some peeling paint. I'm sure we can look up how to fix peeling wall paint online and fix it by the end of the day."
Sarah frowns at him. "Maybe, but it might be harder than you think. Who knows, we might have to hire somebody to come fix it if we can't or don't want to." Jason sighs. "Ok, ok, you might be right. But before we get ahead of ourselves, let's at least look up the steps for fixing peeling paint. If we can't do it we can look up the cost of exterior painting."
Jason gets out his phone and looks it up. After some digging, here is the process he finds:
What's Causing The Peeling?
This is more important than actually fixing the peeling wall paint.
Moisture and water damage are often the cause of peeling paint. If nothing is done then the leak will continue to damage the paint.
Other causes are using low-quality paint, painting on wet or dirty surfaces, poor adhesion, or blistering paint progressed to peeling paint.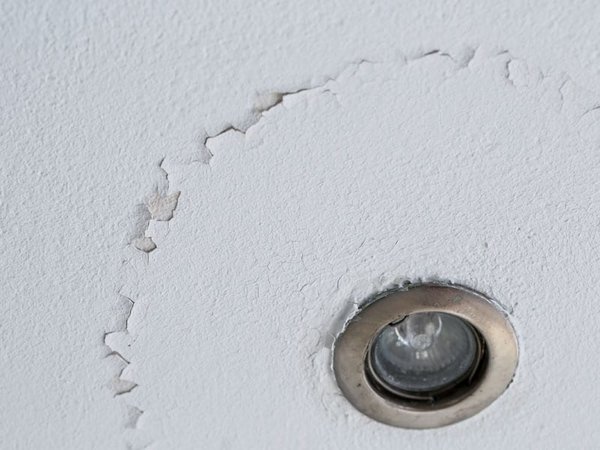 How To Fix Peeling Wall Paint
Scrape or sand the peeling paint away
Clean the area with a damp cloth
Patch the area with a patching compound and putty knife and let it dry
Apply a second coat and let it dry
Sand and clean the area
Prime
Paint with 2 coats
Scraping off the paint and cleaning the wall is very important. Anything that gets between the paint and the wall can cause the paint to peel or crack more quickly. This is why you'll want to know how to clean painted walls properly.
Patching the area levels the surface. The difference between bare walls and the paint around them is enough for people to notice. Areas with thicker paint tend to stand out. This stops that from happening.
You may have to patch and sand multiple times to get it even. This is especially true if a large portion of the wall is peeling.
The sanding helps everything to stick together better. It gives a rough surface for the paint and primer to grab on to. It's like people trying to hold onto a slick ice cube versus a gritty rock.
Priming also helps the paint to stick better.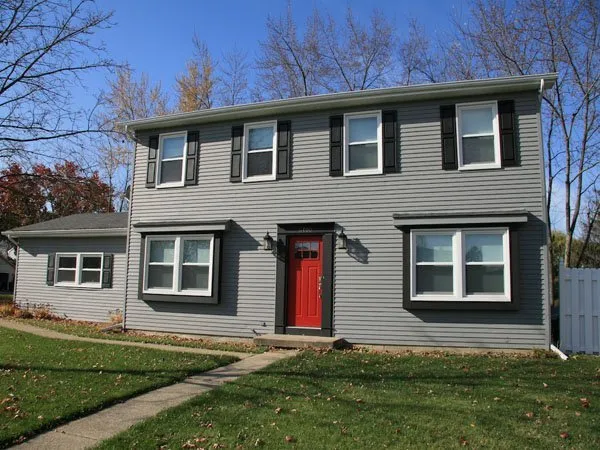 Fixing The Peeling Paint Problem
Our client's home exterior paint is peeling again. It does this every 2 years or so because of the wood. It's super slick because of the way it was milled, meaning paint can't stick to it very well.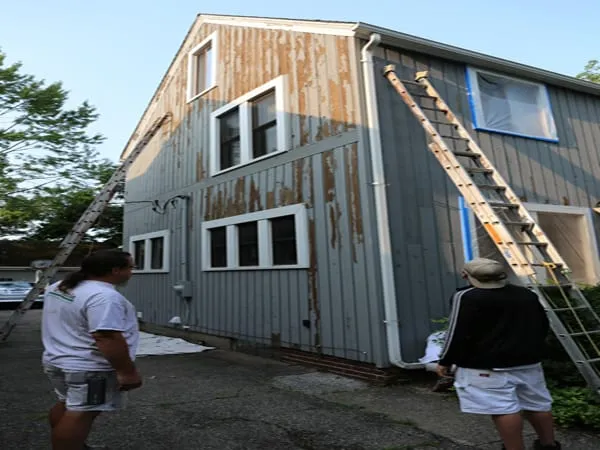 They want to find a more permanent solution to fix their exterior peeling paint than painting every 2 years
The couple gets a recommendation for a painting contractor one of their friends uses- Tribble Painting. The clients trust the recommendation and submit a contact form.
The Tribble team quickly replies. The clients and Tribble discuss the project for fixing the exterior peeling paint over the phone. Tribble says they have a new primer that gives wood more grip. This means the paint can bond more tightly to the wood and last longer.
They schedule an estimate and, after the process, decide to hire Tribble Painting. After getting on the schedule, the couple gets emails about the team that will be painting their house and when it will be.
The Tribble Team arrives right when they said they would. They go on a pre-job walkthrough with the clients so everyone is on the same page about what's being done.
Then they get to work: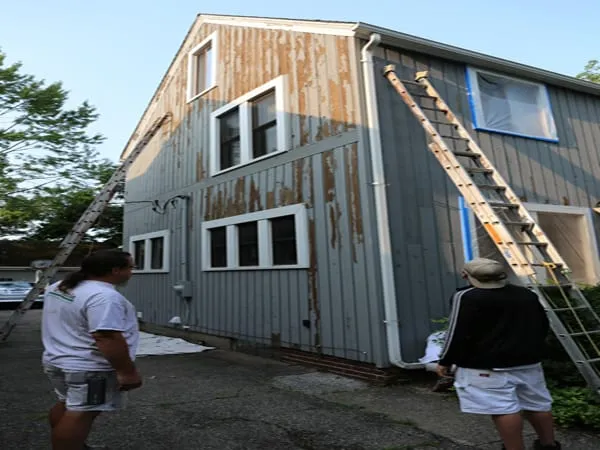 Once the Tribble team finishes they take the client on a post-job walkthrough. This makes sure everything meets or exceeds the client's expectations, who now have a beautiful house and they won't have to worry about the paint peeling any time soon.
You May Also Like To Read
"So, what do you think?" Sarah asks. "Depending on how bad it is, we may want to hire a contractor to fix our peeling wall paint. I'm going to do a bit more digging and see what else I can find," Jason replies.