Picking A Paint Color For Your Ann Arbor Home Doesn't Have To Be A Hassle
You can learn how to choose a paint color that won't take forever or be super complicated. In fact, it's so easy you might want to make it harder. The absolute easiest way is to hire an interior designer or color consultant. The other way is free but takes some independent thinking.
You can find out how to make choosing a paint color easier below.
How To Choose A Paint Color
The best ways to make choosing a paint color easier are to either hire an interior designer/color consultant or to narrow it down using the 3-2-1 method. Choose your top 3 colors and set 1 aside. Then talk with someone about what you see in the 2 remaining colors and why you like them.
Out of those 3, you will more than likely end up choosing one. If not, you've at least narrowed it down.
But how do you narrow down the hundreds of paint colors from Benjamin Moore, Sherwin Williams, and Behr to just 3 selections? We have a few suggestions!
How To Be Your Own Paint Color Consultant
Choosing the right paint colors for your home can be a daunting task. Whether you're painting the interior or exterior of your home, there are numerous factors to consider before making a decision. From color schemes to sheen and finish, your paint selection will have an impact on the overall look and feel of your home. Luckily, you don't need to be a professional paint color consultant to achieve the perfect look.
Here are some simple tips and tricks that you can use to narrow down your choices until you find the perfect paint color for your space.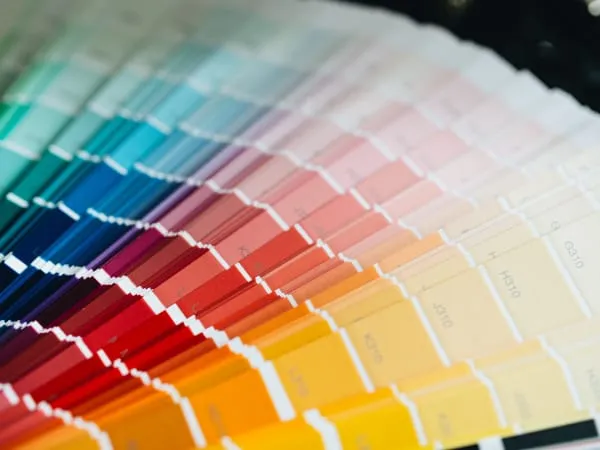 Tip #1: Start by Considering Your Inspiration
Before you even begin browsing through various paint swatches at the paint store, it is important to determine what inspires you. What paint colors do you find calming or energizing? What type of mood do you want to create within your space? Do you prefer warm tones that evoke coziness or cooler tones that convey a sense of airiness? Asking yourself these questions can help guide your search as you look at different color palette options. Color inspiration is a very subjective experience, so the paint colors you find inspiring for one room may surprise you.
Tip #2: Consider Color Schemes
One of the first things you should do when choosing a paint color is to consider which color scheme best fits the room. For example, if you're painting a dining room in a traditional style, then warm colors such as reds, oranges, and yellows may work well with darker wood furniture.
If you're painting a kitchen with modern decor, then cool colors such as blues and greens might better complement stainless steel appliances and light-colored cabinets.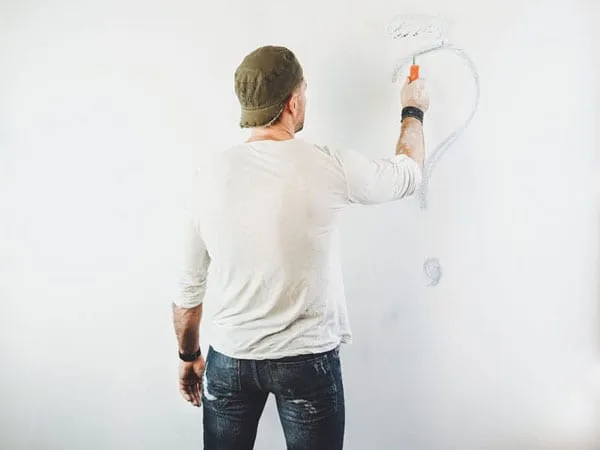 Tip #3: Take Into Account Natural Light Sources
Keep in mind that natural lighting sources (such as windows) will affect how certain hues appear during different times of day–so it is important to observe how various colors look in various lighting conditions before committing to one shade. Cooler tones are best suited for north-facing rooms, while warmer hues are recommended for south-facing spaces; similarly, east-facing rooms should be painted with lighter shades, while west-facing rooms should feature richer hues due to more direct sunlight exposure throughout the day.
Tip #4: Test It Out
Once you decide what type of color palette fits best in one room, it's time to start testing out different shades and hues. The easiest way to do this is by purchasing small sample pots of paint from your local store. Paint large swatches onto poster boards or large cardboard pieces so that you can move them around and see how they look in different parts of the room in natural light or artificial lighting throughout the day and night. This will help ensure that you love your new paint color before committing to it completely. This is how many people decided between the most popular interior paint colors for Ann Arbor.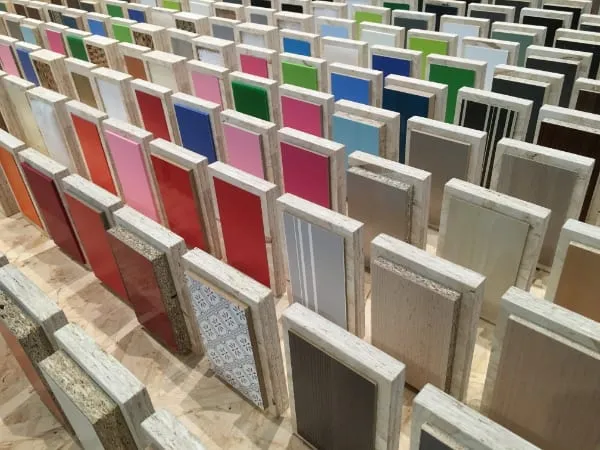 Tip #5: Think About Sheen & Finish
When selecting a sheen level for paint, think about how often that particular area is used and cleaned. If it's an area subject to frequent wear-and-tear (such as children playing), then it may be wise to select a higher sheen level, such as semi-gloss or high gloss finishes, so that they are more resistant to dirt and grime buildup over time. These types of finishes usually provide easier cleanup when needed because they don't absorb spills as flat paint colors do.
What Should Happen If You Hire A Interior Design Color Consultant
Whether you have colors or a design in mind or have no idea where to start, working with a designer/color consultant should go something like this.
A good designer will meet you at your house. They will want to see your environment and furnishing and talk with you about your vision. They will then design a color scheme based on this meeting.
*In Todd Tribble's 30 years of painting, he's never had a client go against the designer's suggestion.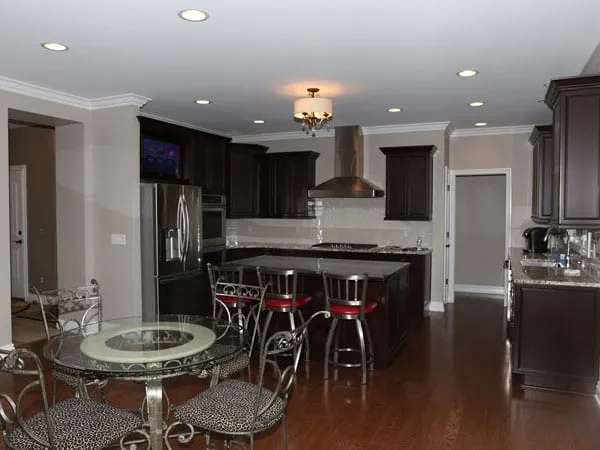 Another useful exercise is to look around your home and take note of existing elements that could inform your decision-making process. Are there fabrics, furniture pieces, architectural details, or artwork that could act as inspiration when finding the right hue? Consider how certain colors might play off one another when making a selection—but don't be afraid to break away from the traditional "rules" if something catches your eye.
DIY Paint Color Consultation
Choosing interior paint colors for your home doesn't have to be overwhelming or stressful–just keep these tips in mind! Consider what type of color scheme suits your room best, test out several shades/hues by creating swatches, and think about which sheen/finish works best for each area given its frequency of use/cleanup needs. Finally, once you've narrowed down your choices to your top 3, use the 3-2-1 method to pick your perfect interior paint color.
With these simple steps in mind, finding the perfect paint color will be much easier! Now all that's left is the need to hire a painting company in the Ann Arbor area.
How To Be A Color Consultant For Exterior Paint
The same methodology you used to narrow down your interior paint colors to one perfect color can also be used to pick your perfect exterior paint. However, there are a few other aspects to consider when thinking about your exterior paint color.
Style: Exterior paint colors should reflect the style of your home while still complementing its surroundings. If you have a classic Victorian structure, opt for brighter, bolder colors that amplify the ornate and decorative details of the architectural style.
On the other hand, for a modern contemporary home, stick with more muted or neutral tones across the facade since this will accentuate its stark lines and basic materials. If you have a cottage-style residence, use mid-tones and warm pastels to bring out its inviting charm–especially on shutters, doors, trim, and windows.
Climate: When choosing exterior paint colors, consider factors such as climate and orientation (south-facing homes may need lighter shades). Consider how light and dark colors absorb energy differently and how paints with different gloss levels can affect how temperature affects the surfaces.
The finish of the paint should also be kept in mind, as some finishes are better suited to hot climates or areas where there are lots of strong winds, while other types of paints simply don't hold up in wet climates. Knowing how your house will interact with its environment can go a long way toward helping you find the perfect color
Check out the neighbors: Look at existing structures nearby and draw inspiration from them.
Do some testing: If possible, take photos of potential color combinations on all four sides of your house so that you can compare them side-by-side before making your final decision. Test paint samples on a few inconspicuous areas.
Use high-quality paint: It's essential to remember that exterior paints are exposed to harsh weather conditions like rain and snow, so make sure you select high-quality paint that is specifically designed for the outside of your home. Remember to apply two coats for maximum protection against fading and wear over time.
Get Your Perfect Interior Paint Job From The Color Consultant Pros At Tribble
At Tribble, we know how to get the perfect interior paint job for your home. Today, choosing a wall color can be a daunting task with all of the different shades and hues available at the paint store. But there are some ways that you can make it easier on yourself. By taking into account pre-existing color schemes, testing out colors in small areas, and considering sheen and finish as well as natural light sources–you can quickly and easily narrow down your choices to find the right shade for your space.
And if you're still not sure? Hire a professional! The color consultant pros at Tribble Painting Company are here to help make your vision come to life. To get started, simply fill out our contact form today.