This Is How Much People Around Ann Arbor Are Investing To Make Their Home Look Amazing Again
We're glad you're asking this question because the price is important! We want you to know about how much a new coat of paint for your home can cost so there are no surprises or sticker shocks.
In this post, you'll discover the cost of exterior painting and interior painting in Ann Arbor. You'll also find out some of the main factors that cause the cost to change.
How Long Has It Been?
"Since we painted any part of this house? Never have," Sarah answers Jason.
Jason lets out a low whistle. "Wow, I almost can't believe it. We should probably paint our house or have someone paint it for us. If not for a change of scenery then because," he pauses to take a close look at the walls, "because our walls could use a coat or two of new paint."
Sarah looks around, twirling her hair around a finger. "Hmmm, you know, I think you're right. It'd be really nice to change up the look of our home. But, what do you think the cost to paint a home in Ann Arbor is?"
Jason shrugs. "I don't know, let's look it up," he says, pulling out his phone. "The cost will be different per contractor, but there have to be good reasons that painting estimates differ." He starts searching Google for answers.
Here is what the couple finds:
The Cost To Paint A Home
The cost to paint a home in Ann Arbor is usually between $6,000 and $60,000, though it can go higher. It mainly depends on what your painting, its size, the material, job difficulty, and if there's any damage that needs fixing first.
Exterior Painting Costs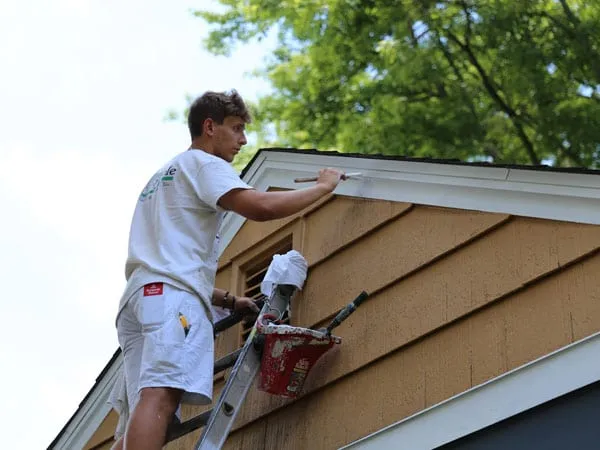 The cost to paint a house exterior ranges from $7,000 to $40,000 or higher. It depends on a few factors like what exactly is being painted and what the material is.
The cost to paint exterior trim can be $7,000 and higher depending on the total amount to paint. This is for 2 coats of high-quality paint.
What Mainly Changes Exterior Painting Costs
Size. Larger homes need more materials, time, and labor. Painters may need ladders or other special equipment to reach everywhere. You may also choose to only paint a part of your exterior. Exterior trim painting costs will be different than painting the garage doors.
Materials. Some painters use different quality materials. Lower quality materials make for a cheaper job, but usually only upfront. They tend not to look as good for as long. This means you'll need to bring in more painters again later. Higher-quality paints should look better for longer.
Siding type. The cost to paint aluminum siding versus wood, vinyl, and other materials can be different. One may need a different paint or process to complete.
Damages. Damages can be found during an estimate or during the project. If we find any we'll stop working and contact you immediately to talk about your options. Any damages need fixing or it can lower the paint's lifespan. Damages will also only get worse, and we don't want that for you!
Interior Painting Costs
What Mainly Changes Interior Painting Costs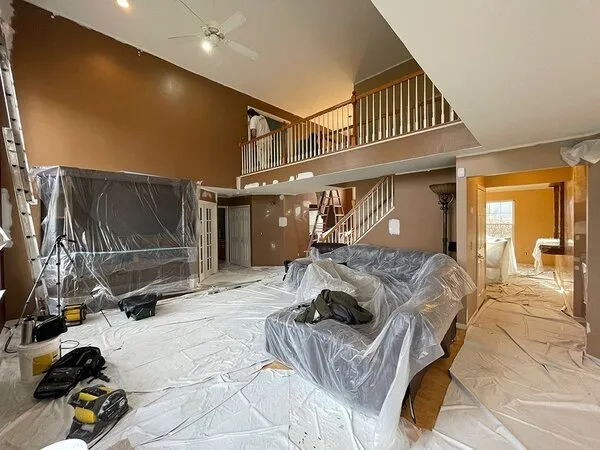 Size. If you have us paint something that's over 1 story tall we'll need more equipment, time, labor, and materials to paint it well. This all adds to the cost.
What's being painted. You might not want your entire interior painted. Maybe you just want one room or just your kitchen cabinets. The more you have us paint the higher the cost will be.
Damages. If we find any damages we'll contact you as quickly as we can. We'll talk about your options and decide the best course of action. We find most people choose to fix any first because damages will only get worse and shorten the life of the paint.
Color. Freshening up the color is a lot less expensive than changing it. The more drastic the change the higher the cost will be.
You May Also Like To Know
"This is great! The links lead to more in-depth information on cost, too, which makes it even better!" Jason says happily. Sarah smiles. "Let's see what more we can find on this blog before we paint our house."