Find Out The Real Cost To Keep The Exterior Trim On Your Ann Arbor Home Beautiful
The cost to paint exterior trim in Ann Arbor changes from house to house. A 2500 square foot home's trim could cost $7,000 to $15,000 to paint for several reasons.
Find out the reasons in the post below-
Our Trim's Seen Better Days
"What's wrong with it?"
Nathan sighs as he thinks about it. "The paint's starting to peel in a couple places, mildew's growing on the north side, and I'm willing to bet there are woodpecker holes or rotten wood somewhere."
Their window trim especially needs repainting:
"Ouch, how much will it cost to repaint it and everything?" asks May.
Nathan shrugs. "I'm not sure, to be honest. I'll look into it and see what I can find. Might as well look up gutter cleaning costs, too. It's time to get that done as well." He tugs out his phone and searches 'cost to paint exterior trim Ann Arbor' into Google.
Here is what he finds-
Here's an exterior trim painting project a client had us do in Ann Arbor >>
How Much Exterior Trim Painting Can Cost
The cost to paint exterior trim depends on the size of the home and the detail of the trim. Two coats of paint on a 2500-square foot home's trim can cost $7,000. The price of exterior trim painting can even go over $15,000.
"There has to be more than that. Estimates always differ…I wonder why painting estimates are so different."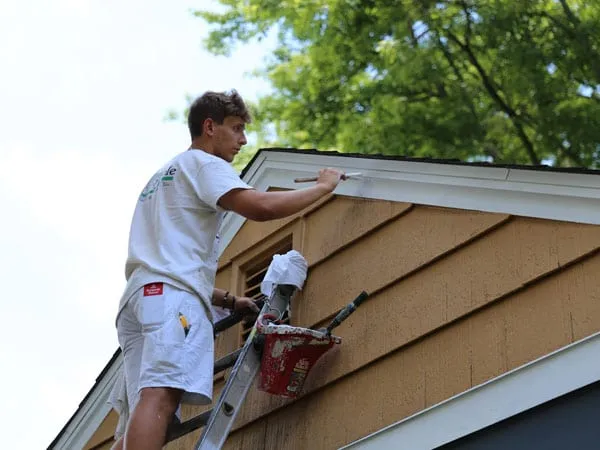 A 2500-square foot colonial home usually has wood soffits, facia, corner boards, garage and front doors, and a small covered porch over the front entrance. Including preparation and 2 coats of paint, you might invest around $7,000 to $15,000.
"Seems like we'll need to check on our exterior trim every 5-7 years. Hopefully it won't need repainting each time," Nathan says.
What Can Cause The Cost To Change
Detail is the biggest factor that can change the cost to paint exterior trim. The more detail it has the more upkeep it needs to keep it looking good. Then there's size. Bigger houses take more materials and time.
May thinks for a second. "It all really comes down to what each individual house is like, then, doesn't it?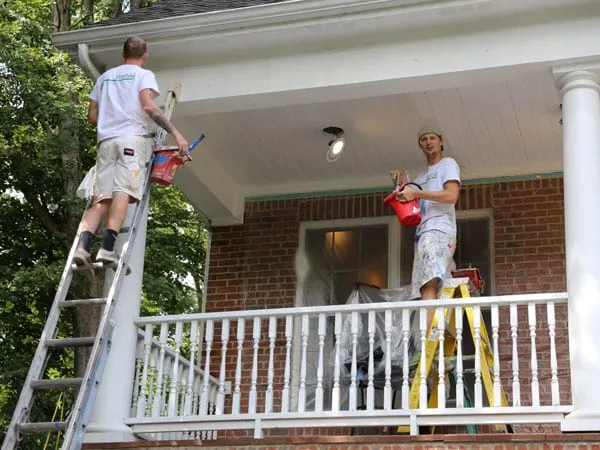 What's The Next Step?
"We should research painting companies in the area," Nathan says. May pulls out her phone too so they can cover more ground as they look for someone to paint their home's exterior trim.