The Real Cost To Paint A Ceiling In Your Ann Arbor Home
Find Out About How Much You Should Be Paying For A Quality Painted Ceiling In The Ann Arbor Area
The cost to paint a ceiling will be a couple hundred dollars and higher. But it really depends on your ceiling. Your ceiling could cost $1000 to paint.
Find out why in this post-
Great, Another One
"Well, at least I already know how to fix the leak."
Brandon stares at his ceiling like he can scare the water damage away. There's already a little bit in the other corner of the room and now this happens.
"While you do that I'll start looking for ceiling painters," Jenna sighs. Brandon rubs his chin thoughtfully. "How about you look up the cost to paint a ceiling first. You remember, like we did with the cost for interior painting? I'd like to know about how much we'll be spending."
Jenna nods and Brandon heads off to get his toolbox. She gets out her phone and starts looking to see what she can find.
Here is what she ends up reading on ceiling painting costs for the Ann Arbor area-
Cost To Paint A Ceiling
The cost to paint a ceiling is anywhere from $300 to $1,500 plus. An average 12-foot by 12-foot bedroom with 8-foot walls can cost $300 to paint with 2 coats of paint. Higher ceilings cost more to paint because of the tools needed to reach them.
"Well, then I'm glad our ceilings aren't 2 stories!" Jenna says in relief. "I wonder what causes the cost to be what it is?" she wonders.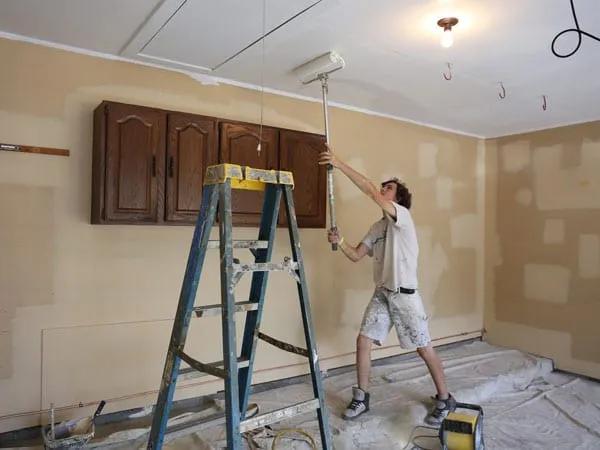 Factors Changing Ceiling Painting Prices
Firstly, when preparing a room for painting the whole room needs to be prepped. This means moving and covering everything.
This is also a great time to paint your walls
Size is also a factor. Larger and/or higher ceilings take more labor and materials. Plus, having to be on a ladder 2 stories up will increase the cost to paint a ceiling.
"That makes perfect sense. I'd charge more to be high up like that, too," Jenna agrees.
We've seen many ceilings of one room run into the ceiling of another as one continuous ceiling. If there's no natural break it's best to paint all of it. Otherwise, the stopping point would stick out like a sore thumb.
Time To Share
BANG-BANG! Jenna jumps as she's snapped out of her reading. She smiles and shakes her head, then starts walking upstairs. It's time to tell Brandon how much they could spend to paint their ceiling.