You can follow Jeff as he creates his ideal interior. He and his daughter have moved into neighboring condominiums. He wants his new condo to reflect his taste and style, so he hires a painting company to help transform the interior. Jeff wants his daughter to use the same one depending on how well they do. Keep reading to see if the transformation is worth it.
Jeff is an unsatisfied new condominium owner.
It's not that he hates the condominium or anything, it just doesn't have his decorative taste yet. To him, the blank white walls of the condo look like empty spaces waiting to be filled. Once they are painted and this place looks like home to him, he'll be happy.
But until then, it'll do. As long as he's near his daughter then he doesn't care where he lives. Speaking of his daughter…
Jeff worms his phone out of his pocket and calls her.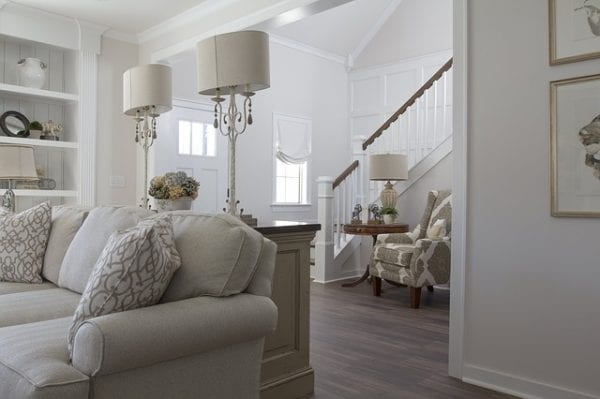 "Hi Dad!" answers her happy voice. "How you liking your new place? Are you loving it as much as I am right now because this is really nice! One part that needs changing, though, is the walls because this plain white just is not working for me."
"Me neither," Jeff agrees, "but yes, this is great. Have you thought about who's going to paint your walls?"
"I guess I am," she sighs, "because it will help me keep the cost down. I already spent a fortune on this condo and spending more does not sound like the right move."
"Hmmm," Jeff pauses, "Well, it's your new house. You'll be living here for a few years at least, right? It should be professionally painted. It'll last longer and look better than if you or I do it."
"Yeah, I guess you are right," she says unhappily, "it will definitely look nicer."
"Don't worry honey," Jeff says in a comforting voice, "I know one of the best house painters around. Done work for me in the past. Loved every job he did. He gives a fair price too."
"Ok, I will look them up and see what they are all about. Let me know what he says he will paint your condo for please!" his daughter says.
"Ok, bye honey, love you." "Love you too, Dad." They hang up and Jeff makes the call to Tribble Painting.
Hiring Tribble Painting To Paint The Condo Interior
Jeff is listening to the phone ring…
A cheerful voice interrupts the ringing with "Hi, this is Ashley with Tribble Painting! How may I help you today?"
"Hi Ashley, this is Jeff K calling for another project. Moved into a new condo and it needs painting. My daughter's in the same boat, so you might end up painting hers too. What's the soonest we can get an estimate?"
"Hi Jeff, great to hear from you again! We're glad you remembered us and decided to use us to paint your new home. As for scheduling an estimate…"
They continue the conversation with Ashley answering Jeff's questions. He ends up scheduling an estimate.
"Perfect! So our estimator, Nick, will be at your house at the scheduled time on the scheduled date. Is there anything else I can do to help?" "No," Jeff replies, "I'm all set. Have a nice day."
They hang up the phone and Jeff waits for the day of the estimate.
The Estimate
Jeff is up bright and early waiting for the estimator to come.
Ding-Dong goes his doorbell, right on time. He opens the door…
"Hi, my name is Nick with Tribble Painting. I'm here to give an interior painting estimate to a Jeff K."
"Well you've got the right place. Come on in." They talk for a few minutes before Nick starts taking a look around.
Nick walks around taking everything in. Once he finishes, he shows his findings to Jeff and gives him an estimate. Jeff agrees to it and hands Nick a deposit check.
"Great to be doing business with you again Jeff. You'll be getting an email soon about your start week. As it gets closer, you'll get another one that will have your start date and information about your project manager. It's a picture and a short bio so you can get to know them a little before they come to your home. They're all super great guys!"
"Can't wait," Jeff replies knowingly. He's met most of the crew by now because of his earlier projects. He walks Nick to the front door and watches as he pulls off to his next job.
Now he just needs to wait for that email…
Painting The Interior
Like Nick, Tribble's painting team arrives on time.
The project manager comes up and introduces himself to Jeff. They do a pre-job walkthrough to make sure everyone is on the same page. "Wow, he even gave me his personal cellphone number so I can call him at anytime," Jeff thinks in disbelief, "These guys are all about customer experience."
Then the team begins painting:
First comes Jeff's bedroom. The furniture is out and the drop cloths are down so paint won't get anywhere it isn't supposed to (which it can). The walls come along beautifully.
While this is happening, one team member focuses on the one-man job of painting the wall next to the stairs:
The final area is the 2-story main living room. It's a big assignment involving ladders, balance, and careful painting. But the Tribble team is used to it and does a great job:
"Well that does it," says the project manager, "your condo is painted and good to go. How do you like it?"
"This," Jeff says happily, "This is me. I feel…at home. I'm going to get my daughter to use you guys for sure. Thank you so much." The Tribble Team cleans up their mess and the project manager does a final walkthrough with Jeff to make sure everything is right. Everything is, so the team heads out.
Jeff scoops his phone out of his pocket and calls his daughter, "Hey hon, come check out the new paint job. It looks amazing. You'll want to call Tribble and have them paint your condo too."
"Sounds good Dad, I will be right over!"
Jeff hangs up with a smile. This new chapter is starting out really well.
Is Your Home Interior Yours?
Every home interior should show who you are as the owner. That's what Jeff (and eventually his daughter) did so their new homes show who they are. You can too. You can make your house feel more like home again with our interior painting service.
All characters in this post are not accurate representations of our clients. The characters' personalities and diction are fictional.