These Are The Exterior Wood Stains We Recommend Using To Create An Amazing Look For Your Wood-Sided Home In Ann Arbor
It's great that you're looking for the best stain for your home! We love homeowners that want the best for their homes. In this post, you can find out which wood stains are available and what their differences are.
And if you're ready to get your home's exterior painted, click here!
The Best Kind Of Exterior Wood Stain
Are you thinking about staining your home's exterior wood siding? Are you struggling to figure out the best wood stain? If so, you've come to the right place! This article will discuss what factors to consider when choosing an exterior wood stain and some of the different types that are available. After reading this post, you will be confident in your ability to make an informed decision about the best types of stain for your wood-sided home.
Now that you've already looked at the differences between staining vs painting homes, you're ready to focus on selecting the best exterior wood staining for your home. But before we dive into the types of exterior wood stains, there are several considerations you need to make before determining what is the best wood stain for your home.
Considerations To Make When Selecting Exterior Wood Stains
If you're lucky enough to own a wood-sided home, you know the importance of maintaining the integrity and appearance of your exterior wood. Maintenance is essential in order to keep your investment looking great.
The right type of stain will preserve and protect your exterior wood from moisture, UV rays, and other environmental factors. But with so many exterior wood staining options on the market, it can be overwhelming to determine which type is the best for your home. We will discuss what factors to consider when choosing an exterior wood stain and the best options available.
Here are some things to consider when choosing the best exterior wood stain for your wood-sided home.
Purpose Of Exterior Stain
The first consideration you should make is why you want to stain your wood. Are you looking to protect the wood from the elements, or are you mainly concerned with improving or changing the appearance of your home's exterior? The answer to this question will help narrow down your options because there are types of stains that will maintain the current appearance of your wood-sided home and other stains that can make it look completely different (similar to a fresh coat of paint).
Wood Stain Varieties
There are 3 main varieties of exterior wood stains: oil-based, water-based, and hybrid varieties. Let's go over the main differences between these 3:
Oil-based stains: As the name suggests, this variety of wood stain uses oil as the liquid base for pigments and other ingredients. Oil-based stains penetrate deeper into the wood than other varieties of wood stains. This allows them to better protect the wood since the oil-based stain will actually bond with the wood fibers. This is probably the best variety of stain if you are trying to emphasize the appearance of the wood grain on your siding. The biggest downside to oil-based stains is that their VOC (volatile organic compound) content is typically higher than other varieties of stains. Oil-based stain is also more difficult to clean up–it usually requires you to use mineral spirits and a lot of elbow grease.
Water-based stains: Both water-based and acrylic stains utilize water as their base. These stains usually have a lower VOC content than oil-based stains. This makes them less likely to irritate your respiratory system. Water-based stains are also easier to clean up–just use a soap and water solution. The biggest downside to water-based and acrylic stains is that they don't penetrate the wood as deeply as oil-based stains. So this means they won't protect the wood as effectively as oil-based stains.
Hybrid stains: Hybrid stains are a more recent third option for exterior wood stains. These stains are a mixture of both oil-based and water-based stains. The idea behind hybrid stains is to harness the best aspects of oil-based and water-based products. Hybrid stains are supposed to be more durable than pure water-based stains, but without the high VOC content associated with pure oil-based stains.
Type Of Wood Surface Protection: Penetrating Stains Vs Film-Forming Products
Another major consideration you should make is how the stain will protect your wood siding. There are 2 main ways that stains work to protect your wood: by penetrating the wood or by encasing the wood. Let's take a closer look at each type of wood surface protection:
Penetrating stain: Penetrating stains get absorbed by the wood and actually bond with the wood fibers. This helps to create long-lasting protection against moisture and UV (ultraviolet) damage from sunlight, which is quite durable. Penetrating stains are a great way to showcase the wood grain of your siding.
Film-forming products: Film-forming products encase the wood in a protective layer rather than penetrating the wood grain. Film-forming products typically don't last as long as penetrating stains and require more frequent reapplications. Although film-forming wood protection products should technically be classified as a finish or sealant, some wood stains do actually use a film-forming technique to protect the wood.
Transparency: The Best Types Of Stains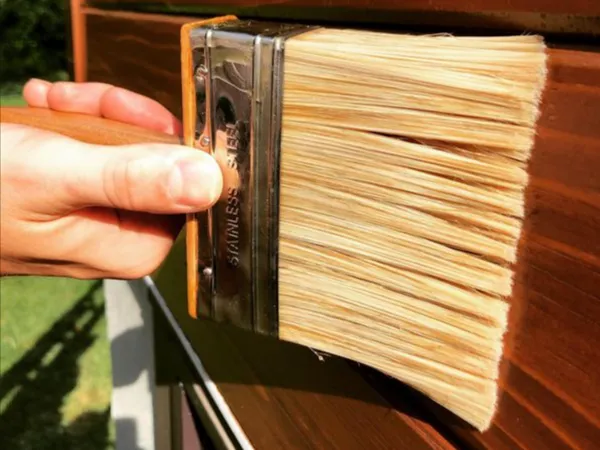 Another crucial consideration is the amount of transparency that a stain has. The level of transparency in an exterior wood stain can range from completely transparent to completely opaque. The best options for exterior stains for wood homes are semi-transparent, semi-solid, and solid. You can use them on siding and trim. Their main differences are how much of the natural wood and color you can see through the stain and how often they need restaining.
What it all comes down to is how the stain looks and how often you want to restain. Most of our clients go with the stain that'll make them the happiest with the look of their home.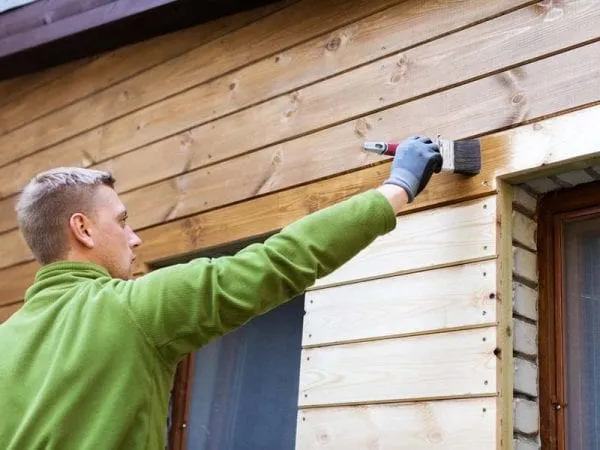 Semi-transparent stains: These stains let a lot of the natural wood color come through. This gives you a combination of the color of the stain and the wood. You will need to reapply this stain more often, about every 3 years. This is especially true on the sunnier sides of your home, where the wood siding is constantly exposed to UV rays.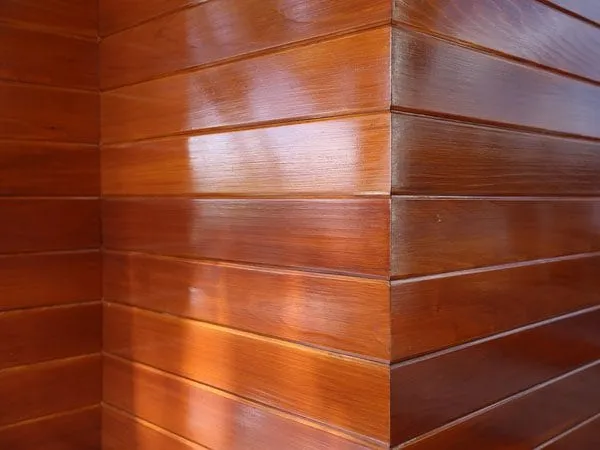 Semi-solid stains: Like semi-transparent stains, these also give you a combination color of the stain and the wood. The difference is this type of stain has more tint to it. You'll see less of the natural wood color. It'll also last longer, somewhere in the 5-year range (except on those sunnier sides again).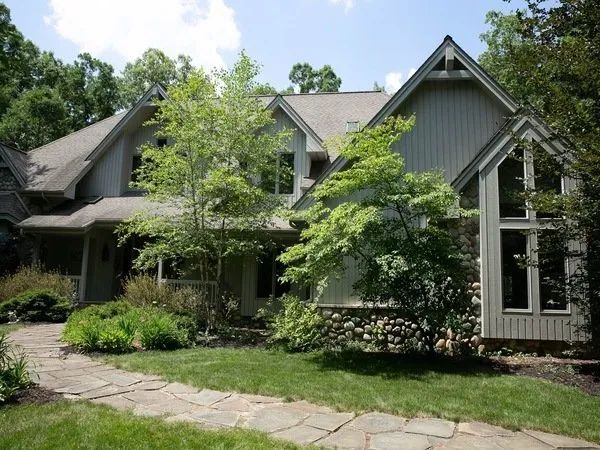 Solid stains: Solid stains get rid of the natural wood color and look altogether. It honestly looks more like paint than a wood stain. It usually lasts about 5 to 7 years, with the 5-year mark for the sunnier sides.
Stain Color
Wood stains come in a wide range of colors, from natural wood tones to bright, bold shades. When choosing a color, consider the overall aesthetic of your home and the surrounding landscape.
You should also keep in mind that darker colors will reflect less heat than lighter colors. Lighter colors will reflect more heat but also be brighter during the day. So if you live in a hot climate, this may be something important to take into account when choosing a shade for your stain.
Exterior Wood Stains For Different Wood Types
Last but not least, you should consider what type of wood you are staining. Wood types can be broken into 2 main categories: softwoods and hardwoods. Softwoods tend to be highly absorbent, while hardwoods tend to resist penetration by liquids. Be sure to choose a wood stain that is compatible with the type of wood on your home.
Softwoods: Softwoods include woods such as cedar, poplar, and pine. Generally speaking, you want to be more careful when using stains on softwoods. Since softwood more readily absorbs stain than hardwood does, a quick application of a stain can easily lead to a splotchy or streaked appearance on your wood siding. There are pre-stain conditioner products you can use that are supposed to alleviate this issue.
Hardwoods: Hardwoods include woods such as oak, walnut, and hickory. Since hardwoods are less absorbent than softwoods, it may be easier to stain them with an oil-based stain. Oil-based stains will be more readily absorbed than water-based or acrylic stains. Since they are less porous, hardwoods are also more likely to require multiple coats of wood stain.
Beautify The Exterior Of Your Home With Help From The Pros At Tribble Painting
When it comes to selecting an exterior wood stain for your home, there are many factors that come into play, such as the intended purpose of the stain, type of stain, transparency level, color selection, and even wood type. When all these elements are taken into consideration, you can be sure that you have chosen the best possible option for protecting and enhancing your outdoor space.
If you want to stain the exterior of your wood-sided home but aren't sure if you want to make it a DIY project, we can help! The pros at Tribble Painting Company are here to help bring your vision for your home to life. Just fill out our contact form, and we will get back to you as soon as possible!