These Are The Paints We Trust For Use On House Exteriors In Novi
The best exterior house paints change based on the siding. Some of the best paints include Benjamin Moore Aura and Sherwin-Williams Duration.
Find out more below-
Paint can make or break the exterior of your home. Get it right, and you'll have a durable, long-lasting finish that enhances your curb appeal and adds to your home's value. Get it wrong, and you'll be dealing with peeling paint and costly repairs in no time.
When it comes to painting your home's exterior, there are a lot of factors to consider. To help you make the best choice for your home, we've put together a guide to the best exterior house paints for 4 different siding types.
What Is The Best Exterior Paint For Your House?
While it would be great if there were just one type or brand of paint that we could point to as the definitive "best exterior paint," the fact is that choosing the best paint for your home's exterior depends on several factors, including the type of siding, the climate you live in, and even the colors you love.
In other words, you can't just pick up a can of paint and start painting your house without doing some research first!
Fortunately, the experts here at Tribble Painting have compiled a guide to help you select the best paint for your home's exterior.
We've also compiled a list of the trending exterior house colors. And if you are looking for professional painters in Novi, MI–we can help! Just give us a call or fill out our contact form today.
But before we get to the best exterior paint for each siding type, let's take a look at 8 key factors you should always look at when choosing an exterior house paint.
8 Factors To Consider When Choosing An Exterior House Paint
Choosing from such a wide variety of exterior paint options can be overwhelming, so here is an overview of the 8 key factors that should guide your selection:
1. Low VOCs
VOCs are volatile organic compounds that are found in many oil-based paints. Manufacturers usually add VOCs to paints in order to improve durability or dry time. However, VOCs should be considered when selecting paint, as volatile organic chemicals emit toxic fumes and can affect people sensitive to lowered air quality.
Low VOC exterior paints are free (or mostly free) from volatile organic compounds, so once applied (and completely dry), there is no risk of off-gassing harmful toxins. They can also be obtained in a range of finishes, allowing you to customize your siding accordingly. From weather-resistant coating to beautiful matte textures, low VOC exterior house paint provides plenty of options without sacrificing the quality or protection of your home's outer layer. All in all, it's one of the best ways to safeguard any building against environmental exposure on top of giving it an upgraded look!
2. Durability
When it comes to best exterior house paints, durability is key. Exterior paint exposed to the elements needs to be able to stand up to sun, wind, rain, and snow–all while maintaining its original color and finish. Paints with higher durability can last two to three times longer than cheaper options. It's also essential that any paint used on your home's exterior is designed to resist cracking and peeling due to the UV exposure of direct sunlight.
High-quality latex and acrylic paints tend to be thicker and contain more pigments and acrylic solids. Oil-based paints are thinner and more durable than latex and acrylic, but tend to yellow faster in the sun. As noted above, oil-based paints also tend to have higher VOC content.
3. Dry Time
When it comes to the best exterior house paints, dry time is one of the most important factors to consider. Not only does dry time indicate how quickly it takes for the paint to become tack-free and hard enough to resist fingerprints, but it also affects how soon you can re-coat or clean a newly-painted surface. Dry time is also a good measure of the overall quality of exterior paints–ones with longer dry times are likely to be more durable and resistant to cracking, fading, or chalking over time.
In general, oil-based paints dry slower (6-8 hours) than latex or acrylic (4-6 hours). Dry time is crucial if you are applying multiple coats of paint since you will need to wait for the first coat to cure before applying a second. Keep in mind that you may need to wait 24 hours for an oil-based paint to completely cure, even if it feels dry to the touch.
4. Color Duration
How often will you need to repaint to maintain color saturation? Remember that low-quality (read: cheap) paints tend to fade faster, while high-quality paints use premium ingredients that maintain their color longer.
5. Weather Resistance
The best exterior paints should be able to withstand all types of weather conditions. Oil-based paints are traditionally the best exterior paints since they easily repel water. However, all-acrylic paints are also a good choice for their weather-resistance qualities.
6. Climate
Your climate also plays a big role when it comes to selecting the best exterior house paint. If your house is in a desert climate, your ideal exterior paint will be different from someone living in Ann Arbor, Michigan.
7. Surface
A good rule of thumb when it comes to painting is to always use the same type of paint that is already on the surface. So if you previously painted with acrylic exterior paint, you should only paint over it with an acrylic paint. You should also consider the material of the surface you are painting on: aluminum, vinyl, wood, etc. (more on this later).
8. Preparation And Application
Last, but not least, don't underestimate the importance of doing your prep work for the painting surface. Remove any dirt, grease, or old flaking paint before applying a new coat. You should also carefully cover any areas you don't want to be painted with painter's tape or drop cloths.
Finally, consider how you will apply the paint. Sprayers are faster but can result in overspray. Rollers and brushes are more accurate but are not as fast.
The Best Paints For House Exteriors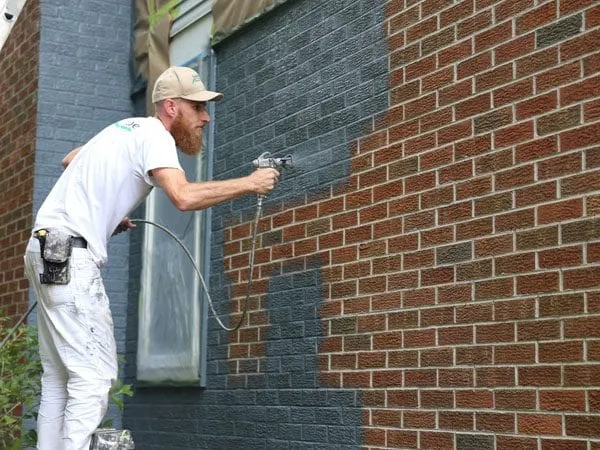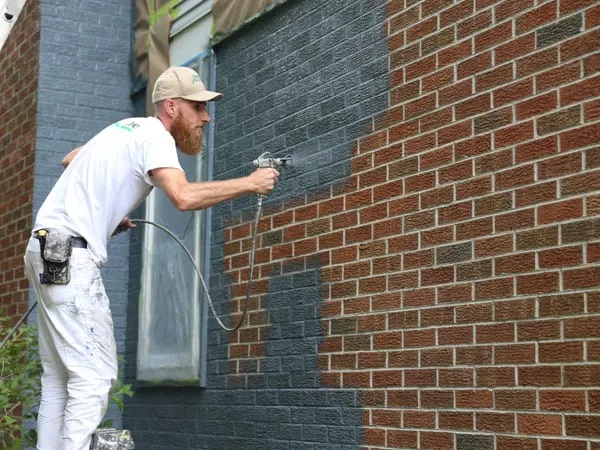 Now that we covered the 8 key factors to consider when picking an exterior house paint, let's reveal our picks for the best exterior house paints.
The best paints for house exteriors include Benjamin Moore's Aura, Regal Select, and Revive. For Sherwin-Williams, the best exterior paints are Emerald, Duration, Super, and Rejuvenate. It changes based on the type of siding you have.
It also changes depending on which side of the Benjamin Moore vs Sherwin-Williams debate you're on.
The paints listed below are the ones we use for our clients:
1. Wood And Cement Fiberboard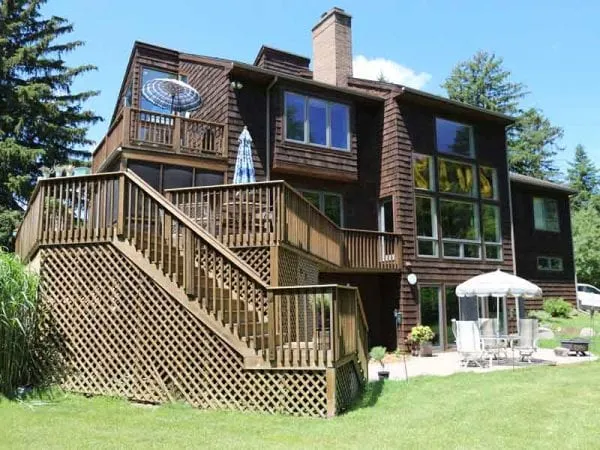 If you have wood or cement fiberboard siding, you'll want to choose a paint that is durable and has a long dry time. Benjamin Moore's Aura and Regal Select. You can also choose Sherwin-Williams Emerald and Duration. You can find out how we paint wood siding.
2. Aluminum Siding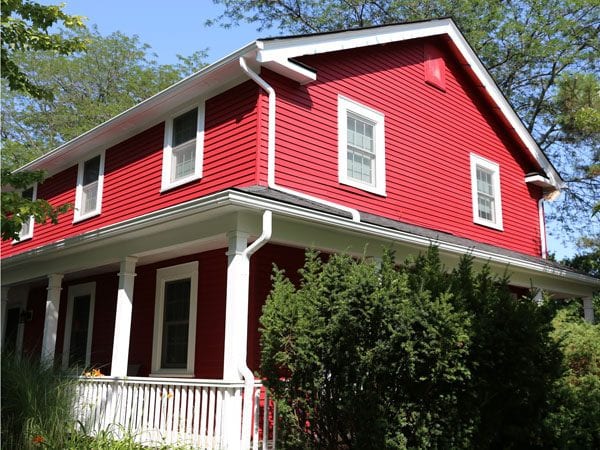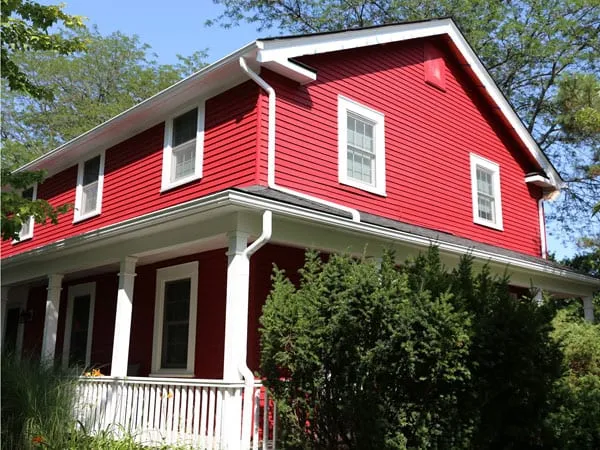 Aluminum siding is one of the most popular types of siding for homes. It's durable and low maintenance, and it comes in a variety of colors. Benjamin Moore Regal Select in a matte or eggshell finish. Another good choice is Sherwin Williams Super Paint. You can learn how we paint aluminum siding for our clients.
3. Vinyl Siding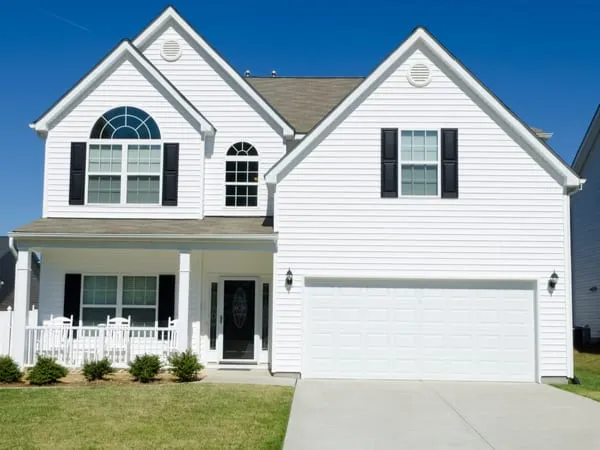 Vinyl siding is a popular choice for Novi homeowners. It's durable and comes in a variety of colors and styles. Benjamin Moore Revive or a vinyl-safe Sherwin-Williams paint. You can see how we paint vinyl siding for our clients.
4. For House Exteriors With Peeling Paint
The best exterior paints change for houses with lots of peeling paint or where peeling paint is an ongoing problem. If your house has peeling paint, it's important to scrape off any loose paint before applying new paint. To do this, scrape away any loose paint with a putty knife or wire brush. Once all the loose paint has been removed, sand down any rough areas until they are smooth. Be sure to wear a dust mask while sanding to avoid inhaling lead dust if your home was built before 1978 (when lead-based paints were banned). You can use Benjamin Moore's Aura or Regal Select. Be sure to prime with Mad Dog primer. Sherwin-Williams Rejuvenate is another fine choice.
Bonus: The Best Stain For Home Exteriors
Staining your home's exterior is a great way to protect it from the elements and give it a unique look. Benjamin Moore Arborcoat solid acrylic stain and Sherwin Williams Woodscapes solid acrylic stain are the best choices. They're both great for exterior wood with a solid stain or where the client wants a solid stain. This is very common for homes with cedar siding. You can learn how we maintain stains on exterior wood siding for our clients.
When it comes time to repaint your Novi home's exterior, it's important to choose the right type of paint for the job.
In this article, we've looked at the best exterior house paints for 4 different types of siding so that you can make an informed decision when it comes time to repaint your Novi home.
You May Also Like To Know