Paint companies like Benjamin Moore and Sherwin Williams get a lot of love from homeowners. But is one better than the other? The Benjamin Moore vs Sherwin William debate continuously goes back and forth.
Both Benjamin Moore and Sherwin Williams are paint companies that have been around for a very long time. They both offer high-quality paints that are designed to last for many years.
So, which one should you choose for your home? Read on to find out!
Benjamin Moore vs Sherwin Williams: Which Paint Is Best?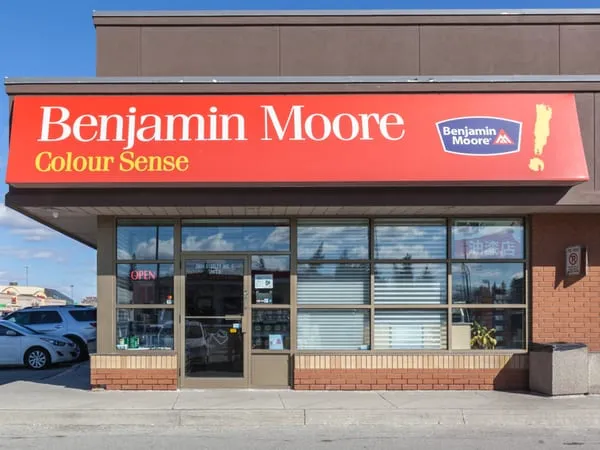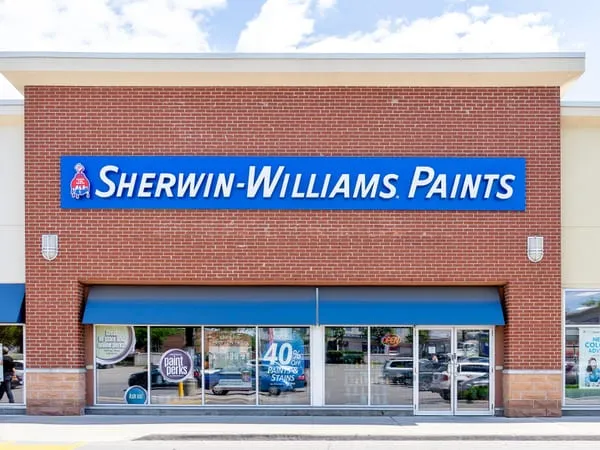 The best paint between Benjamin Moore vs Sherwin Williams is either of them. When it comes to the paint, they both work very well. There may be slight differences in one product vs another, but only a professional painter can tell. The main difference is that Benjamin Moore stores are locally owned, while Sherwin Williams stores are corporate-owned.
What it really comes down to is quality. You get what you pay for, and if you buy cheap interior and exterior paint, you'll get a cheap paint job. Buy quality paint, and you'll get a quality look.
The real challenge is picking the best paint color.
Todd Tribble's Professional Opinion
I've used both brands, and they both work equally well. It's more about the quality of the paint than it is about the brand. Benjamin Moore and Sherwin Williams are the best out there, and I'd use either. Designers may have a preference, though.
Benjamin Moore's Aura and Regal Select lines both have great coverage, and I love the fact that they both touch up very easily.
Sherwin Williams Emerald Designer Edition and Emerald paints cover great as well, and they both flow easily off your brush and roller.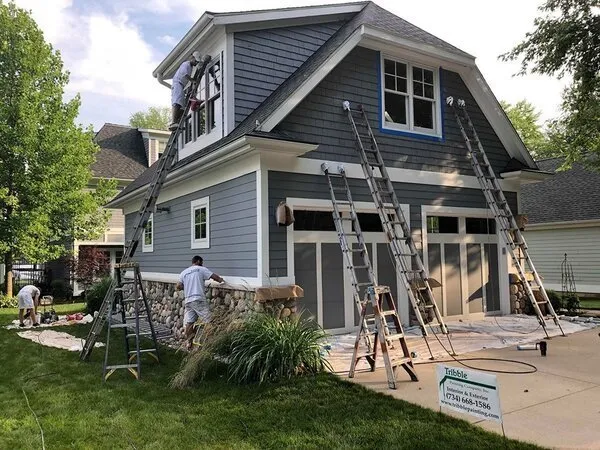 Both products are consistently good and come with great customer service. Knowing the person selling me the paint will come out to the job site and help solve any problem that might arise is priceless.
Our clients ask for both and come to us with colors from both companies, so we are able to use a wide variety of paints. Whether you decide on Benjamin Moore or Sherwin Williams, if you stick with the premium paints for your next project, you will be well served.
The Cost Of Sherwin Williams vs Benjamin Moore Paint
The average cost of a gallon of Benjamin Moore paint is $57, while Sherwin Williams' is $53. So, Benjamin Moore may cost a few dollars more per gallon. The important part is getting high-quality paint that works best with what your painting and where it is, be it interior or exterior.
Paint Prices Are On The Rise
There is a paint shortage due to the pandemic and other factors. These have inhibited painting factories from producing their normal amount and slowed down shipping.
Why To Not Buy Any Other Paint Brand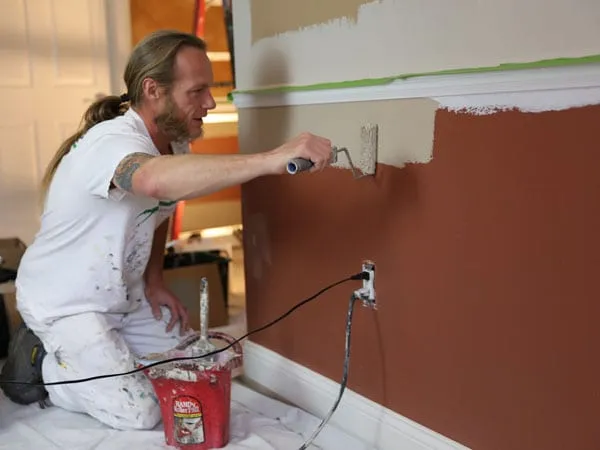 There's a reason it's Benjamin Moore vs Sherwin Williams and not anything else.
These two paint companies spend a lot of money on research and development. They have a product for any need and project.
They're more expensive because they are of higher quality. Lower-quality paints need more coats and more labor. They also don't last as long, so you'll need to repaint your house sooner.
A Comparison Of Benjamin Moore And Sherwin Williams Store Locations
As of 2021, there are about 6,640 Benjamin Moore stores in the United States. Sherwin Williams, also as of 2021, has 4,438 store locations in America.
The difference is that Benjamin Moore stores are locally owned while Sherwin Williams is corporate. This means Benjamin Moore stores and places that carry their paints can have different products.
Color Selection
When it comes to the number of colors for Benjamin Moore vs Sherwin Williams, there is no decisive victor. They both carry a wide array that can please any homeowner.
Color Consultations
A color consultation with Benjamin Moore costs $99 for 30 minutes. This gets you a color expert, a professional rendering of what your space will look like, and up to 5 color swatches of your choice will be mailed to you. Not every location offers this service.
With Sherwin Williams, you can get a free 30-minute virtual consultation, which includes expert color recommendations, color samples, and a personalized plan. If you're a member of Sherwin Williams' PaintPerks™ program, you can get an in-home consultation for $95. You'll get the same benefits, plus a $50 gift card and a shopping list.
Color Matching Between The Two Brands
Both paint brands can match each other's colors because they share formulas. This is all to help homeowners create the space they want in their homes.
Paint Sheens
Both have similar paint sheens, but they may have different names. Some product lines can even have unique sheen classifications.
Choosing A Paint Sheen
There are different types of paint sheens, with some working better for certain spaces than others. For example, eggshell sheens are great for most rooms, while high-gloss sheens are better for cabinets and trim.
It may be best to ask one of their respective stores for advice on what paint sheen to use.
The Best Benjamin Moore Paints
Benjamin Moore's Regal Select paint line is the best Benjamin Moore paint for a number of reasons. It offers excellent coverage and a beautiful finish; it's durable and long-lasting, easy to apply and clean up, and is available in a wide range of colors. Benjamin Moore also offers a lifetime warranty on this paint.
Regal Select costs $66 per gallon on average, though the price can change depending on where you get it.
Ben vs Regal Select
There are a lot of paint brands on the market, but if you're looking for quality and durability, Benjamin Moore is a wise choice. And within the Benjamin Moore lineup, you have two great options: Ben and Regal Select. So which one should you choose?
Ben is Benjamin Moore's economy line of paint. It offers good coverage and a decent finish, but it doesn't have the same high-end feel as Regal Select. That said, it's still a good option if you're on a budget.
Regal Select is Benjamin Moore's premium line of paint. It goes on smoothly, has excellent coverage, and dries to a beautiful matte finish. It's also more expensive than Ben, but if you're looking for the best possible results, Regal Select is the way to go.
Advance Trim Paint
Benjamin Moore's Advance Trim Paint is a water-based product that is specifically designed for use on trim. It goes on smoothly and delivers a high-quality finish that is resistant to cracking and peeling. One of the advantages of using this paint is that it is low odor, and cleanup is easy. It can be brush applied, rolled, or sprayed.
However, one of the disadvantages of Advance Trim Paint is that it is more expensive than other types of paint. It also requires two coats for proper coverage and dries slowly.
The Best Sherwin Williams Paints
Sherwin Williams' Superpaint is a popular choice for painting projects thanks to its low price and wide range of colors. It's also self-priming, durable, and DIY-friendly.
However, there are some drawbacks to using this Sherwin Williams paint that you should be aware of before you start your next project. Superpaint can be thinned down with water, which can lead to paint streaks and a less-than-smooth finish. It does not always cover dark colors well, so you may need to apply multiple coats if you are painting over a dark wall.
Should You Use Sherwin Williams Duration Or Emerald?
These are part of Sherwin Williams' premium paint lines. They offer incredible coverage and durability and are backed by a lifetime warranty. You'll also love the beautiful look they give homes.
But these are not DIY-friendly paints. Both Sherwin Williams paints take skill to work with, which is why it's best to leave it to contractors.
ProClassic Interior
Sherwin Williams' ProClassic paint is a popular choice for interior trim. It is a low-VOC paint that has a smooth, even finish.
One of the biggest drawbacks of this interior paint is that it's not very resistant to stains or moisture. It's also pretty costly, ranging from $40 to $90 per gallon.
Which To Use As A Pro vs Homeowner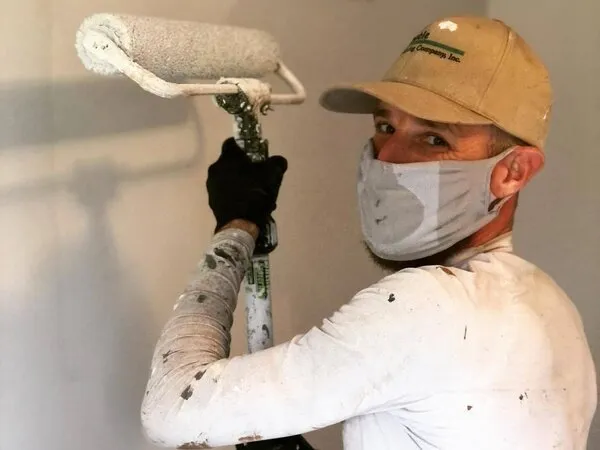 As a pro, the best paint brand:
Is consistent in how it flows off my brush and roller
Has a color tinting system that offers great coverage as well as consistent color from gallon to gallon
Is one where I can count on the support and knowledge of the people selling me the paint
As a homeowner, the best paint brand:
Is self-priming
Covers great
Isn't too pricey
Buy the brand that has the product that best fits your project and budget. But, it's better to save up and get better paint than to paint with low-quality paint. Nobody wants to regret the money and time they spend.
Which Is Really The Better Paint: Benjamin Moore Or Sherwin Williams?
When it comes to Benjamin Moore paint vs Sherwin Williams paint, neither is really better than the other. They both provide great services and high-quality interior and exterior paints. It's best to think about which is closer and which brand has the paint you need that's within your budget.
You can use either of them as the best paint for different siding types.
Know You're Getting The Highest Quality Paint And Service With Tribble Painting
We're passionate about paint and committed to providing the best possible service and products to our clients. That's why we only use the highest quality paints on the market, and it's why we offer a 100% satisfaction guarantee on all of our work.
Our team is standing by waiting to help you beautify your Novi home with a fresh coat of paint. So what are you waiting for? Fill out our contact form today!