Here Are 10 Of The Most Frequently Asked Questions We Get When People In And Around Ann Arbor Talk To Us
Knowing the right questions to ask is key! It can help you get a fantastic customer experience and product or service from an amazing company.
In this post, we go over questions we want everyone to ask when hiring a painting contractor. We also dive into the importance of those questions (and sometimes what the good answers are).
Are They The Right Fit For Us?
"How can we tell that they're the right painter for us?" asks Sarah worriedly.
Jason sighs through his nose. "I don't really know much about hiring a painting contractor. Or anyone, for that matter. What questions should we ask?"
Sarah shrugs. "Maybe stuff like if they're insured or what their downpayment is," she says, sounding unsure. "Definitely would like to see if we can find out the cost to paint a home. Do you think we can find answers on Google?"
Jason shrugs. "If it's going to be anywhere," -he worms his phone out of his pocket- "it'll be on Google. Let's go ahead and do it before we forget." Sarah nods, walking over so she can see his phone too.
Here are the 10 questions they discover:
These 10 points are recommendations from Todd Tribble, owner of Tribble Painting. They come from his 30+ years of experience talking with homeowners about their painting projects.
1. Who will be in my home?
Some of Tribbles team after painting
It's your home and you have every right to know who will be in it.
You've met the owner or salesperson, but that's not necessarily a measure of who works under them. Feel free to ask if they perform background checks before they hire,
Tribble Painting performs drug tests and background checks on every person on our team before hiring them.
2. Are you insured?
This is one of the most important questions to ask when hiring painting contractors.
Insured painters are safe painters. There are two types of insurance your painting contractor should have:
General Liability Insurance protects your property from any damage the contractor or their team may cause. We recommend looking for a minimum of a million-dollar policy.
Workmen's Compensation Insurance protects the contractor's employees if they get hurt on the job. This in effect protects you from any liability or getting sued by the hurt employee. This type of insurance is very expensive and some contractors will try to operate without it.
We recommend asking for a copy of these insurance certificates. You can also check the dates to make sure they are current.
Tribble Painting has both insurances.
3. Do you use employees or subcontractors and what is the difference?
The difference is HUGE.
Employees can be background checked, drug tested, and trained.
Subs are usually paid a flat fee, which increases the temptation to cut corners and get the job done faster. If subs are used it also increases the chances that they do not have workman's compensation insurance.
Tribble Painting uses employees.
4. What's your hiring process?
You're going through an extensive process when hiring a painting contractor. It's only fair they do a similar thing when hiring people who'll be in your home.
Does the company have a process for hiring or does anyone who walks in the door get hired? What does it take to work for this company?
Tribble Painting has an extensive hiring process. We won't take just anyone.
5. What type of training do your painters receive?
Not every team member needs 10+ years of experience.
The company should have a training program or process that includes safety. This makes sure the people working on your house have the right qualifications to be there.
The risk of unqualified painters directly relates to the quality and durability of your paint job.
Tribble Painting continually does training for our team members.
6. Will someone meet us personally for the estimate?
When hiring a painting contractor, it's much easier to get a feel for a company when you meet a representative in person.
Ask them their story and how long they have been working for the company. This can give you a company's back story and an idea if they'll be looking out for your best interest.
Doing this allows you to ask many of these questions as well.
Tribble Painting sends people out to estimates, including our owner (pictured above, he loves personal interactions with potential clients).
7. Is a downpayment required?
Downpayments aren't just a way to get some money from you.
It allows the contractor to hold a spot for you in their schedule. But be wary if the contractor asks for a large down payment. Many people have been burned by contractors asking for large deposits and then they never show up to do the work.
As part of the process for working together, Tribble Painting only asks for a 10% deposit so we can hold your place on the schedule.
8. Who will manage my project?
Knowing who'll be in charge on-site lets you know:
Who is responsible on a daily basis
Who you can go to with any questions or concerns
If the person in charge isn't someone who will be working on the job the whole time, be wary. It's very hard to manage a paint job from a distance.
Tribble Painting lets you know who'll be managing your painting project. You'll even get a picture and a short bio.
9. What materials and application methods will be used?
When hiring painting contractors, we recommend talking about this with the estimator at the time of the estimate.
Some application methods (brush, spray, or roll) and products are better suited for certain conditions and substrates. You'll be able to understand and be comfortable with what's going on in your home
The wrong product or application method could lead to early paint failure.
Tribble Painting will be happy to let you know what we recommend and why.
10. Know what is important to you and share those expectations with the estimator
This isn't a question, but it can help make or break your painting project.
The best time to do this is when meeting with your estimator after they give you the estimate. Holding back some expectations could create issues once the job starts.
We encourage you to share your expectations on quality and if you have any concerns.
Check References And Reviews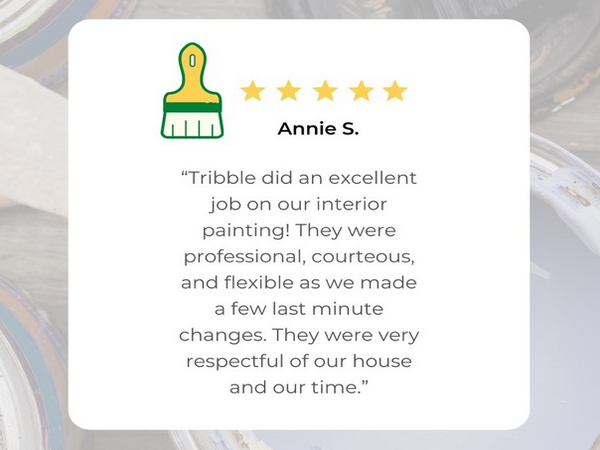 This is a best practice we think anyone should do before buying any product or service.
There are a couple of ways to do this:
Ask the company for references you can contact
Look on Google and Facebook for reviews (and other review sites)
You may also find out how the company responds to any issues. This should tell you if the company in question is ethical. It can also tell you how they'll respond if to any post-project issues.
A Few Words From Todd Tribble
"I think all of these are very important when hiring a painting company for your next painting project. If you follow this list with every painter you talk with, I believe it will become clear to you very quickly who you are most comfortable with and who is the right painting contractor for you."
Todd Tribble, Owner of Tribble Painting
You May Also Like To Know
"This certainly covers a lot of good information," says Jason. Sarah nods. "Yep, and it makes me curious about what else would be good to know. Let's check out this blog and see if we can find anything good."