These Are The Interior Painting Tools We Use When Painting Client's Homes
Whether you're a DIYer or just curious, we're excited to tell you the tools we use for painting! We want you to have all the knowledge you want or need.
In this post, you'll find out what tools we use to paint home interiors and a little bit about them.
What Do We Need?
"I…don't know," says Jason.
Sarah busts out laughing. "So you have this whole painting project in mind, but you don't know what interior painting tools you need? Classic."
Jason pretends to pout. "I can figure it out, I'm a grown man!" Sarah continues laughing until Jason can't help but join.
"Ok, ok, whew," says Sarah. "Let's look up the best interior painting tools so we can do this thing." Jason, still smiling, picks up his phone and starts looking on Google. "Check out that same painter's blog where we found out how to paint an interior wall," suggests Sarah.
Here's what the couple finds:
The 10 Best Interior Painting Tools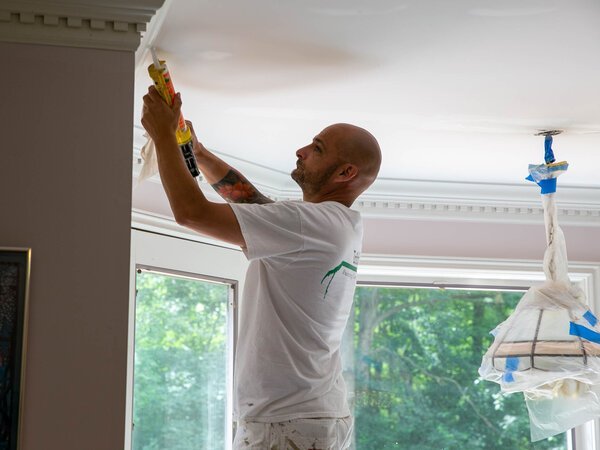 Whether you are using oil-based paint or latex paint for your interior painting project, these are the best tools to use:
Drop Cloth. You can use these to cover your floors, furniture, countertops, and anything you don't want the paint to get on. They also work for your outdoor areas. You can also use old sheets.
Spackle. You can use these to fill nail holes and stress cracks. It dries quickly and is easy to sand.
Spackling Blade. These are for applying spackle to your walls. They should come in different sizes depending on your patch size.
Sanding Sponge (fine-medium side). This is great for sanding down the spackle so it's even with your wall. Nobody wants a patchy-looking wall!
Ladder. We like the 4 to 6-foot ladders for painting taller walls and ceilings.
Hand Brushes And Pail. We like to use a hand brush or a small roller to paint the edges of walls before we use a roller. A 2-and-a-half inch sash brush is great for interior painting. If you don't want to buy a pail you can just use the paint can.
Roller And Bucket Or Pan. 9-inch rollers are ideal for painting walls. For larger projects, a 9-inch bucket usually works better than a pan because it holds more paint.
Roller Extension. Extension poles for rollers make it easier to paint walls and ceilings. You can also screw an old broom handle into the roller.
Caulk Gun And Tube. You may need to do some caulking between the baseboard or between the window trim and the wall.
Rag, Tape, And Screwdriver. The rag is great for a lot of things, mostly wiping up any paint that starts running. Blue painter's tape is great for getting the lint off of new roller covers and taping off baseboards, door frames, and other areas you don't want the paint to get on. The screwdriver is for taking faceplates off of switches and outlets.
You May Also Like To Know
"Seems like we're going to have to make a trip to the local paint store," points out Jason. Sarah nods. "I'll see what else I can find out about interior painting on the car ride over."